It's 2022, but the best ROI instruments that have stood the test of digital time, are more traditional types of digital marketing.
Let's peel the covers of digital businesses and look at what raked in the most return on investment in terms of digital marketing.
The one that still holds the throne and has for many, many years is Email Marketing.
#1 – Email Marketing
Email marketing boasts an average ROI of 3,600%!
This means if you invest $1 into email marketing you'll get $36 back, and you yield 36x your money! And in some industries such as e-commerce and retail that number is even higher at 45x!
Most people think that social media is the next trend of digital marketing and where the best returns are made, but that's not what the data suggest (more on social media below).
So why is email marketing still the king of ROI?
Well, it's because if you send an email to your list, it is way more likely to be seen by your readers versus social media, where it is algorithm based. When you send an email, it will most certainly get sent to your readers (depending on the deliverability of course).
But with social media, because it is algorithm based, only a handful of your audience will see your content. And the other flaw of social media is that you don't have ownership of your audience!
The social media company owns your audience.
But with an email list, no one can take your audience away from you, because it is your own, de-centralized list.
Plus, nearly everybody uses email!
Want proof?
How did you sign up for Facebook?
What about YouTube?
What about Instagram or TikTok?
You need an email address.
So it's the underlying mechanism that is required for even having a social media account! Email marketing is also 40% better at converting when compared to Twitter and Facebook.
So that is email marketing.
How do you get started with Email Marketing?
The best way to collect emails is by using a landing page or opt-in page. However, you don't want to just blatantly ask for their email address. You want to offer something in exchange for their email. This could be a report, an ebook, a course and it's usually something digital and easily digestible for the reader.
How do you build a landing page? You can use one of the many landing page builders to customize it to fit your business theme and feel.
You then connect it to your email marketing provider, such as Zumvu and you start sending value-adding emails to your audience. And as the data shows, over the long-term, you'll be able to generate revenue by offering your readers your products or services.
But there's another close, second runner-up for ROI king.
#2 – SEO
Again, it's not the newest, trendiest digital marketing avenue, but it's tried and true.
SEO services have an ROI average of 2,200%!
This means you'll multiply your money 22x!
And SEO has been around since the existence of search engines, so it's not a newfound secret, but it can absolutely help businesses out if they want to increase their bottom line.
It's not hard to get started with SEO.
All you need is a computer with an internet connection and a fast web host, preferably one with WordPress.
There are many SEO factors that Google takes into consideration, but a recent one that Google has boarded into their algorithm is website speed.
If you have a slow-loading website, Google believes this is hurting the user experience and will lower your rank accordingly.
So having a good, reliable web host (I recommend Namehero), combined with on-page website speed tweaks is one way to get an edge on SEO versus the competition.
The best part about SEO is you can get started for a very low cost.
The only cost to get started is with a website host, and other than that, it's just creating great content that adds value to the digital world.
However, the downside of SEO, is it could take a while for your content to rank in the SERPs. Depending on the keyword, this process can take anywhere from a few weeks to a few months to get to the first page of Google.
Additionally, it has a steep learning curve, because you won't know what's working until after a few months.
The next method of digital marketing, however, you'll be able to see your results almost right away.
#3 – PPC Marketing
Pay-per-click marketing comes up third and it's Google's bread and butter when it comes to their revenue.
Pay-per-click is exactly what it sounds like, you display ads in the Search Engines (or your social media platform) and you only pay when users click on your ads.
If you don't have the patience or time to organically rank your content on Google SEO, the faster alternative is by using PPC.
But of course, because it is paid, it'll cost you money.
The average ROI for PPC is 2x.
So for every $1 that you spend on Google ads, you'll get $2 back on average. This is only the average number though.
If you are a seasoned digital PPC agency, you could be doing numbers well above this number.
For instance, well-known PPC agencies for Google Ads will claim to have ROIs of up to 500% which is more than double the stated average here.
#4 – Social Media
Down at the last spot in our digital marketing report is Social Media Marketing (honestly, still pretty good).
Social media on average had an ROI of 95% across all the platforms.
That means for every dollar invested you would get back $1.95.
Which isn't too bad.
And the highest ROI out of the social media platforms is Facebook ads and Instagram is a close second. I'll speak from personal experience, but if you know how to run these social media ads very well, then you can stay way above this stated average.
For example, one of my old campaigns that I ran with Facebook ads had an average ROI or ROAS (stands for Return on Ad Spend) of about 5.
This means that for every dollar I spent on the ad, I got about $5 back.
Quite an impressive ROI for something instant, rather than waiting for the data like with email marketing or SEO.
The Ultimate Digital Marketing Harmony
Let's first ask what real businesses find to be the most effective form of digital marketing.
According to WebsiteBuilderExpert, they asked 65 business owners what type of digital marketing they found to be the most effective.
And here are the percentages: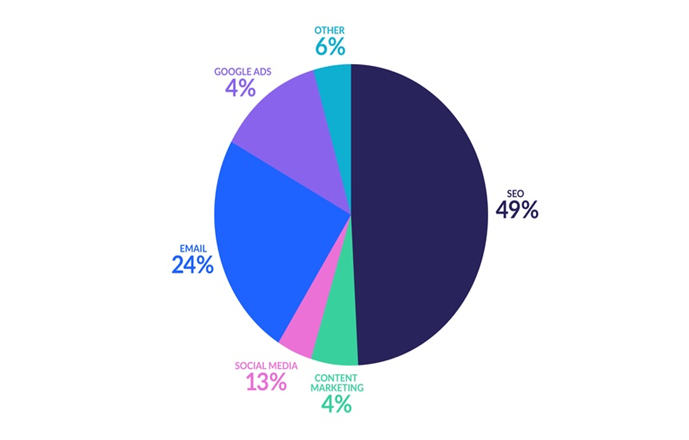 And to recap some of the other data presented in this post, here are the ROIs for each marketing channel:
Email Marketing ROI: 3,600%
Search Engine Optimization ROI: 2,200%
 Pay-Per-Click Advertising ROI: 100%
Social Media Advertising ROI: 95%
Knowing these stats, we want to have a good mix of paid advertising, email marketing and SEO in our arsenal of digital marketing.
And if you want the 80/20, you can focus most of your efforts on Email marketing and SEO for the most effectiveness and ROI.
Maybe your own business can start implementing SEO and email marketing into your marketing mix to serve more customers and in return you'll be able to generate more revenue.
Appropriately, Zumvu has many marketing tools that'll help you expand your digital footprint and can help grow your business to unseen levels.
Thanks for reading, I hope this helps! If you like more content like this, then you can check out my blog.