We had no idea what to expect when we launched MarTechBot in April. While factually correct, characterizing our experiment as the "first generative AI chatbot designed specifically for marketing technology professionals" seemed somewhat grandiose. 
Was MarTechBot innovation? Would it be useful? Did anyone care? All we knew for certain was we'd trained MarTechBot on MarTech.org content and we'd learn a lot by putting the technology into your (and our) hands. 
Since April, MarTechBot has engaged in over 600 conversations with marketers. It's answered questions, made recommendations and generated content based on your prompts. Based on the responses it's created, MarTechBot has delivered value to the marketers who've used it. 
Understanding MarTechBot's versatility and functionality
To discern how you're using MarTechBot, we categorized each conversation in two ways. 
First, we determined the purpose of each conversation. Was the conversation a question (e.g., "What is a CDP?"), a request for a recommendation (e.g., "What is the best CDP?") or a generative/creation task (e.g., "Write a project plan for implementing a CDP.")?
We then categorized each conversation by identifying a central theme. For example, general marketing conversations were tagged as "marketing," while conversations specifically about CDPs were tagged as "CDP." 
This heuristic illustrates how MarTechBot has been used so far. In all cases, we used our judgment to classify each conversation manually (a labor of love!). This methodology is decidedly imperfect but useful.
Generative/creation tasks: Inspiring innovation and creativity
Completing generative/creation tasks was the purpose of nearly half of all conversations with MarTechBot. This category includes brainstorming sessions, content planning and ideation of new strategies and frameworks.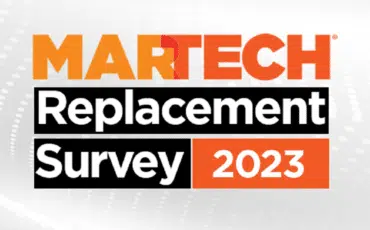 By leveraging the creative potential of MarTechBot, marketers tapped into its vast knowledge base to generate fresh ideas and discover novel approaches to tackle marketing challenges. The bot was the catalyst for solving problems or generating suggestions about creativity. 
Example conversations:
For beginners in martech, prepare a roadmap for learning and becoming an expert in 4-6 months.
Act as a marketing strategist for a B2B cybersecurity firm specializing in big corporate companies as clients with several decision makers and decision influencers. Devise an Account Based Marketing (ABM) plan.
Can you write a good email subject line for an email with a prize element and informational content?
Questions: Unraveling marketing dilemmas
The second largest segment, constituting 43.5% of conversations, was marketers seeking answers to questions, much like they'd use a search engine. MarTechBot was used to clarify concepts, explain best practices and provide expert opinions. 
Example conversations:
What is CDP? (by far the most common question)
How big is the MarTech landscape?
What does ABM mean?
Recommendations: Unlocking insights and strategies
Recommendation-oriented conversations account for less than 10% of interactions with MarTechBot. In this category, marketers sought guidance, e.g., selecting the right marketing technologies, optimizing campaigns and the best ways to optimize customer experiences. 
Example conversations:
What is the best way to level up as a marketing technologist?
What marketing channel works best for individuals older than 65 years old?
Which CDP provider can you recommend for a midsized company?
Themes of conversations: Insights into marketers' areas of interest
Our analysis also revealed the themes that dominate conversations with MarTechBot. Here are the top five:
Marketing (21.5%): Marketers seek insights, trends and best practices across various marketing disciplines, including digital marketing and social media marketing.
Customer data platforms (12.5%): Discussions around CDPs revolve around understanding their capabilities, implementation strategies and leveraging customer data for targeted marketing campaigns.
Marketing technology platforms (9.7%): Conversations in this category focus on exploring different marketing technology platforms, such as marketing automation tools, CRM systems and analytics solutions and their integration into marketing operations. This theme was a catch-all for conversations about multiple platforms or more general platform questions. 
Industry (6.9%): Marketers engage with MarTechBot to gain industry-specific insights, ranging from niche marketing strategies to understanding industry trends and benchmarks.
Marketing operations (6.7%): Marketers seek guidance on streamlining marketing operations and improving efficiency through automation and process enhancements.
Rounding out the top themes 10 were email marketing, the catch-all category "general," martech, data and AI. 
We identified and classified ~50 themes, a diverse collection highlighting modern marketers' wide range of opportunities and challenges. Beyond the top themes shown in the graphic, honorable mentions to Google Analytics/GA4, marketing automation and SEO.
What's next for MarTechBot
The insights gained from analyzing real-world MarTechBot conversations provide valuable guidance to marketers looking to harness the power of this innovative tool and other generative AI platforms. By understanding the categories of recommendations, questions and generative/creation tasks, as well as the primary themes, marketers can leverage MarTechBot to gain insights, make informed decisions and foster creativity in their marketing endeavors.
As MarTechBot continues to evolve and address its limitations, it holds immense potential to transform how marketers strategize, execute and achieve their goals. The power of AI-driven chatbots like MarTechBot lies in their ability to provide personalized recommendations, unravel complex marketing dilemmas and inspire innovative ideas. By embracing this technology, marketers can enhance their capabilities, stay ahead of the curve and unlock new dimensions of success.
We're committed to improving MarTechBot by including more information in its language model. 
For example, we're addressing issues that result from training MarTechBot on long-form articles, video transcripts, or PDF files. In those cases, the bot has trouble parsing information and may sometimes generate unexpected or inaccurate responses. 
In other cases, the bot provides answers that are incomplete or incorrect. We are actively working on refining these aspects and ensuring more accurate responses.
Additional reporting and analysis by Karina Sarango.
---
Get MarTech! Daily. Free. In your inbox.
---