Content is king. In its many forms, it is the primary medium through which you can market yourself to your audience and show them what the brand is really about.
As you create content, you will find some of the things you create resonate with your audience. That content will generate thousands or even hundreds of thousands of leads for your business. There are times you need to tweak your old content to continue to generate those leads.
So how can you repurpose your old content? Let's discuss some of the best ways to do it from a marketing perspective.
Why Should You Repurpose Content?
Content repurposing is carried out by more "big brands" than you think. In 2013, Google's Matt Cutts came out in a video to say that around 25% of all content on the web is duplicative or repetitive – and this fact referred to similar content types. He also said that this didn't lead to penalization as Google grouped these similar content pieces into clusters.
Why do brands repurpose old marketing content? Here are several reasons:
It gives them a chance to diversify content. For example, instead of just one article, they'd have several snippets for social media posts.
It strengthens their Search Engine Optimization (SEO) since Google looks for websites with deep knowledge on a particular topic.
It increases the strength of their backlinking strategy by allowing you to send a follow-up email to prospects who may have rejected your previous outreach efforts.
By tweaking old content and posting them across marketing platforms, you can expand your reach across content consumption styles. You can save yourself some time, keep your brand content fresh and stretch the shelf lives of that old content.
5 Ways to Repurpose Content to Drive Marketing
There are many ways you can repurpose content to give your content marketing strategy a boost. Take your best old content and use these proven content repurposing techniques to achieve great results:
1. Turn Old Blogs Into Guides
People are always on the hunt for new ways to approach problems, and textual guides have proven effective at providing them with the required information. You can tap on this popular content niche without having to write articles from scratch.
Just pick out a trending, relevant topic you want to cover related to the original blog piece.
Hubspot, for instance, identified a popular blog post from 2017 about "how to write a blog post".  They extended the blog post and turned it into a comprehensive guide. Every year they update the guide to ensure it continues to be relevant.
When updating content, make sure to choose evergreen topics. How to write a blog post is a nice evergreen topic. You can discuss article formatting, how to structure your article, the importance of using a good grammar checker, etc. People will find a topic like that useful for years to come.
How Covid-19 has impacted business is a topic that won't age well.
2. Turn Data into Infographics or Graphs
Infographics are one of the most preferred content types across the internet today. A lot of people are visual learners. According to T-sciences, the human brain processes visuals 60,000 times faster than written content.
You can use visuals in your marketing. You can consolidate the data you've referenced in an article, or video, into a fun, quirky infographic. You can use this infographic to promote your content.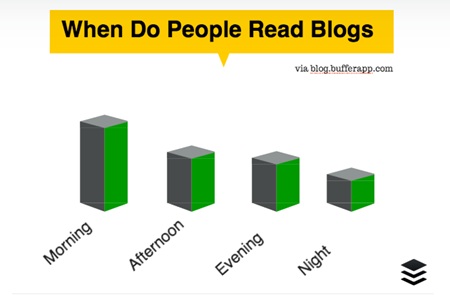 Another option is to turn blog post data into graphs and use them for a slideshow. You can then share the slideshow on Slideshare and your marketing channels to generate engagement. The example above is from a piece of content from Buffer.
3. Repurpose Blog Content for Podcasts and Newsletters
As a marketer, it's logical to consider repurposing the same content across different mediums. For example, you can turn an old blog post into material for podcast scripts or a newsletter.
You can use a theme you covered in a trending blog post for a podcast. You can use social feedback, for example, comments left below a post, to guide the type of topics you'll cover.
Using blog content for newsletters is much easier. Here, you can quote longer blog texts when sending out scheduled emails. Check out this example from Autogrow: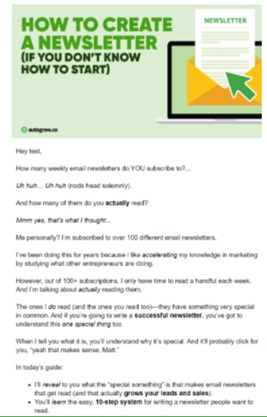 It used some of the content in an old blog post to create a newsletter (screenshot above) to promote that blog post.
If you're looking to clean up the grammar on your blog posts before using them in newsletters, use a Grammarly alternative if you don't have Grammarly. Using any one of those tools will ensure your copy is clean, crisp, and engaging.
 
4. Make a Pinterest Board
Pinterest has an astounding 459 million monthly active users, according to Sproutsocial. That's more than the active users of Twitter and Snapchat combined.
It would be a waste, then, not to leverage that platform to reach more people.
The good news is, you don't have to create content from scratch. You can use old blog content to create a Pinterest board, for example. A Pinterest board is a collection of pins about a specific topic. Blogger Kim Garst, for instance, repurposes some of the content on her blog for Make Money Online on Pinterest.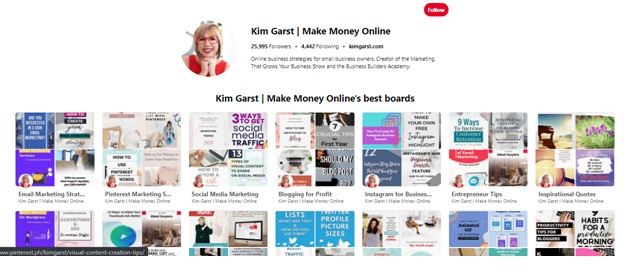 5. Turn Old Webinars into Video Tutorials
Webinars and video tutorials are fundamentally two types of video content. Both types of content are designed to be informative and boost a brand's authority with its audience.
It's relatively straightforward turning recorded webinars into video tutorials. You'll need to do some video editing. For example, remove the introduction, and pull out important snippets. If you covered multiple subtopics in a webinar, you can create one short video for each subtopic and post those on your social media accounts: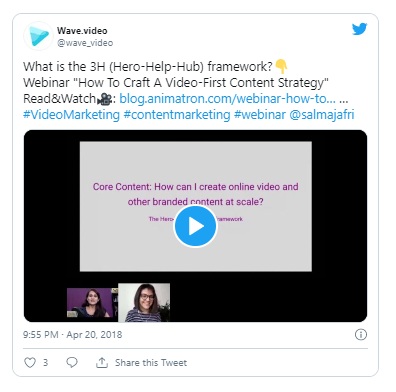 You can also create a Frequently Asked Questions (FAQ) video series. Create short videos of each of your answers to questions during your webinar. Share those snippets on your social media accounts. You can even create a separate FAQ page for those snippets on your blog.
In Closing
Repurposing content is an incredibly effective technique to engage and grow your audience. Your ideal audience will consume content in different ways across various channels. Your goal as a business is to get in front of that audience, engage with them, and over time convert them into loyal customers.
Repurposing allows you to make the most of your best ideas. In this guide, I shared a few options. I looked at how to turn old blogs into informative guides, transform old webinars into value-packed video tutorials, and more. Follow these strategies for yourself, and you'll see what value they can offer your business.