Microsoft. Salesforce. Cisco.
The common element that contributed to the success of these SaaS companies is their strong brand identity.
Brand identity signifies how the target audience perceives a company. The better the perception the more trustworthy the brand becomes. A survey reveals that 46% of consumers can pay more money than average to buy from brands they trust.
So, offering quality products and services is not the only quintessential factor for a brand's long-term success. Brands need to focus on building a unique brand identity to make a positive impression on the audience, thereby establishing their brand as trustworthy.
If you are a SaaS company looking for best practices to build a strong brand identity, this post can help. Here, we will share five tactics to help SaaS businesses build a strong brand identity, thereby helping them thrive in the current competitive scenario.
#1: Define Your Target Audience
Reports reveal that 92% of SaaS companies fail within three years of inception.
The reason? They focus on developing products that are misfit for their niche.
No wonder, all successful SaaS companies invest hugely in understanding their target market demand.
So, to avoid falling into the pitfall of failure, conduct an in-depth target market analysis. This can help your brand offer the best products and services, thereby improving customer experience.
Ask yourself:
Who buys your SaaS products?
What are their key pain points?
What features or services influence their purchases and conversions?
Are they satisfied with your product pricing?
These are a few questions that will help you understand who resonates with your brand and why.
Pro Tip: Count on tools like Zumvu's Sales CRM and Analytics software to get insights into your existing target audience. With this tool, you can check customer demographics like interests, age, gender, number of sales, purchase history, and more.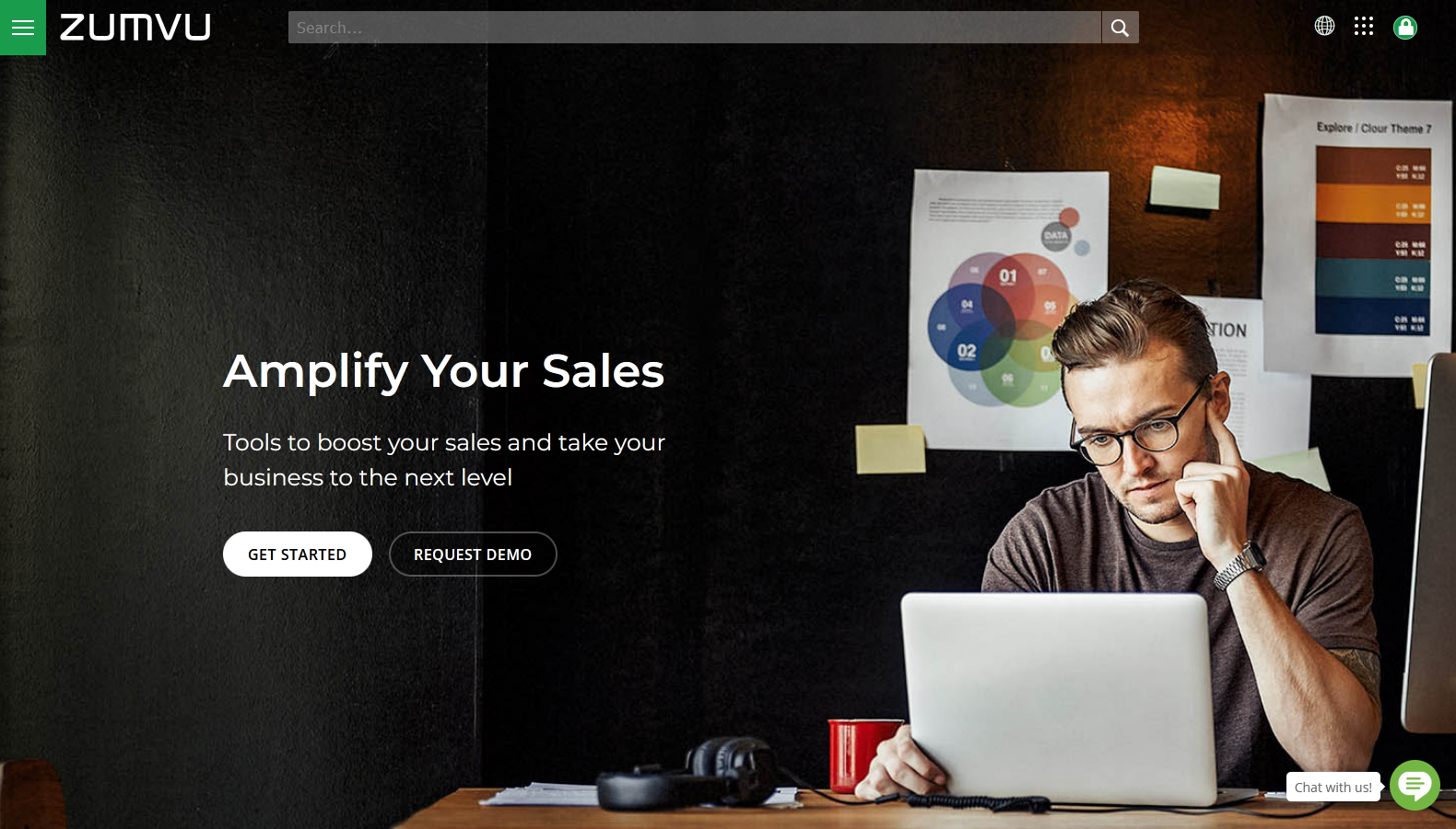 #2: Understand the Latest Market Trends
Next, focus on understanding the latest market trends.
Market trend analysis can help you understand:
Business strategies of leading SaaS providers.
Competitors your target audience follows for SaaS-related information and purchases.
SaaS offerings of your competitors.
Target audience's attitude toward your brand.
Key improvement areas.
Demand for the SaaS projects that you're looking to invest in.
Most importantly, you can identify underserved or unaddressed customers' needs.
With these vital insights, SaaS ventures can attract new business opportunities. Experts predict that the market research industry will reach $90.79 billion in 2025 at a CAGR of 5%.
Here are a few tips to consider.
Keep track of industry leaders using competitor analysis tools like Semrush. With this tool, you can evaluate your competitors and their strategies, including keyword research, social media, content, SEO, PPC, content, PR, and more.
Proactively read SaaS industry-related news and reports to understand the innovative ideas and initiatives thought leaders are taking. Count on digital report resources like British Library's Business & IP Centre to search reports from top publishers, such as Euromonitor, Mintel, Frost & Sullivan, and more.
Keep a tab on social channels like Quora (300 million users) and Reddit (48 million users) to identify your prospects' intent and concerns.
#3: Define Your Brand Tone and Personality
Customers love brands they can relate to.
Brands that seem unapproachable or feel mechanical during interactions may fail at winning customers' trust. So, SaaS businesses should create a unique brand tone and personality that attracts and engages the target audience.
Building a unique brand personality requires attributing human characteristics to it. For instance, the brand personality can reflect competence, excitement, sincerity, ruggedness, or sophistication.
On the other hand, establishing a brand tone requires developing an attitude to convey the brand message and values to the audience.
Apple Services is an exemplary SaaS brand to consider. The company reflects a sophisticated tone and personality.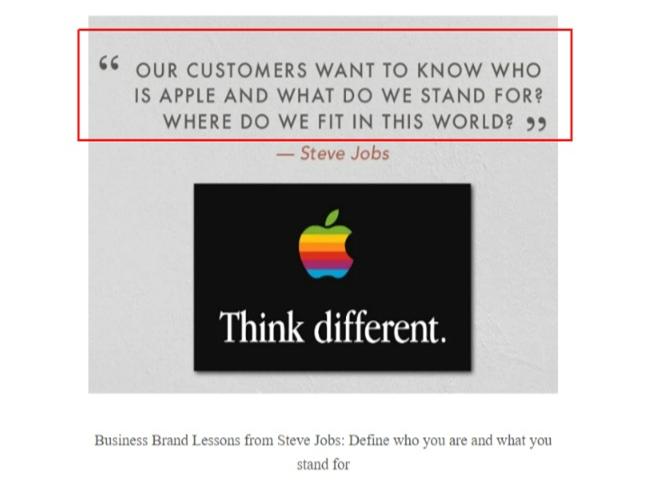 Rightly so, they have millions of happy and engaged customers.
So, how would you like your SaaS brand to appear among the target audience?
Create and maintain a consistent personality and tone. This will help your brand stand out from the crowd, thereby ensuring long-term success.  
#4: Harness the Power of Storytelling for Content Creation
Content can convert customers into brand advocates and thus is pivotal in building brand identity. With the right content, brands can convey their vision, mission, value proposition, and product offerings, thereby improving conversions.
Here are a few ideal content formats according to customers' stage in the sales funnel:
Awareness: Articles, blog posts, videos, digital business cards
Consideration: how-to videos, how-to blog posts, case studies
Closing: Case studies, user-generated content, buyer's guide, research reports
How can you make the content engaging?
Brand storytelling is key to creating engaging content. It involves creating a narrative to help audiences understand the offerings while making an impact.
The only requisite to creating compelling content is having a story idea and its successful execution.
Here's a great example from HubSpot. Notice how HubSpot highlights its product value proposition by sharing a customer's story.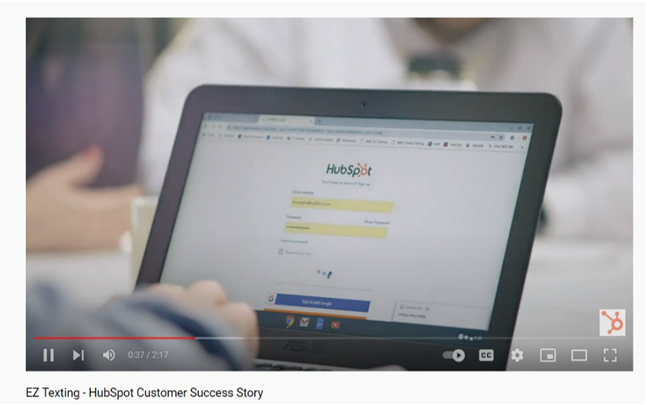 Pro Tip: Manage and Publish the Content on the Right Channels
Managing a plentitude of marketing materials can be an overwhelming experience for SaaS companies. In fact, it is one of the top challenges that early-stage SaaS startups face. That's where advanced software like Digizuite's digital asset management solution (DAM) can help.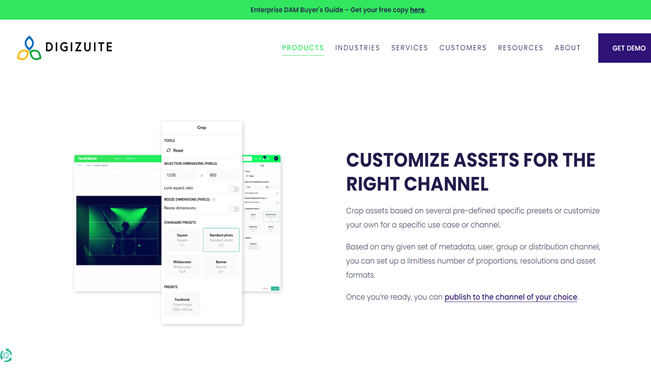 This cloud-based software provides users with a centralized system to organize, store, and share digital media assets like videos, imagery, audio files, documents, and more.
With Digizuite's DAP, brands can streamline and accelerate the content distribution process to multiple marketing channels, including social media, websites, emails, and more. This can help improve customer experience, thereby resulting in high ROI.
#5: Implement Color Psychology to Design a Suitable Logo
A great brand logo can help SaaS businesses create instant recognition in the industry. When designed right, it can help customers and brands in the marketplace remember you.
And the benefits of logo designing are not restricted to a solid visual appeal.
An impressive logo can help your SaaS venture:
Create a positive impression on your customers
Define your brand values
Boost your brand strategy by becoming memorable in the market
Since the color scheme is a vital part of the logo, you should implement color psychology to reap the best benefits.
Color psychology depicts the effects of color on human behavior and decisions. Reports state that colors influence 75% of customers' judgments and purchase decisions.
For instance, the blue color is linked to trust. No wonder, leading SaaS brands like Salesforce uses a blue-colored logo.
Notice their website theme is made with shades of blue to match their logo.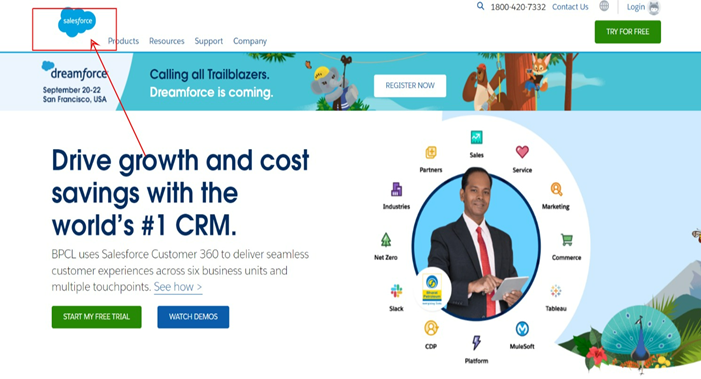 Besides color, you should pay attention to the logo text. In this example, Salesforce combined Italic and regular font, thereby making the logo simple yet attractive.
Pro Tip: Create a Brand Style Guide to Ensure Consistency
A brand style guide is a standard reference tool that contains the logo, color scheme, imagery patterns, and more. Creating a brand style guide can help your existing and new team members ensure consistency while designing any form of digital content.
Conclusion
From developing advanced software to updating product features to attract and engage the target audiences, SaaS companies are ever evolving. These changes can impact a brand identity in the long term.
The shared tactics and tools can help you create solid foundational elements and maintain your SaaS brand identity even during the business shift.
So, implement the mentioned tips to engage and convert the audience, thereby improving your ROI.