We know that Google loves quality content, so we try hard to make ours comprehensive, well-formatted, and valuable for the audience. The problem is that it's not enough for high rankings in SERPs: We need top-notch content focusing on SEO.
That's where writing tricks come into place.
Proper search engine optimization matters, but it goes far beyond keyword density and content usability today. SEO writers take a step further and develop many advanced strategies to help content rank higher.
In this article, you'll learn five of them, with practical tips and examples to consider for writing your SEO content.
What is SEO content?
First, the basics. What is SEO content, and why is it critical?
SEO content is writing assets crafted and formatted for better visibility and higher rankings in search engines. SEO content creation includes working with ideas, planning, writing, and optimizing for more traffic, user engagement, and ultimately convincing the target audience to take action.
How SEO content helps rankings:
It serves for better visibility in engines. According to CTR studies, the top three results in SERPs attract more than half of all clicks. So, the higher your content ranks in Google, the more people will see and click on it.
SEO content facilitates more backlinks. High-quality, well-optimized, informative writings attract natural backlinks and their quantity influences positions in SERPs.
It ensures strategic use of keywords for a Searcher Task Accomplishment (STA). As specified by Oneupweb, STA is "the idea that search results should be determined by the objectives of the user performing the search, and the satisfaction the user experiences when they receive those results." SEO content satisfies user search intent, thus contributing to this Searcher Task Accomplishment idea.
It also serves your content marketing endeavors: With properly-optimized content, you'll boost its visibility in search engines, engage users to click for more organic traffic, and thus influence your page's overall rankings in SERPs.
5 writing tricks for SEO content creation
Now it's time to reveal actionable writing tricks for stellar SEO content that guarantees organic traffic and higher rankings for your content in SERPs.
To start with, try the following five:
1 – Use APP or PPB methods when writing intros
You know that behavioral factors influence SEO: Google's robots rely on them when estimating how users interact with your page to understand if it's relevant and good enough to rank higher in SERPs. What can you do to hook visitors and motivate them to stay on your page longer, thus influencing its dwell time and bounce rate?
Write SEO content intros accordingly.
Yes, it's a title that grabs users' interest. But it's the first paragraph (introduction) that holds this interest and encourages users to keep reading. You know the general rules of writing intros for SEO content, don't you?
Make it short (no longer than 250-300 words).
Use a target keyword in the first paragraph.
Consider bucket brigades (transitional phrases) to make each sentence flow into the next and "glue" readers to the page.
SEO and marketing specialist Brian Dean takes a step further and develops two formulas for writing intros: APP and PPB. Both are compelling and worth trying when you craft SEO content for your website.
1) APP = agree, promise, preview.
First, you provide a statement (a problem) your audience will agree with; then, give them a promise (a hint about what would help them solve that problem); and finally, share a preview of what they'll find in your content (a solution).
The introduction for the blog post you're reading right now follows the APP method:
2) PPB = preview, proof, bridge.
First, you tell about what they'll find in your content; then, share some proof (why should they care; why should they trust you?); and finally, write a transitional sentence that would build a bridge to pass the reader on to the text.
Brian often uses this type of introduction in his blog posts: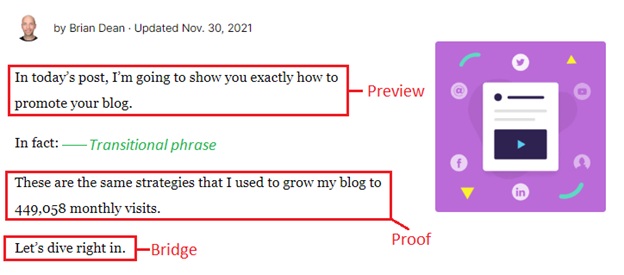 2 – Add <div id="featured-snippet"> where appropriate
Optimizing for featured snippets is among the most effective SEO tactics to influence rankings and drive more traffic. Also known as Position 0, snippets appear above other content in Google SERPs as a definition, a bulleted list, an image, or a video clip.
We all want our SEO content to get there, right?
It would grow traffic, boost a website's visibility, and add more credibility to a brand you promote.
While there's no universal method to guarantee your SEO content a place in snippets, some writing and formatting tricks can increase your likelihood of getting there. One of them is an oldy-moldy <div> element in the HTML of your content page:
When you write a definition or a step-by-step list right after <h2> or <h3> questions in your content, format them with the <div> element and an id attribute. Like this: <div id="featured-snippet">text</div>.
For example: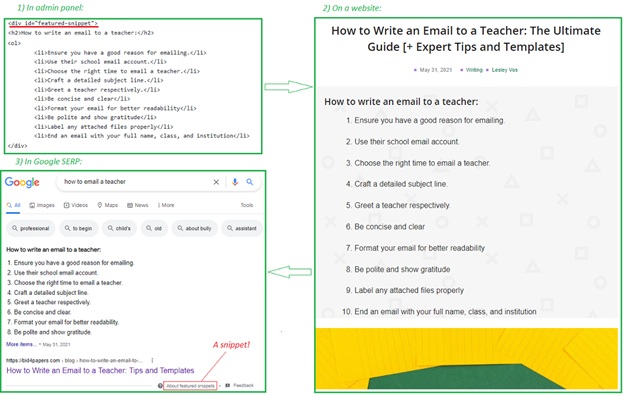 3 – Write and publish 10x content only
The term "10x content" comes from Rand Fishkin, meaning the content that's at least "10 times better than anything else produced on the topic." The writing trick to produce such content is using a Skyscraper Technique:
Find the top content piece on a relevant topic.
Craft your better version of it.
Reach those linking to the original, weaker content piece to ask if they'd like to link to your improved and updated version instead.
Outreach others to offer your 10x content.
The 10x content is about following Google's E-A-T guidelines: Expertness, authoritativeness, and trustworthiness are what SEO content needs today to rank high.
It's also about semantic SEO that helps generate more traffic to your website. So, do your best to craft original content assets of high quality to please both Google and a user and represent your brand as a reputable one.
4 – Format SEO content like a boss
Content usability is also critical. The more comfortable it is to interact with your page, the longer visitors will stay there, indicating to Google that your content is worth ranking higher.
So, if you want to achieve better visibility and engagement for SEO content, consider its formatting. These tricks can help:
Follow the rules of web writing. Reading online is 25% slower than from print, so why not ease this job for your website's visitors? Use short sentences and paragraphs, think of simple text structure, remember about <h2> and <h3>, use bulleted points, mark critical info with bold, etc.
Avoid content usability blunders: left-align your texts, use correct spacing around subheads, consider the color combination between your text and page's background, and be mindful of font size — all of this serves for better readability.
When formatting, remember your target keywords: Include them in headings, the first and last paragraph of your SEO content, and <alt> tags of your visual content. Yes, image SEO matters here, either.
5 – Use custom visuals
Let's face it: SEO writers often use the same-looking pictures as featured images and throughout pages. That's because such visuals are copyright-free.
A small problem:
Too many websites use the same pics! They all save the list of resources with free yet beautiful images — and address the same image collections whenever they need a picture for their blog. Even if you optimize such a picture for SEO, it won't bring you any results in rankings.
Why not generate custom visuals for your SEO content assets? With free graphic design tools like Canva or others, you can craft original and 100% relevant images. Especially when nowadays it is very easy to generate beautiful tweet screenshots or any other social network screenshots, which are very trendy to use in blog posts.
Here go the benefits:
Such an image is another chance to win Google's featured snippets as Image Packs.
A custom image with original graphs, data, and statistics in it triggers users to share it with their audience, backlinking to the original. Thus, you can build more links to your website naturally.
Over to you
Now that you know how critical content optimization is for your overall rankings and marketing success, it's time to apply this knowledge in practice.
Not only should your SEO content be comprehensive and valuable for the target audience, but it also needs to follow the rules of web writing you've learned in this article. So, do your best to avoid formatting blunders, optimize content for snippets, use custom visuals, and hook users in content intros to influence behavioral factors.
All these tricks, when done right, are your one-way ticket to the top of Google's SERPs and more traffic.