Looking for some ecommerce advertising tips to promote your business?
You've come to the right place.
Retailers are flooding the ecommerce space and that translates into an increase in competition. And with total ecommerce sales predicted to get to $7 trillion in 2025, we can only expect more fierce competition.
What does this mean for you as a business owner or marketer?
You need to know what consumers want and implement ecommerce best practices to get an edge over them.
To help you with it all, I've put together a list of the best ecommerce advertising tips that can help you turn them into customers.
Let's get right into it.
5 Effective Ecommerce Advertising Tips You Should Implement
Here are 5 ecommerce advertising tactics you should start implementing today.
1. Combine SEO and Paid Ads
Paid ads can be a great mode for driving and rapidly scaling up traffic to your ecommerce store. All you have to do is come up with a great ad copy and conduct keyword research using a platform like Semrush or Ahrefs and target the right keywords for your ads.
However, ads alone aren't enough. You should combine it with SEO to make the most of it.
Optimizing your ecommerce store for SEO helps you get your website listed in the search engine results pages (SERPs) and improves its chances of ranking higher as well.
A search for "plumbing services in West Virginia", for instance, presents these results. These are the results that'll likely get a lot of traffic
Here are some effective SEO ecommerce advertising tips to implement:
Create valuable blog posts that meet user intent.
Provide a great user experience.
Create an effective backlink strategy.
Optimize your loading speed  
2. Use Influencer Marketing
Data shows that over 75% of brand marketers plan on having a budget for influencer marketing in 2022.
If you're wondering what the fuss around influencer marketing is, consider these benefits:
Influencers help you reach new markets.
Their followers trust their recommendations.
They have the power to influence their followers' purchasing behavior, which shortens your sales cycle.
Influencers are in tune with the needs of their followers, and this means you get to provide value to your target audience.
In a nutshell, influencers act like ambassadors for your brand.
Here are some ecommerce advertising tips to get the most out of influencer marketing:
Ensure the influencer's followers align with your target audience.
The influencers' values should align with yours.
Be sure to give the influencer creative control. They understand their followers best and know the kind of content they'll engage with.
For instance, note how Amanda here is promoting Costco.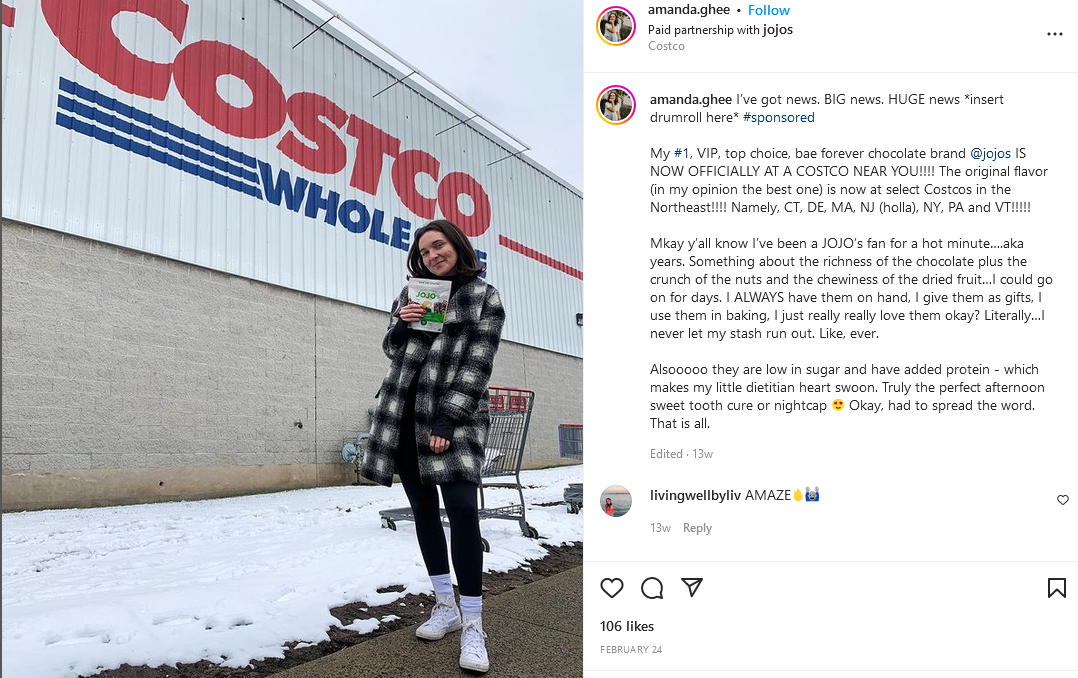 3. Leverage Personalization
One of the most important ecommerce advertising tips is all about personalization. The one-size-fits-all method doesn't make the cut anymore. Buyers are seeking more personalization.
Research shows that 71% of consumers expect personalized interactions from brands and 76% get frustrated when it doesn't happen. And brands that do personalization right get 40% more revenue.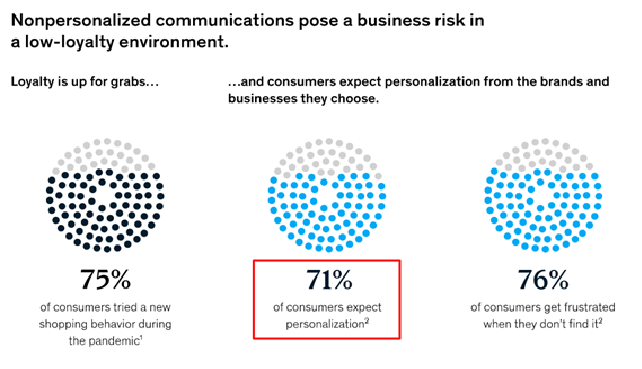 Here are some ecommerce advertising tips to deliver more personalization to your customers.
Use behavioral data—past actions and indications of interest—to deliver personalized product recommendations and carry out targeted advertising.
Personalize your offerings based on the customer's location.
Use email marketing to send personalized offers to your customers, such as special discounts.
Follow up with customers post-purchase or after shopping cart abandonment.
Celebrate customers' milestones like the number of years they've been your customers.
4. Embrace User-Generated Content (UGC) and Employee-Generated Content (EGC)
With so many small brands venturing into the ecommerce space, customers are becoming more selective about the businesses they buy from.
They want authenticity, which brings us to one of the most important ecommerce advertising tips—UGC and EGC.
UGC is any brand-centric content created by customers or individuals. They may or may not be rewarded for it.
GoPro, for instance, has created an awards program where customers get rewards for sharing photos and videos shot with a GoPro camera.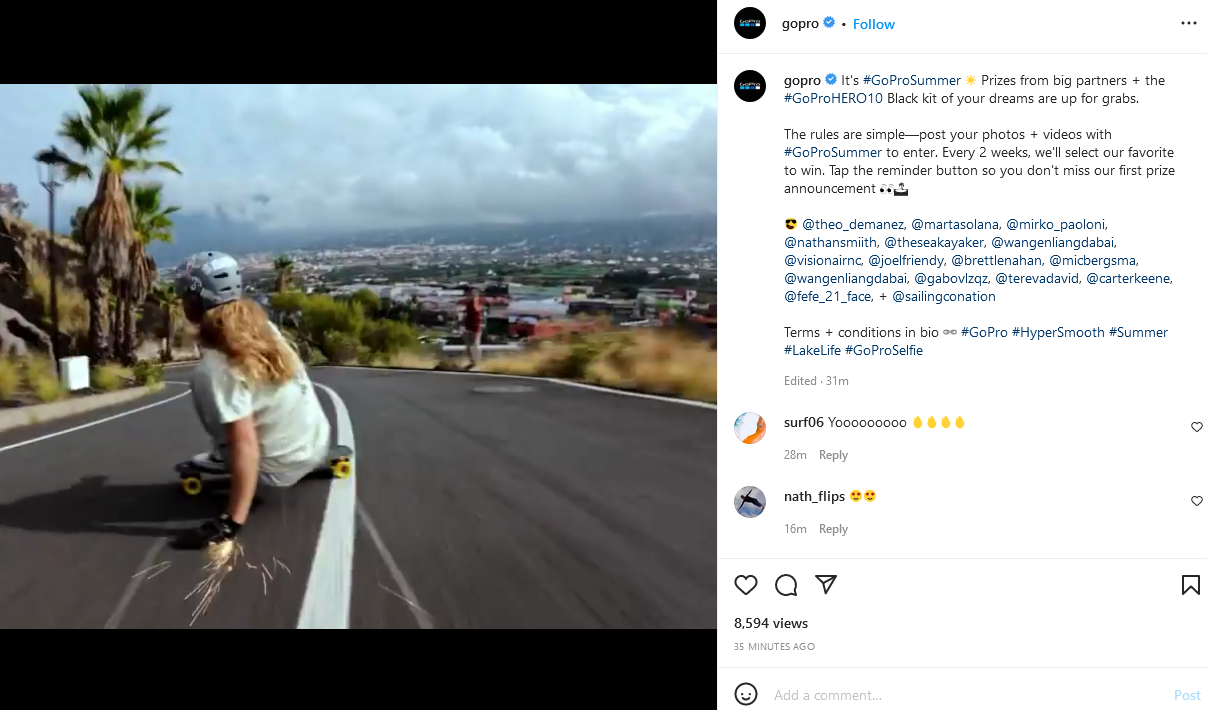 UGC provides social proof.
When your target customers see others who've bought from you and are happy with it, they're likely to be confident in making the same purchase.
Testimonials, product reviews, unboxing videos, and case studies make for great UGC.
EGC, on the other hand, is content created by your employees. Here's an example of a Whole Foods employee sharing their favorite products from the store.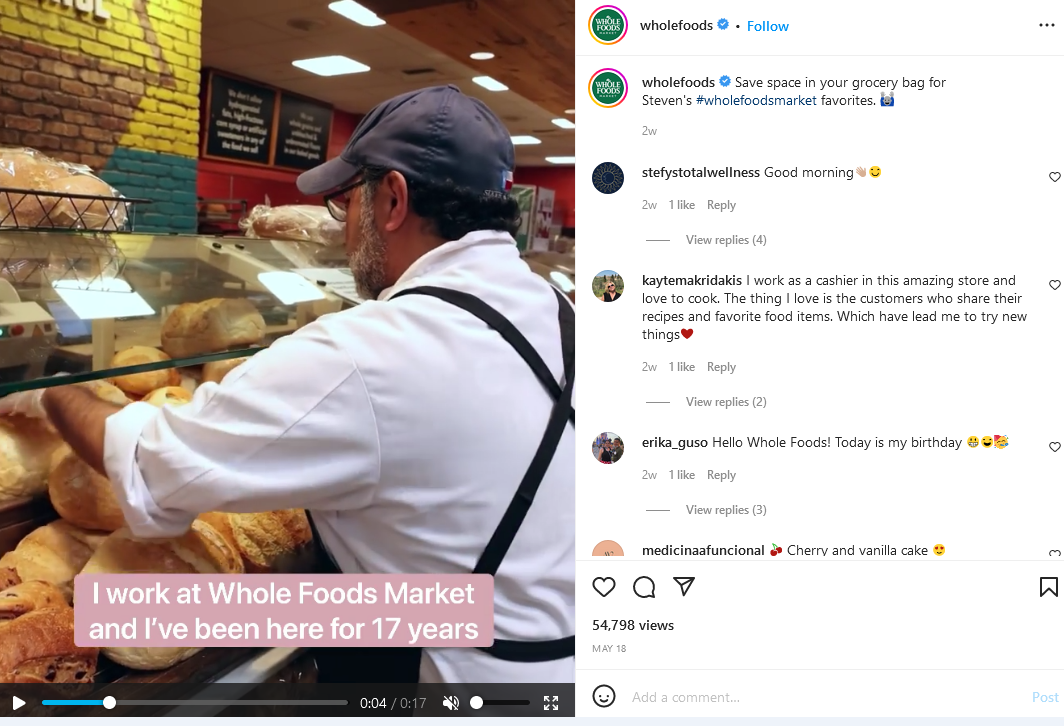 Such content from employees can give a human touch to the brand and it can further build consumers' trust in your ecommerce store.
5. Boost Your Social Presence
Last of our ecommerce advertising tips—become active on social media.
The number of social media users worldwide is at 4.48 billion and this number will only grow.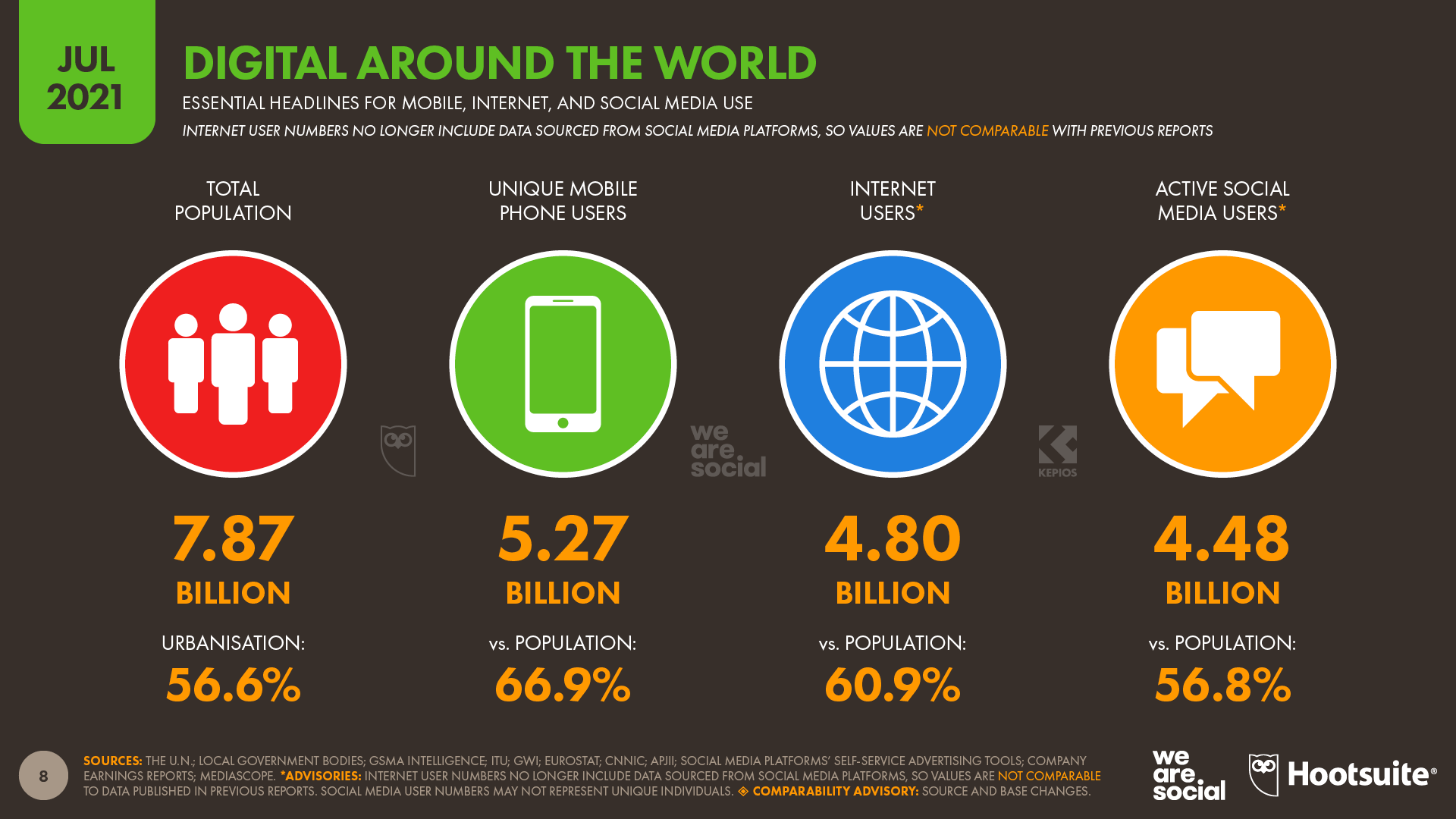 That makes it an excellent platform to connect with your target customers, create brand awareness, and boost your lead generation and sales.
Start by creating a solid content strategy to develop professional social media accounts. Next, create high-quality content for them in the form of attractive images, UGC, and short, engaging videos.
Finally, mix up the organic social media advertising with paid ads to further boost the performance of your content and drive greater reach, engagement, and sales.
Ready to Implement These Ecommerce Advertising Tips?
Ecommerce is a competitive space, and the only way to beat your competition is to employ effective advertising tips like the ones mentioned above.
From influencer marketing to SEO and social media promotions, there's a lot that you can do to boost your ecommerce sales through advertising.
You can even personalize your ad campaigns well to further drive results from them.
Do you have any questions about the tips mentioned above? Ask them in the comments.