How to Grow Your Customer Base
Every business owner wants more, is never satisfied with the customer base, and will do whatever is required to grow their brand and increase conversions. That's because the growth of your company is directly dependent on customer base growth.
Especially the ones that keep returning to patronize your business after their initial purchase. But customer base growth is tough work. And if you don't know what you do, you'll end up wasting resources on endeavors that yield little to no results.
However, today we have a ton of skill sets, tools, resources, strategies, and information at our disposal than ever before that can help ease up the process. How do you take advantage of all of them to boost your business?
Do you run a loyalty program? Or launch a referral program for customer acquisition? Or do you opt for traditional marketing?
What are the most powerful ways to boost your customer base? We'll help you out with the answer in this article. But first, we'll define a few basic terms to ensure that we're on the same page.
Let's get started.
What is Your Customer Base?
Your customer base is made up of your repeat customers. These are buyers who keep returning to your business to purchase more of your services and products. They are loyal as well as display loyalty to your brand, even engaging with it on various platforms and channels.
These people are your organization's most prized assets. So when we talk about "customer base", we mean buyers who don't just patronize your business once but who keep coming back for your offers.
What is the Difference Between Your Target Audience and Customer Base?
Your target audience is made up of the people that your product or services are made for and that you want to purchase your offer but haven't yet. These people are the wide pool where your customer base is gotten from. Your customer base, on the other hand, is made up of your current customers who keep purchasing from you.
How Do You Know the Size of Your Customer Base?
The size of your customer base can be calculated through various means but the simplest way to do so is to capture the data of every prospect turned buyer via a contact detail like an email address. This way you can know the people who buy from you and generate offers that suit them.
Steps to Grow Your Customer Base
Let's have a look at the various ways you can boost your customer base:
1. Use User Generated Content
Fashion retailer Monsoon requests shoppers to share photos of themselves using their product, which are then used on their website.
User-Generated Content is brand content created by customers. The thing is, people would likely listen to a fellow consumer talk about how great your product is based on their personal experience than if you do it yourself. So obviously you need to improve your customers' experience with your products before encouraging them to produce content about their experience.There are so many ways to encourage user-generated content.
Take the chips brand, Doritos, for example. To keep customers engaged with the brand and generate user content, they launched a website doritoslegionofthebold.com that allows users to create branded videos and images that the company shares on its social media platforms.
You can also create a social media giveaway that involves customers making Instagram posts using your product with a caption about their experience and the best one wins a reward. These posts are then reposted by your official page and prospects can see what other people think about your offer and this motivates them to trust your brand and make a purchase.
2. Referral Program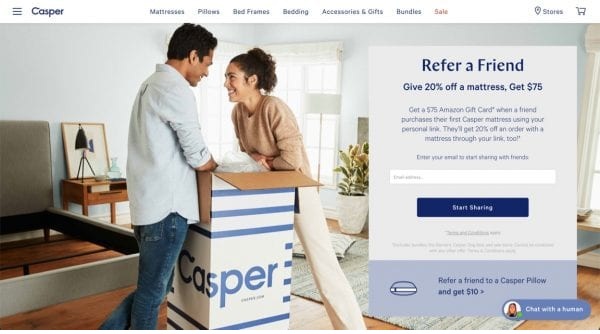 Casper mattress referral program
Just because people like your product doesn't mean they'll recommend it to others. It's your duty as a brand seeking to boost its customer base to induce this behavior via incentives, which is what a referral program is. Consumers believe the opinion of their family and friends more than they do yours and that's where the power of referral marketing comes in.
You tell your existing customers to promote your business to people in their circle and in exchange, reward them for their actions. So not only are they telling people about their experience with your business because they love it but they get a reward for doing so, which motivates them further.
Here's how fashion brand Rent the Runway does it. They run a referral program that offers $30 in store credit to customers in exchange for them referring the business to their colleagues and friends. And in addition the referred friend also gets $30 in credit for use in the store.
3. Engage Your Customers and Ensure they're Satisfied

Starbucks loyalty program incentives
The primary way to build a customer base is to ensure that you retain your customers. One-off purchases have their place but if you intend to grow as a business you need customer retention. And the only way to do this is to ensure that they're engaged, happy, and satisfied.
How do you achieve this? Loyalty programs.
A great loyalty program works by offering existing customers a reward for continuous patronization of your business. The rewards can be discounts after say 5 purchases, or a free product or service after a specific number of purchases. With loyalty programs, you can even give specialized offers on the birthday of your customers to boost engagement and make them feel valued. Set up a recurring emails campaign to ensure your customers receive scheduled messages with special offers, discounts and promotions.
The whole idea is to show your customer that you value their continuous support of your business and at the same time, you get them to make recurring purchases with the reward as an incentive.  
Jillian Michaels runs a fitness app that does this excellently. The app offers badges to users once they complete particular tasks to ensure that the customer feels appreciated as they use the app. In this way she incentivizes customers to use and subscribe to the app as they feel valued with each reward.
Another way to ensure that your customers are happy and engaged is by offering stellar customer service. If buyers have questions and they're unable to get answers, problems will arise. Customer retention is most demanding after a buyer is through with their purchase. So you need to provide your current customers a place where they can return to ask questions to give feedback. For example, you can use a cloud phone system for your business to deal with customer inquiries faster and therefore understand your customers' pain points beter.
After all, adhering to quality feedback from a customer can help to build your customer base as well because it means solving an issue that bothers customers that you may not be aware of.
Lastly, consider using your knowledge to continually offer educational content that your customers will find valuable and keep them engaged with your platform.  For instance, let's say that you run a popular SaaS that helps salespeople keep track of their sales pipeline.  It's obvious that your customers are interested in sales skills, so it would be wise to invest in an online course platform and invite sales specialists from within your company or outside of it to help create a free educational course about sales skills that can provide a ton of value for your customers.  
Conclusion
Growing your customer base involves a lot of work and sometimes can get confusing. However, with the right tips, you can craft powerful strategies as we have seen in this article that will help to not only grow your customer base but keep your customer satisfied and engaged.
With a referral program, for example, you can retain customers by keeping them engaged with the goal of finding new customers and receiving an incentive. In the same breath, you also attract new customers who believe in the recommendation of their family member or colleague more than yours.  Others like loyalty programs help you ensure that your customers are happy and satisfied while enticing them to make recurring purchases from your brand.
So why the wait? Get started!