AI and marketing: What the stats show
There are a lot of stats out there about marketing and artificial intelligence. Unfortunately, many of them are (gasp!) more than two years old. When it comes to AI, change comes fast. Not just in the technology, but in attitudes and usage. 
Here's a collection of statistics about AI and marketing with the date of the survey included. This will let you judge for yourself how much things have changed since they came out.
Marketers' attitudes towards AI 
Marketers' use of AI
(from Influencer Marketing Hub 2023)
61.4% of marketers have used AI in their marketing activities.
44.4% have used AI for content production.
19.2% of marketers spent more than 40% of their marketing budget on AI-driven campaigns 
Dig deeper: 4 AI categories impacting marketing: Predictive analytics
Use of AI by job function
(from IBM 2022)
54% IT professionals
35% Data engineers
29% Developers and data scientists
26% Security professionals
25% Customer service professionals
23% Marketing professionals
21% Product managers
21% Sales professionals
21% HR professionals
21% Finance professionals
While marketers ranked sixth among those using AI, a 2021 survey by Semrush found that marketing and sales prioritize AI and machine learning more than any other department. This could be the difference between wanting and getting. Marketers may want AI more because they are lower on the priority list for getting it.
The Semrush survey also found:
48% of marketing leaders say AI is making the most significant difference in how customers interact with them.
64% of B2B marketers consider AI to be valuable in their marketing strategy
80% of marketers in 2020 already had chatbots as part of their customer experience strategy. 
AI adoption by marketing
Here it's useful to look at older stats to see how quickly things have changed.
Marketers' AI usage increased from 29% in 2018 to 84% in 2020 —  a 55% jump. (Salesforce 2020)
This happened as adoption was slowing among businesses overall, likely as a result of the pandemic.
AI adoption slowed significantly from 2019 to 2021, things picked up again last year when AI adoption grew by nearly 250%. (HubSpot 2023). 
What's hindering/driving AI adoption
Top five things hindering AI adoption:
(IBM 2022)
Limited AI skills, expertise or knowledge (34%), 
Price is too high (29%),
Lack of tools or platforms to develop models (25%), 
Projects are too complex or difficult to integrate and scale (24%), 
Too much data complexity (24%). 
The IBM survey was released in early 2022, about 10 months before OpenAI's ChatGPT brought down AI's price and made it easier to integrate. If IBM does this survey again it's likely price will have fallen off this list.
Top ten factors driving AI adoption:
(IBM 2022)
Advancements in AI make it more accessible (43%)
Need to reduce costs and automate key processes (42%)
Increasing amount of AI embedded into standard business applications (37%)
Competitive pressure (31%)
Demands due to the COVID-19 pandemic (31%)
Pressure from consumers (25%)
Directives from leadership (23%)
Company culture (22%)
Labor or skills shortages (22%)
Environmental pressures (20%) 
Again, this survey was taken before ChatGPT, but even then AI was already becoming more accessible to businesses. Whether planned or not, OpenAI released their product at the perfect time.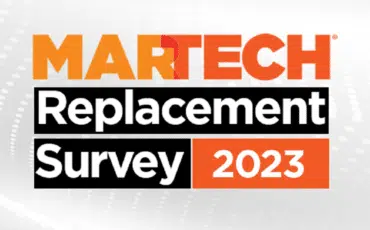 ---
Get MarTech! Daily. Free. In your inbox.
---
---