Quick Guide to Creating Budget-Friendly Marketing Plan
After closing your brick-and-mortar business amidst COVID-19, reopening your doors to the public isn't as simple as putting a sign out front and hoping your customers will return post-coronavirus. You need to communicate your company's safety policies and procedures and take advantage of free or affordable marketing opportunities, like social media and email marketing.
Fortunately, your post-coronavirus marketing plan doesn't have to break the bank. Below, Zumvu shares a few budget-friendly tips and strategies for promoting the reopening of your small business — while keeping your customers and employees safe and healthy in the process.
Look at Your Financial Situation
As you prepare to reopen your brick-and-mortar to the public, the first thing you need to do is take a look at your current financial situation. How much can you afford to spend on marketing and advertising post-lockdown? Are there any unnecessary business expenses you can cut back on in order to increase your marketing budget?
Something as simple as a balance sheet can help you answer these questions while presenting you with a clear snapshot of your business's financial situation. There are many advantages of using a basic balance sheet for your small business, largely because you can take a closer look at your current assets, liabilities, and net worth as often as necessary. And with the convenience of always having real-time numbers, you can quickly unearth any weaknesses or strengths. This, in turn, makes for accurate reporting and better decision-making.
Communicate Your Safety Protocols
To reopen and succeed post-lockdown, your business must meet federal, state, and local guidelines. You need to be able to share your safety protocols with your customers, employees, vendors, and other relevant parties. Check out the National Governors Association mitigation actions chart, or visit your state's official website to review your local rules and regulations.
After complying with the requirements for reopening, it's important to effectively communicate the safety measures your business is taking. Derek Miller of Open We Stand shares the following cost-effective strategies for communicating your coronavirus safety policies:
Thoroughly train your staff prior to reopening.
Share updates to your website and social media pages.
Send email updates to customers.
Post signage in and outside of your brick-and-mortar.
Keep an employee at your store entrance to ensure that safety protocols are being followed.
Explore Free Marketing Tools and Strategies
In addition to communicating your safety protocols via digital channels, there are so many other budget-friendly tools and strategies for interacting with new and existing customers before, during, and after your business reopening.
As one example, you can use Facebook to create online or offline events, share company blog posts, stream live videos, and network with other business owners. Plus, social media management tools like Hootsuite can be used to schedule and share content to your Facebook, Twitter, Instagram, LinkedIn, Pinterest, and YouTube channels.
Other free marketing tools for small businesses include:
Canva (for creating images and designs)
Wistia (for creating professional videos and podcasts)
Google Trends (for researching popular blog topics to write about)
Google Analytics (for analyzing the behavior of your website visitors)
Open Site Explorer (for monitoring your website backlinks and Domain Authority)
If your budget allows, however, professional marketing services are a worthy investment — especially if you don't have the time to engage with your target audience online. These services can help to boost your online visibility, increase your conversion rates, and attract new customers, as well as handle other tasks like website maintenance and mobile development.
The Bottom Line
It's important to create a sound marketing plan as you prepare to reopen your small business during the pandemic. However, this doesn't mean you need to spend a fortune on marketing and advertising. With the right tools and resources at your disposal, you can affordably reach your existing customers while also growing your audience as you get ready to reopen your brick-and-mortar business.
Zumvu can help you unlock your business's growth potential. To learn how we can assist you and your business, fill out the contact form on our site!
Comparison, Core Benefits, & Features
If you're preparing to launch an online store and have questions about what kind of eCommerce platform to pick, read on. Here in this article I compare two totally different stages -a hosted and non-hosted one – PrestaShop versus Shopify.
Did You Know!!
According to the development stat, in 2020, the world anticipates approximately 2B online customers. Furthermore, before the end of 2040, 90-95% of the shopping is expected to be done digitally through eCommerce sites and mobile applications.
Both eCommerce platforms have their qualities and shortcomings and can turn into the perfect business solution. I will assist you with picking the most ideal choice for you to begin your eCommerce business experience or possibly switch the current platform of your eCommerce.  
Let's make a side-by-side comparison to help you settle on these two other options.
What is Prestashop and Shopify?
PrestaShop is an open-source eCommerce platform that empowers you to develop anything from a little online shop to a full-on shopping cart solution. With a huge add-on market and an extraordinary set of in-buit features, PrestaShop offers a scalable solution to eCommerce merchants.
Whereas Shopify is an extensive SaaS and a market's leading online store builder. It gives clients perhaps the most extensive eCommerce toolkits of all its rivals. Moreover, you can upload a limitless number of items or products to it.
PrestaShop vs Shopify: Key Data
PrestaShop is a freemium self-hosted open-source platform, established in 2007. As of now, it is being used by over 300,000 shops around the world. This solution doesn't need a particular web-provider and gives its users the opportunity to pick providers themselves.
It's renowned for being completely customizable, i.e., you can alter the store as per your individual inclinations. It's an ideal alternative for those business people who are wanting to set up a small or medium online business.
On the other hand, Shopify is a Canadian hosted platform established in 2004. It powers over one million stores and is viewed as one of the fastest-growing platforms across the globe.
This platform is celebrated for its straightforwardness and fine-featured themes. Because of its flexibility, Shopify is an ideal shopping cart for any online store.
Here's how PrestaShop and Shopify are shown on Google Trends:
Shopify vs PrestaShop: Feature by Feature
1. User Friendly
Shopify
Shopify offers the easiest and most clear interface that you will discover. You don't have to know anything about coding or programming, simply click and you will have your shop prepared in no time with an excellent and professional theme.
This lets you save a lot of time and money. Making this one reason may individuals choose to begin with Shopify.
PrestaShop
PrestaShop is somewhat more complex than Shopify, it will expect customers to know a little bit of coding. This might actually make this platform trickier to a few.
However, the information that you need to work with PrestaShop isn't too advanced in class and the knowledge you need is generally in the forums.
Winner: Shopify
2. Pricing
Shopify
With Shopify, you will have 3 choices. They are Basic Shopify, Shopify, and Advanced Shopify which range from $29 to $299. Also, Shopify offers two other packages which are Shopify Lite and Plus. You can hire shopify developers for further development of your website.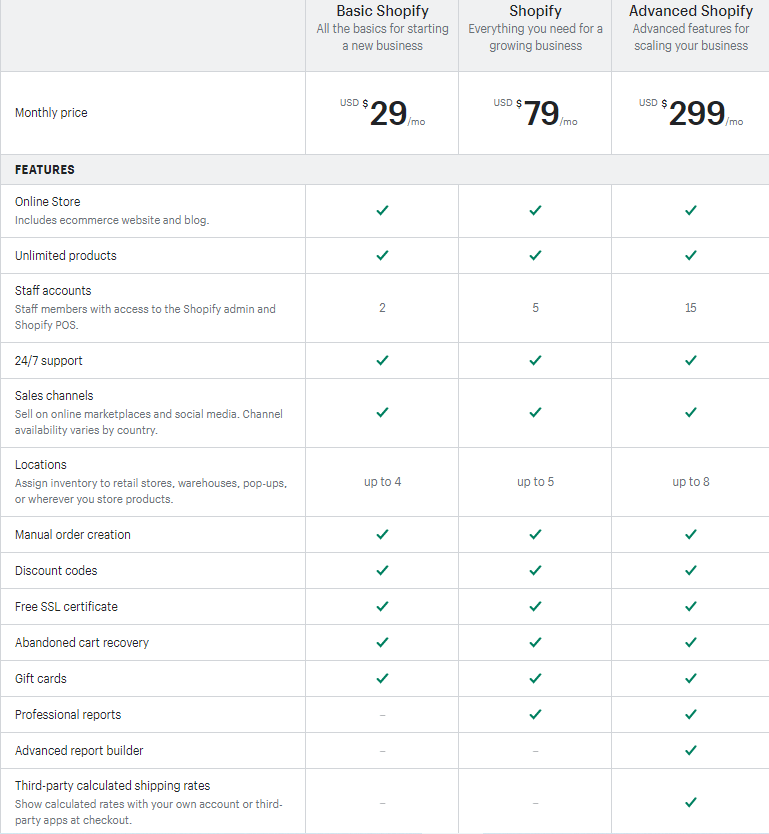 To manage your business, you really need to pick an appropriate package depending upon how huge your store is. Similar to other platforms, Shopify also provides a free 2-week trial to try things when you register a new account.
You could save money by enrolling for the yearly plan if you have a long-term sight of your business future. Moreover, one can save 10% by signing up for an annual subscription, and 20% by choosing a two-year contract.
PrestaShop
Whereas, Prestashop is an entirely distinctive thing compared to Shopify since Prestashop is an open-source cart. It is totally free to download and install, yet at the same time need to pay for a hosting provider or SSL Certificate.
Therefore, dealers should consider the entirety of the necessary costs prior to opening a store. Prestashop users will get an extraordinary deal with Prestashop official hosting partners – 1 and 1 as well as A2 hosting.
You will pay from $4 to $14 every month when you work with a Prestashop hosting partner.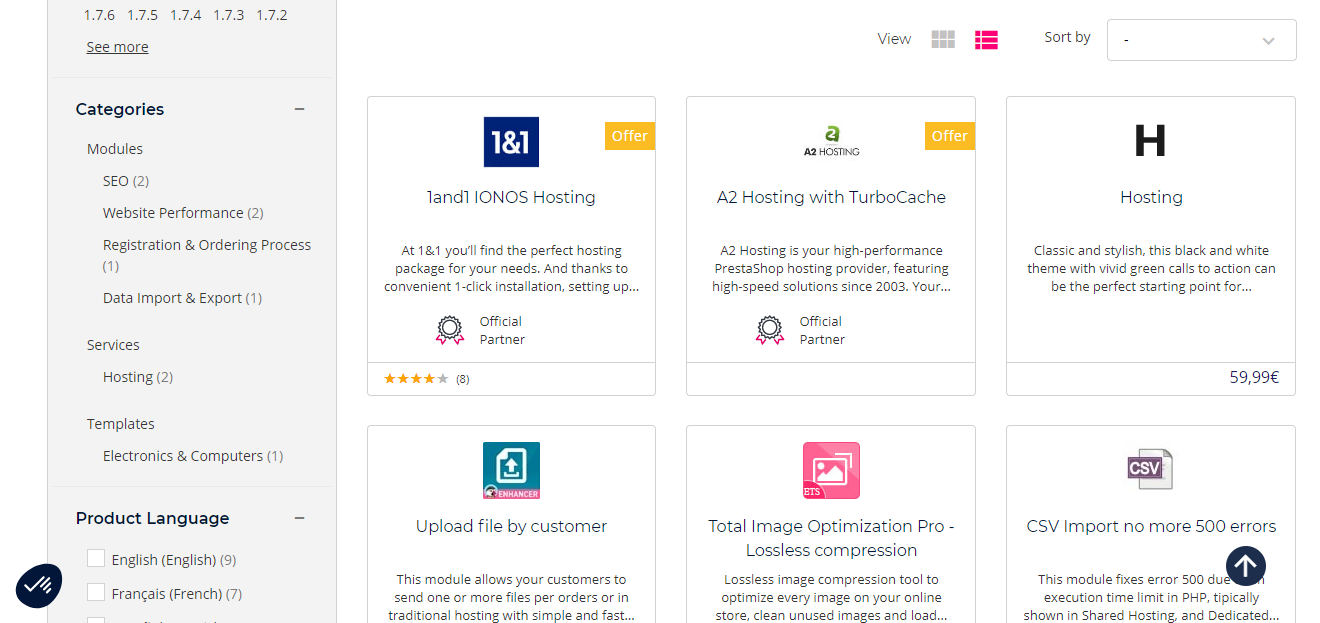 Since PrestaShop is an open-source solution, every modification you make requires code participation. This means that you are more than likely to hire an agency or developer. You can consult a prestashop development company in India to get a helping hand in your store-set up.
Winner: PrestaShop
3. SEO
PrestaShop
PrestaShop lets you work better with the SEO placement of your website. If your site is well configured, PrestaShop stores usually give better results on Google's search rankings.
Shopify
Shopify has been improving the SEO of its stores in recent years and is doing well with it. There are many apps that will also help you in SEO of your page. Shopify has servers in the USA, so if you are based in Europe, your website will be slightly slower which will affect SEO rankings.
Winner: PrestaShop
4. Performance
It is important to monitor eCommerce websites to see how the device works under a particular load. Loading time is about how fast product pages are loaded and identify potential performance bottlenecks.
With fast loading time, you can definitely give your customers a pleasant and enjoyable experience on your eCommerce website.
We can easily see that Shopify is a clear winner of this battle. Within just 1.3 seconds for loading time, Shopify is definitely a potential candidate.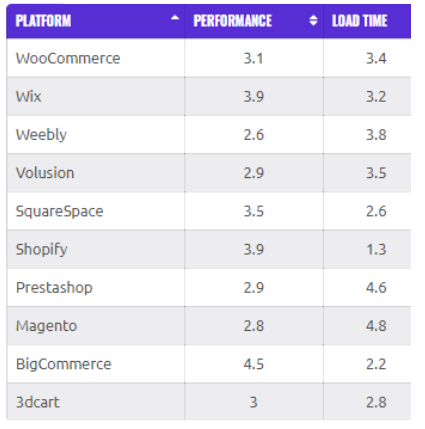 On the other hand, Prestashop can lag behind with 4.6 seconds, which is 3.5 times longer than Shopify.
Winner: Shopify
5. Ease of Use
PrestaShop
Setting up a PrestaShop online store can take time and patience. The reason for this is that the back-end (part of the system you see, not your customers) is more technical to get hold of than the hosted platform.
Having said this, once you get started, PrestaShop provides a demo video with advice that walks you through the first phase of the store set-up.
Shopify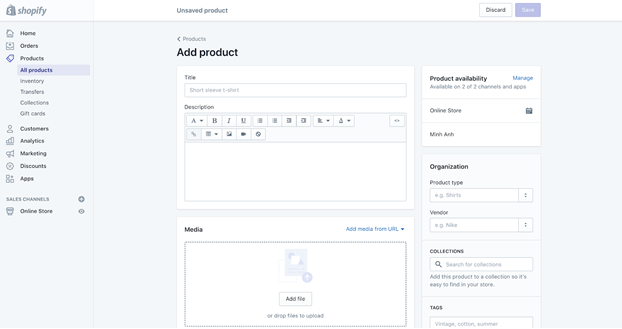 Shopify makes set-up very easy. The interface is intuitive and takes little time to use. The drag and drop functionality to customize your store as you want does not require any technical capability.
Being a hosted platform means that onus is on Shopify to offer all the tools you need to develop a store from scratch and then run it.
You must note that once you sign up, Shopify presents you with a default store that you can make changes to immediately.
Winner: Shopify
PrestaShop vs. Shopify: Which One to Choose?
If you want to start a business without technical skills, Shopify would be an ideal option. With unlimited products and advanced eCommerce functionalities, Shopify is definitely a suitable option for you to see your business. This platform is easy to use and can actively control the price.
On the other hand, if you have a small to medium store size and just want a platform that can provide you with customization and the ability to sell without a hitch, then do it on Prestashop.
In addition, the platform is outstanding in terms of thousands of add-on modules and ready-made themes. You can get started for free, setup is easy, and you don't have to worry about any maintenance.
Wrapping Up
There is no objective winner, it is apparent that each platform has its strengths and weaknesses. Both are amazing platforms to use and create your online store.
Have you not decided yet? Then you must consult a top eCommerce website development company in India, they will surely help you in selecting the right platform that works best for your business.
Good Luck!!
Get the Most Out of LinkedIn Sales with These 5 Steps
Acquiring more qualified targets is now easier than ever before.
In this blog, we'll provide you with step-by-step directions to use the competitors' efforts to your advantage. Moreover, we will show you the tools that enable you to do this on autopilot — with smart automation!
The first two steps are about filtering out the competitors that you should pay special attention to. If you feel like you mastered this already, feel free to jump in straight to #3 — that's where the real fun starts!
Step 1: Determine Your Actual Competitors
Not everyone who offers a remotely similar product or service is your competitor.
Don't waste your resources on a target pool that is too wide. If you do, you'll only spend your precious time on people who won't be interested in what you have to offer.
First of all, divide the companies you think of as your competitors into the following categories:
Direct Competition — they sell the same or very similar products as you do, and the customers will consider both of your products (as well as the others in this range) when making a choice.
Indirect Competition — they offer a similar product, but you're competing for the same market (for example, orange juice and Coca-Cola).
Let's start narrowing it down.
Focus on your direct competitors, and ask yourself a few good questions about them and your own business:
What's included in the full scope of their services?
What about you?
How do they differ at the first glance?
What does their online presence look like?
What is your USP?
The broad answers to these questions will guide you through the next step.
Step 2: Study Your Competitors Thoroughly
Let's start with LinkedIn competitor research.
LinkedIn is a place where industry professionals gather and focus their business efforts — which makes it a perfect starting point when learning about the competitors and their tactics.
Tip No 1: Go to viewing settings and set your profile to private mode.
Remember when you liked your ex's profile photo from 2015? Not cool at all, right?
Well, the same applies when you examine your competitors on LinkedIn. Don't forget — unlike other social networks, LinkedIn will show you when someone looks at your profile.
To prevent this, log out from your Google and LinkedIn accounts (if you don't have a Premium LinkedIn account already).
Tip No 2: Turn off the "Viewers of This Profile Also Viewed" as well!
This will prevent other people from seeing whose profiles you've visited and contacted. Now you can see their connections, followers, ads and newsfeed without being seen yourself — and adjust your strategy accordingly.
Tip No 3: Learn about current trends and topics in your industry.
Being up to date with everything that goes on each day is in itself a full-time job.
To make sure you never miss news and events you could use to your advantage, set up Google Alerts to deliver the news for you! It is free and easy to do so:
Pick the account where you want the news to land
Go to "Create an alert about…" tab and enter keywords for the terms relevant to your business
"Show options" button will allow you to specify how often you want to receive the alerts, sources, language, region, how many results you wish to receive, and the email address/ RSS feed
And just like that, you won't have to look these terms up: Google will deliver them to you.
Tip No 4: Snoop around the niche spots as well.
Don't limit yourself only to your existing connections and followers of your direct competitors — there are other places within the LinkedIn community you can research and discover plenty of prospects.
For example, niche industry groups on LinkedIn are perfect places to find potential customers and users. While we're focusing on LinkedIn here, the same goes for Facebook groups, Reddit, Twitter and Instagram pages. Those can provide you with plenty of useful connections, knowledge and opportunities as well. The group name is an obvious sign of whether it is the right place to look for potential targets or not.
Once you decide the group fits your criteria, join and take a look at the posts. What are people talking about? What are their needs and unmet demands? Can you be of help to them?
Some of the post authors and commentators are looking for exactly the type of service you offer: that's the sign you're waiting for, and the right people to contact!
Now, you can decide to chime in and pitch in their inbox or do it in the specific posts' comments. However, doing this manually will take too long; picking individual accounts, tailoring and sending each message one after the other is long outdated practice.
We have a better idea!
Step 3: Scraping time!
Here we'd like to introduce Expandi.io — a tool to automate everything regarding LinkedIn outreach, but at the same time keep the whole process natural and personalized just as if you did it all on your own.
Expandi will collect all the account names and data from the places you choose, let it be comment section, page followers or connections. For example, you can pick the Twitter pages where your audience gathers to discuss most recent changes in the way your industry works. Then you can scrape everyone who liked that page and turns their names into LinkedIn profiles with help from Expandi.
Now, you have a rich list of LinkedIn accounts to reach out to — all of those people interested in your offer. Imagine how long would it take to vet them out one by one!
The next step is to import this list (you get it in the CSV format) back into Expandi, and you can start to reach out to the targets on LinkedIn.
Step 4: Reach Out to All of Them
One by one?
Nah.
By now, you got the gist — outreach is automated as well.
You may wonder how to automate the outreach so it doesn't look robotic and insincere, while speeding up the outbound prospecting? How to personalize beyond "Hey, (target name)!" for dozens of accounts? How to avoid being flagged for spam?
With all those dilemmas in mind, Expandi adapted it's tool with the following features:
Dynamic placeholder — this is a dynamic tag unique to Expandi. It will take  personalization to another level, so each account you want to reach out to gets a unique message, with something special that shows your effort.
Safety features — to avoid getting banned for sending tons of messages in short time spans, Expandi makes all the automated activities randomized. The outreach cadence mimics the human behavior perfectly, so you don't need to worry about getting penalized by LinkedIn.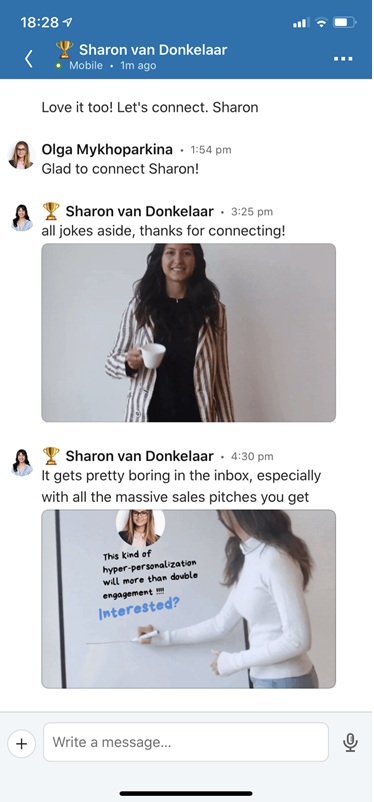 Final Step — Enjoy the Fruits of Your Labor!
Smart LinkedIn automation is the best thing since sliced bread. Instead of tedious manual labor, copying, pasting, and guessing games, there are tools that do all of that for you.
You can dedicate your valuable resources to improve your services or take a break from work in general and spend time with the ones you love the most.
Author Bio:
Stefan Smulders is a SaaS Entrepreneur | Founder of Worlds safest software for LinkedIn Automation / Expandi.io | for more than 5 years Founder of LeadExpress.nl
Best Social Media Content Moderation Strategies
Social media has changed the way businesses operate. From creating an entirely different platform for new marketing efforts and changing how brands relate to their customers. We can all agree that social media is a very integral part of many businesses.
But, just as social media serves as an asset for your business, it could also become a liability if not handled properly. We have all seen certain brands put out content that harmed their image, and caused irreparable damages. This could happen to any business if they don't moderate their content. This is where a social media moderator comes in.
What is a social media moderator?
A social media moderator is someone hired by a company to review, screen, and filter all social media content related to their business. By doing this, a business can ensure that its content is:
Appropriate
Aligned with its branding and
Helping them achieve their overall business goals.
In this article, we will cover some of the best social media content moderation strategies and how you can implement them in your overall social media marketing strategy.
Content moderation strategies for social media.
Having solid strategies set in place for your social media content moderation is extremely necessary. These strategies will ensure that you implement your content moderation following established guidelines. Hence, eliminating room for error.
Here are some of the best social media content moderation strategies you can incorporate into your social media strategy.
1)Establish a standard social media policy.
Setting standard rules are essential because they ensure everyone on your content team knows what's allowed and what's not allowed. When creating your social media content policy, ensure it includes:
The inappropriate content your company disallows. Inappropriate content should entail; bullying, brand bashing, sexually suggestive content, offensive photos, and videos, etc.
Rules on posting spam content. Spamming your audience on social media can diminish your brand's credibility. It can also devalue your content. Additionally, it can make your social media pages look messy and unattractive. Stay away from spam content.
How your company addresses sensitive topics like race and gender.
The method you apply to handle negative comments and reviews on your page or about your brand.
How you deal with content created from influencer marketing, etc.
2) Designate who can submit social media content.
We all know that there are a plethora of ways brands get and create their content. We also know that a high engagement on social media could equal high reach. And if all things were equal, we could trust all content sources without questions and allow everyone to tag and comment on our page. That's why the best writing companies make sure they use trusted sources.Therefore, as a brand, you can never be too careful.
So, set limitations on:
Who can submit content to your brand.
Who can comment on your page & tag you on their content. Most social media platforms have settings to accept, limit, or decline things like brand tagging and commenting.
Where/whose social media content you share. It is best to share or feature content from only people who have accounts with your business.
By doing this, you prevent trolls and fraudsters from taking advantage of your brand.
3) Determine a Content Strategy
Creating a content strategy is essential to your content moderation. It helps you ensure that you are creating content that fits your overall brand/social media marketing goals. Your content moderation strategy should include:
Where you share your content.
How you use the content that you create.
How you want your content to look. This should include your color schemes, style guide, taglines, hashtags, if you want to add logos or not, etc.
The type of content you want to upload.
Your brand messaging must be consistent throughout your social media channels, so a content moderation strategy will help.
4) Create a standard submission process.
While we expect your business to create content regularly, there are also a few other contents generating methods you could implore. Some type of social media contents include:
User-generated content.
Customer reviews.
Contests and giveaways.
Affiliate promotions, etc.
Consumers love reading user-generated content and top writing reviews. However, whatever way you get your content, you need to have a standard submission process.
The three most common submission processes you can use in your business are:
Pre-moderation: In this moderation method, your moderation team reviews and approves content pre-posting. The team has to approve submitted content before they post it.
Post-moderation: In this moderation method, the moderation team posts submitted content, and monitors/reviews them regularly to see how they perform.
Reactive moderation: With reactive moderation, content is submitted in real-time, and only reviewed if the content is flagged.
Ensure that you include all the information content submitters need to know. So, make available information on:
Where you intend to use the submitted content
User permission and rights agreements.
Content submission deadlines, rules, etc.
5) Monitor your content regularly.
Finally, it is essential to monitor your social media content regularly. This helps ensure that you aren't missing out on anything that could harm your brand.
You can monitor your content manually, automatically, or a combination of the two. Tools like Mention.com help you track social media content related to your brand.
In conclusion
Any serious business knows content moderation is vital. It attracts the kind of customers you need and also helps keep existing customers. Other advantages include understanding your users, increasing traffic and protecting the image of your brand.