50 Interview Questions to Hire the Best Digital Marketing Manager
In the era of digitalization, no brand can expect to grow without a digital presence.
Your clients need an engaging digital interaction with their audience, which requires a well-strategized digital marketing plan.
However, a strategy that yields results is only possible when you have a person who knows the ropes of digital marketing, calling shots from the top.
In other words, you need to hire a digital marketing manager who has the creativity and analytical skills to create and run a digital marketing campaign from start to finish.
But, hiring the right fit from the pool of resumes flooding in your inbox is easier said than done.
Luckily, we have teamed up with marketing experts to bring you a list of interview questions for a digital marketing manager to aid in your hiring process.
If you are looking to hire for more marketing positions, here is the inventory of marketing interview questions for your ease.
Let's see the questions!
General Interview Questions for Digital Marketing Manager
Although every person in a marketing department should have team building and collaboration acumen, the need becomes crucial in a managerial position.
So, apart from the tactical and strategical prowess, a digital marketing manager should have the necessary soft skills to manage a digital team.
But, how do you test the soft skills?
The best way to do that is to plan your interview basis: cultural assessment and skill and background assessment.
Here are a few cultural assessment questions suggested by experts that you can ask your next candidate.
Why did you choose to pursue a career in marketing?
What are your 3 top core values?
What's your favorite digital marketing strategy and why?
What areas would you say you're better than most in digital marketing?
How do you invest in yourself?
Why do you want to work for our company?
How do you know you will add value to our company?
What is the difference between a good place to work and a bad one?
What was the last marketing book you read, and when was it?
Which digital marketing gurus inspire you the most? Why?
What will you do in your first months on the job as a digital marketing manager?
What would you expect to happen if you underperform?
What would the definition of the "world-class employee" mean to you? Would you say you match this definition?
In what capacity was your team better with you being a part of it?
How do you approach juggling multiple shifting priorities?
What would you do if you could do anything you wanted?
If you could build a team, what qualities and skills would you look for in candidates?
Tell me about a time when you had a conflict with a coworker or team member. What happened?
Tactical and Strategic Interview Questions for Digital Marketing Manager
Once you are done assessing if the candidate is in sync with the company values and work ethics, it's time to find how well the candidate knows the tricks of the trade.
"The marketing manager position carries a lot on its plate that can't be chewed without having hands-on experience and skills. I try to understand if they have experience in the marketing channels that are strategic to my company. I'd also recommend asking questions that reveal the candidate's familiarity with different marketing automation and SEO tools."
What industries have you worked for before?
What marketing channels do you have experience with?
Have you ever helped your company's content rank higher in search engines? If so, how did you accomplish that?
Describe a marketing automation campaign that you set up.
Describe a successful social media marketing campaign that you were involved with. What was your role, what were the results, and how did you accomplish those results?
"Too many marketers have only an arms-length relationship with customers. The best marketers talk to customers, meet in person (when possible), learn how buyers feel, and figure out what they need for each step in their journey. Apart from that, I like to know how well the candidate communicates with leadership and makes ends meet with little resources."
Tell me about a time you didn't have sufficient resources (time, money, talent) to get the job done. What did you do?
Tell me about a time you gained insights into the buyers' journey. What did you do?
Tell me about a time you got leadership on the same page about marketing strategy. How did you do that?
"We like to nowing our candidate from the very basics to know how dedicated the candidate is. Then, we ask questions, in particular, to check how passionate and well-informed the candidate is and also whether or not they have the appropriate skills to thrive in the following career."
What skills do you believe are necessary for a marketer?
How do you determine which marketing channels are optimal for your target market?
How well do you understand our industry and target audience?
What's the one thing that you would change or alter in our existing website/ social media/ marketing strategy?
Tell me about a time when a project's needs and scope drastically changed—how did you respond, and what was the project's outcome?
"The candidate should be able to give you an example and guide you through the campaign from beginning to end. They should discuss qualitative and quantitative outcomes, as well as their significance in achieving success. It's a good sign if the candidate feels pleased with their accomplishment."
Describe the most successful campaign you've ever run. What made it so successful, and what part did you play?
Tell me about a recent marketing tactic you tried?
Which metric do you consider the most important to track?
How do you measure success or failure on a specific marketing campaign?
"I mostly ask questions about data and the potential for moving the needle on our marketing strategies. I really believe that some marketers focus too much on the content and a continuous stream of material rather than the results. That's all I want in terms of my marketing manager – results. And that can be tracked via data and analytics available online."
How comfortable are you in using large amounts of data to guide decision-making?
What numbers/ data would you track that we can analyze in relation to our marketing strategies?
How do you move the needle as a marketer?
What's one tactic you used that significantly increased leads?
"The applicant must possess a high level of emotional intelligence and is capable of balancing their own sentiments with those of individuals in positions of leadership. Effective communication necessitates emotional moderation. Also, creativity is a fundamental component of effective marketing; the applicant should be able to conceive creative ideas that support the marketing goals."
You've got an excellent concept for a new campaign, but your boss doesn't grasp it. How can you get executives to buy in?
How do you gain a deep understanding of your target audience?
Can you tell me about a time when you adopted a unique, new, or unconventional approach to a strategic initiative?
"A well-trained marketing manager can significantly influence a business. The screening questions for a marketing manager must probe into the fundamental talents and abilities needed to build and sustain marketing strategies that satisfy organizational goals effectively."
Please give me an example of a campaign that did not turn out the way you expected.
When it comes to influencing customer behavior, what elements do you believe are the most important?
What, in your opinion, distinguishes our company from its competitors?
"I try to understand the candidate's marketing acumen, decision-making, collaborative and leadership abilities. You should Include questions to know if the candidate has taken the time to research the company and familiarize themselves with its marketing goals and objectives. The idea is to ascertain whether or not the applicant is ready to take on a leading role to oversee critical marketing campaigns and deliver the best possible results."
What do you understand about our target audience?
What responsibility do you handle in your current job?
How would you orchestrate a successful product launch for low and high-budget?
What new marketing tactic have you recently tried, and what did you learn?
What do you know about our company's recent marketing efforts?
One-stop Social Media Marketing Solution for Digital Marketing Managers
Do your clients require social media marketing services?
Did they hire you to take care of social marketing across multiple platforms?
If yes, then things are about to get super hectic at your agency, especially for your newly hired digital marketing manager.
Managing multiple accounts, posting at the best time, tracking individual data, and creating reports.
Woah! I am already feeling tired. Think about your digital marketing team.
Don't worry, SocialPilot is here.
Switch to the best-in-class social media management tool with unparalleled scheduling, collaboration, analytics, and social inbox features to make things smoother.
Moreover, SocialPilot's agency-friendly features make client management effortless.
What are you waiting for?
Start your free trial today or schedule a demo call to know more.
10 Useful Tips For Getting More Engagement On Instagram
Do you know how to get more engagement using Instagram?
Instagram is a great way to connect and engage your customers. With more than 300 million active users, and almost 85 million images and videos uploaded every day, it is an awesome visual platform for business.
By using Instagram in the right way, you can successfully market your business. Still, most marketers struggle to get the engagement they hoped for on Instagram.
If the low engagement horrors on Instagram also haunt you, this blog is for you.
Whether you are new or want to find out how to get more Instagram followers, here you will find tried and tested ways to market your brand more accurately on Instagram and tips on increasing your posting consistency using the Instagram automation tool.
How to get more engagement on Instagram?
1. Optimize Your Profile
A well-optimized profile tells your potential followers who you are and give them a reason to follow you.
Start by choosing a username that is easy to recognize and searchable. Ideally, your username should match your business name. If your business name is already taken, try keeping your business name as the first part of your username so that people searching for your business are more likely to come across you.
On the same note, choose a profile picture that's on-brand and similar to your other social network profiles. It will help you maintain brand consistency across the various platforms and won't confuse your followers.
Another necessary thing is to turn your Instagram profile into a business account. It will unlock loads of extra features necessary to grow your business.
Also, make sure your profile is public. Nothing kills your engagement like a private account. Being hidden from the eyes of your potential customers isn't going to help you grow.
2. Update Your Bio
Updating your bio is also a part of optimizing your profile.
Update your bio with informative information about your brand. Add information that allows people to know who you are and what your business does.
Here are a few bio examples for your inspiration:
@Staples: "We make it easy to #MakeMoreHappen"
@wdywt: To be considered: Tag your on-feet photos with #WDYWT
@caratlane: We're Obsessed with Making Beautiful Jewelry Accessible #CaratLane
Use this space to feature a call to action, branded hashtags, and website links. Adding a link to your product page is essential, especially when most of your traffic comes from mobile devices. It becomes easy for your followers to visit your website and buy your products.
After that, enable notifications so you can see when people share or comment on your photos. This will allow you to engage with them more quickly. To enable notifications, go to options and then push notification settings. Select from everyone for every category.
3. Reorder The Filters
Instagram filters are all about fun. Choosing suitable filters can lead to moving views and engagement.
It is found that filtered photos are 21% more likely to be viewed and 45% more likely to be commented on than unfiltered ones. So it would be best if you found out what works the best for your business.
Additionally, if you use Instagram a lot, chances are you have a few favorite filters you use all the time and others you never touch. To make editing photos easier, you can reorder the filters in your editing window. This way, you can prioritize the ones you use the most.
To reorder the filters, simply hold your fingers down and drag each filter one at a time to reorder.
Once you are done trying a few filters, it's recommended to choose anyone and continue using the same filter every time you post. Sticking to one filter will give your post a more distinctive, relative, and recognizable look.
4. Respond To Your Followers
Make sure you are responding to all the comments you receive both positive and negative because it is a big part of engaging your audience. Also, thank people for kind comments or for tagging their friends. Reply to comments where people ask you questions about the photo or about your business. If you ignore their comments, it sends the message that you are not interested in building a community.
Show them that you care about what they have to say. Respond to comments, follow them back and engage with what they're sharing if relevant. This will lead to creating strong connections and more engagement as well.
5. Make Use Of Captions
Use photos that show exactly what followers will get from your business. If you are an author, show your book's cover or use a photo of someone reading your book. If you are into the eCommerce business, share your products with a nice background.
Although Instagram is a visual platform, your photo captions also play a huge role in helping you get more Instagram engagement.
A beautiful picture stimulates your followers to stop and concentrate on your post, but strong captions will help you market your intent and sell your products. Your caption is what drives your followers to your profile and click the link in your bio.
Your caption should leave a call to action at the end. Now, what that call to action will be, totally depends on the intent of your post.
One of the best ways to get more likes and followers on your Instagram photo is to use captions that ask questions. It is a great way to drive not only photos but engagement with comments as well.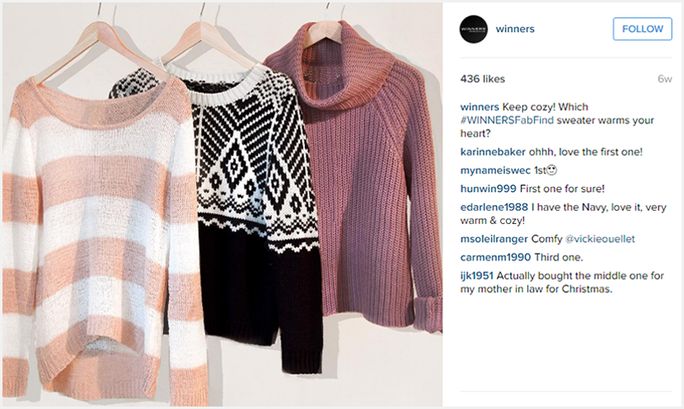 6. Use Quality Hashtags
Instagram allows for a maximum of 30 hashtags per post; however, try to use hashtags effectively by limiting the number of hashtags per caption to around three.
Additionally, using the relevant hashtag in your captions will help your posts appear to an audience beyond your followers. Depending on the industry, you can use the popular Instagram hashtags to get more visibility on your photos.
Here's a tip!
Before using any hashtag, find out which hashtag you should use in order to reach a wider audience and achieve the highest level of engagement.To find the hashtags, your audience might be using, research the "explore" tab in the Instagram app. When you search for any hashtag, it will show you a list of related hashtags at the top of the screen.
For example, when I search for #contentmarketing on Instagram, it shows me relevant hashtags such as #blogging, #content, #businesstips and etc.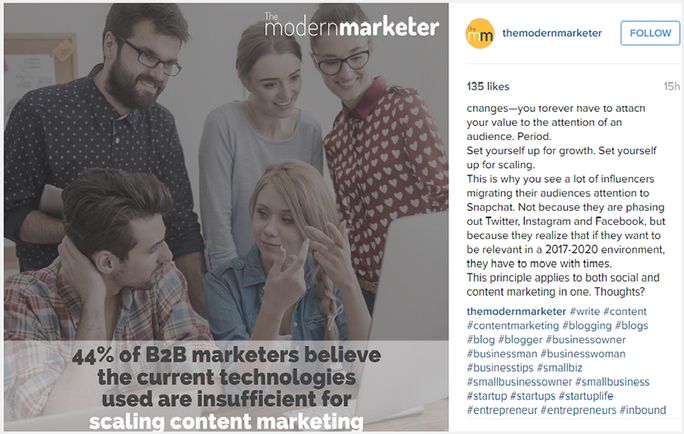 7. Leverage Instagram tagging
Besides hashtagging, you can leverage account tagging on Instagram to increase your visibility and reach among your target audience.
Account tagging, as the name suggests, is tagging other Instagram public profiles in your organic posts to win valuable engagement, impressions, and comments.
You can do account tagging in two ways – mention tagging or image tagging.
To mention an Instagram account, simply use @ and then type the username in the post caption or comments to tag the accounts. It's a more straightforward way to shout out client/customer accounts through your posts.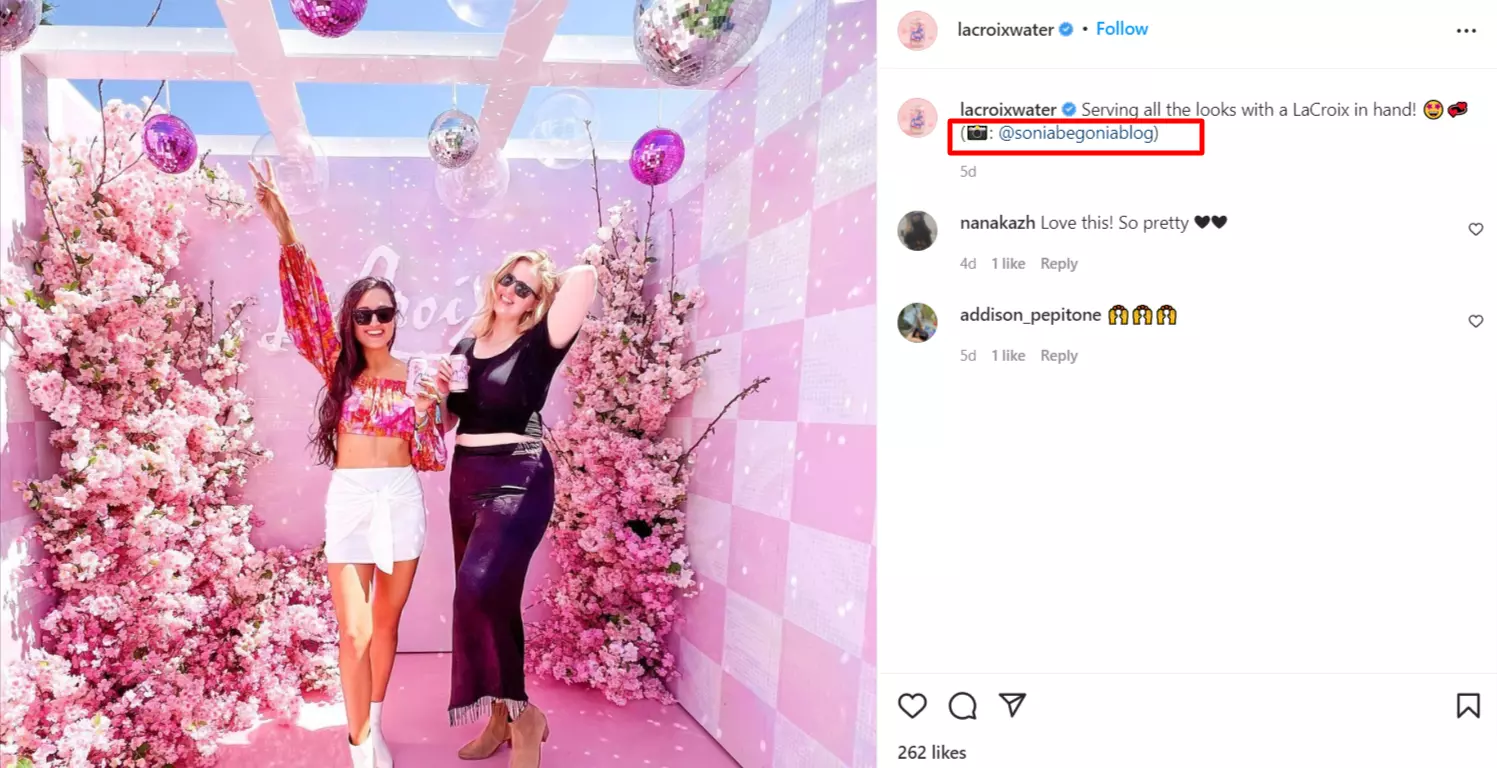 On the other hand, you can add single or multiple profile tags over the image of your posts to perform the image tagging. When you tag an account, it will receive a notification, and your post will show up in the "Tagged" section of your and your tagged account's profile.
This tagged section on your profile works as a great repository of user-generated content that you can promote through Instagram Stories later.
Look how Alfred, a Coffee brand, leverages the image tagging feature to promote its collaboration with KylieCosmetics.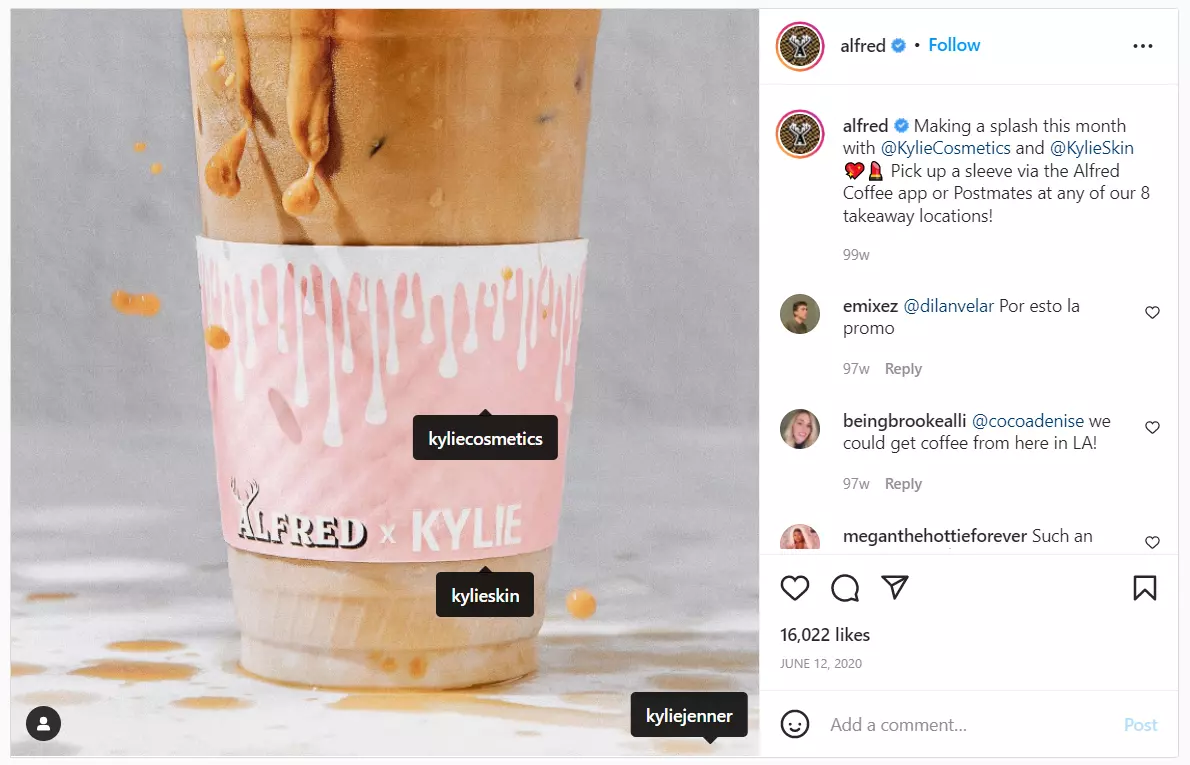 However, don't get carried away and start tagging anyone without a strategy. It will make your account look spammy.
Is it getting hectic to manage Instagram image tagging for multiple client accounts?
Use SocialPilot to tag multiple Instagram public profiles in your scheduled image post. No need to jump back to Instagram after scheduling your post. Simply, tag profiles anywhere in the image at the time of scheduling and create Instagram-ready posts directly from SocialPilot.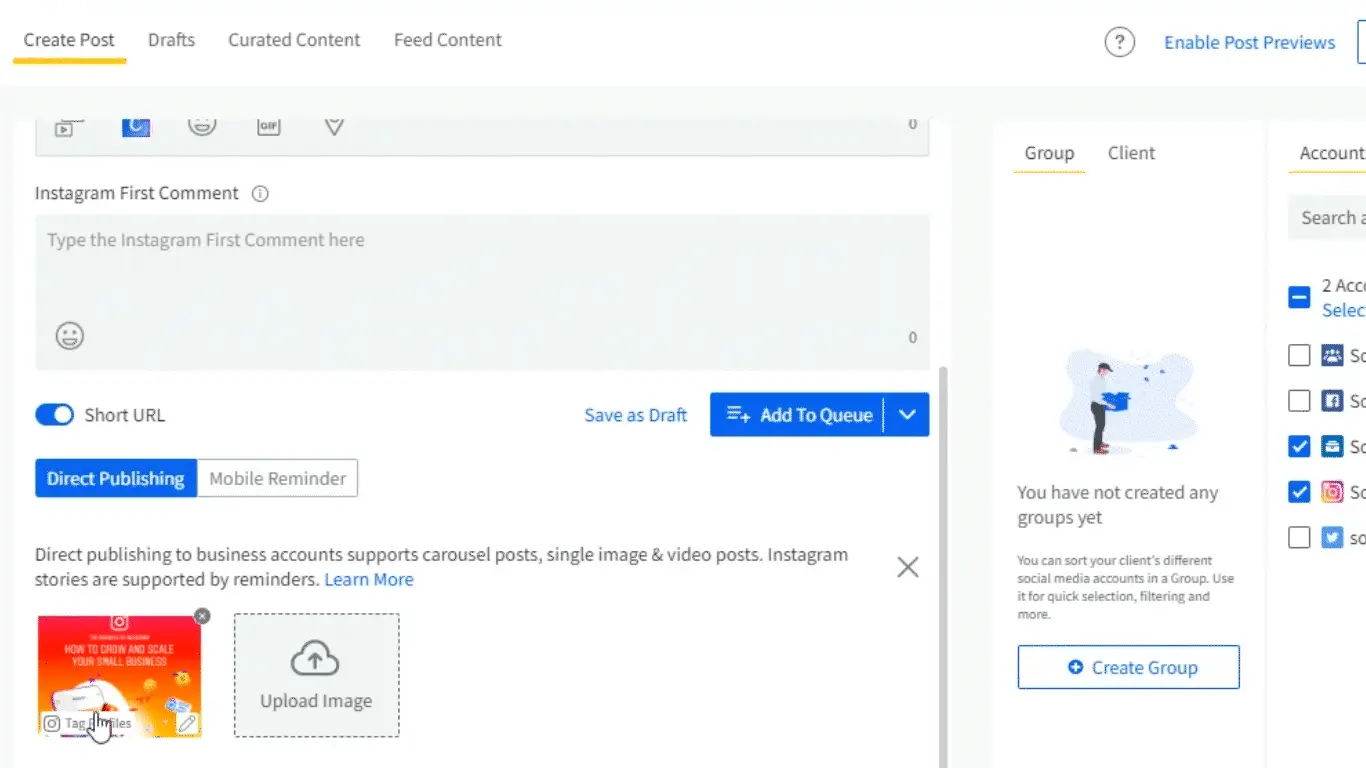 8. Post Consistently
If you are aim for engagement on Instagram then prepare to post consistently. The more regularly you post, the more are your chances to be seen by your followers.
A consistent account not only keeps your followers keep coming back to you but also appears as a great place to connect for profile visitors. When you are consistent, it conveys that you care about your followers enough to post valuable content regularly.
However, maintaining consistency doesn't mean bombarding your post feed every hour with inferior content. Make sure you don't sacrifice quality for quantity.
If you post too much content, you might overwhelm your followers. It's best to decide on a post frequency of not more than two posts on Instagram to maintain a healthy post feed.
Also, create defining elements for your account. If you're consistent with the content of your photos, the filters you use, and how you caption your photos, you'll start to be seen as a distinctive profile in your niche.
On a final note, keep in mind that the goal is to ensure your photos appear in the feed of your followers so they can interact with them. The more you post, the more your brand is visible to your followers.
If you want to post consistently while saving time and effort, then schedule your posts with a social media scheduling tool. It is the best way of building a loyal following and community faster.
9. Find Perfect Timing For Posting
Before you post on Instagram, there are two things you need to keep in mind – your audience's time zone and what time they often check Instagram.
Mostly, users prefer to check Instagram in the morning and the evening. But, if your business caters internationally, consider posting according to different time zones.
However, not all brands have the same time to post on Instagram. Your personal best time depends on your audience. Make use of Instagram analytics tools for deep analysis. Pay attention to when most of your audience is online.
The most effective way of determining the best time to post on Instagram is by testing how your posts perform at different times of the day. If you notice that content posted in the mornings consistently earns more likes, comments, or followers than afternoon or evening, set your content sharing schedule accordingly.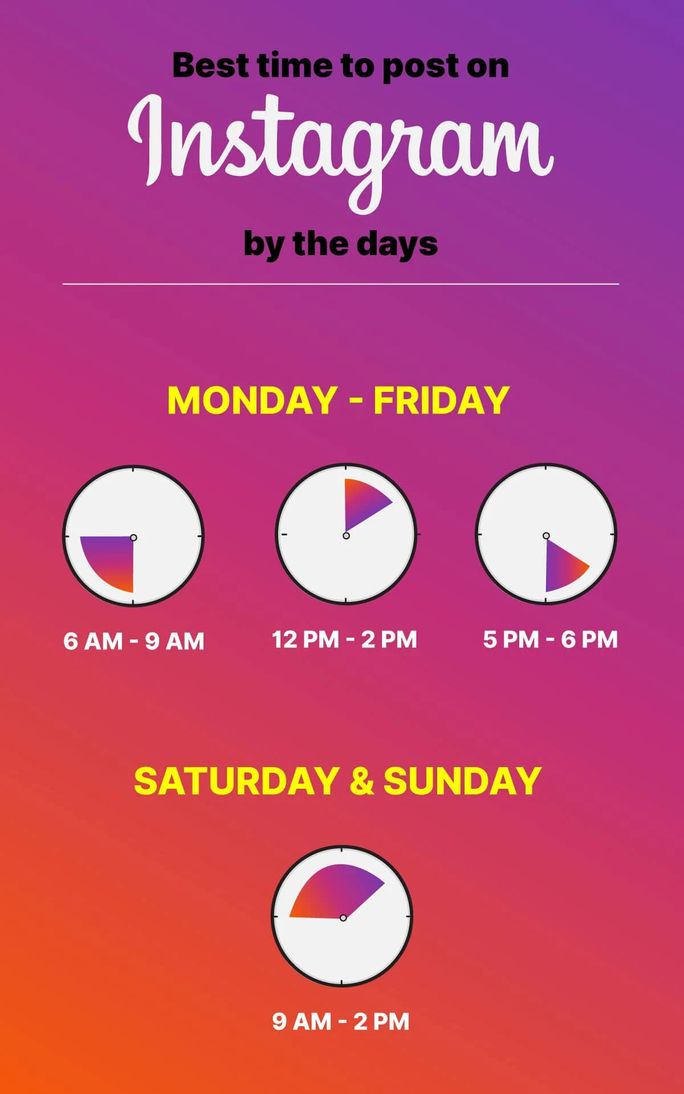 10. Use the Power of Videos
In addition to pictures, Instagram has tons of features, such as Reels, stories, live, and in-feed to share video content. Instagram videos are a great resource for your brand to stand out on the platform and engage with fans.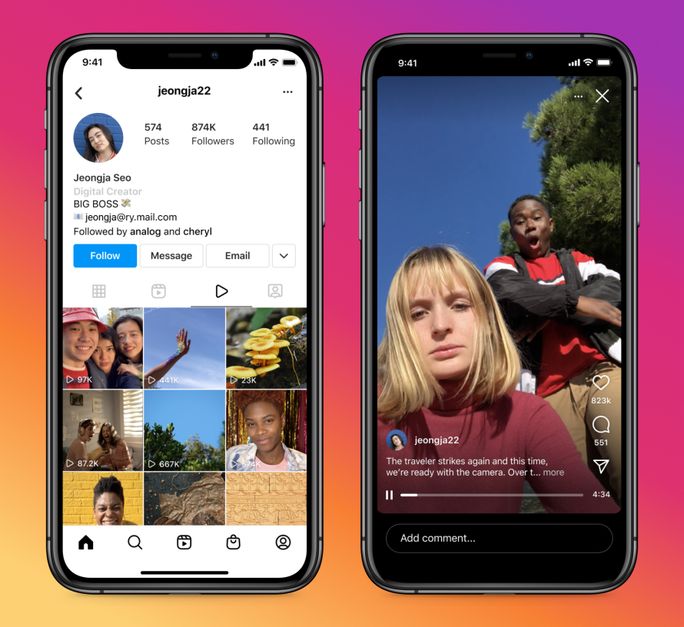 However, being boring is not an option on Instagram. Luckily, there are tons of creative ways you can use videos on Instagram to create valuable content for your audience.
You can introduce new products, do a Q&A, show tutorials, showcase company culture, and share behind-the-scenes moments to create more engagement with your audience.
Check out our complete guide to Instagram Videos.
Conclusion
Instagram is a great platform for sharing, engaging, and branding your business. If you haven't started using Instagram for your business, consider adding it as your next top priority.
And when you sit back to plan your Instagram strategy, give engagement a prime spot and make sure to incorporate all the tips we have discussed in it.
The best way to get more engagement on Instagram is to create authentic content with the intent to connect with your audience. All your content should be prepared to loop in your audience in the conversation in one way or another.
To maintain your Instagram marketing effortlessly, use the power of SoicalPilot. Easily create, schedule, analyze, and connect with your followers' messages from a single dashboard.
Wait no more. Go for its free trial or schedule a demo call today.
9 Tips to Get More User-Generated Content for Your Brand
Collecting user-generated content or UGC has become an integral part of many successful marketing campaigns.
One reason is that you build a repository of helpful and engaging content to publish.
More importantly, people are 10 times more inclined to trust your brand and buy from you when you publish user-generated content on your website and social media accounts.
That's because UGC, like reviews and social media posts, are created by your users and existing customers based on their experience and opinions about your brand and products.
The challenge, of course, is getting your customers to create them.
That's why I'll be sharing with you today 9 tips to get more user-generated content for your brand that you can start doing today.
Ask For Feedback From Users
There's a saying: "You have not because you ask not."
If you want your customers to leave you a review of your product or brand, then go ahead and ask them.
One way you can do this is by sending them an email like this one from Gecko.
Another way is by adding a form right below your content for customers to fill up.
Hosting Canada makes it easy to curate reviews of online hosting providers by providing a "Leave a review" CTA at the bottom of each of their reviews.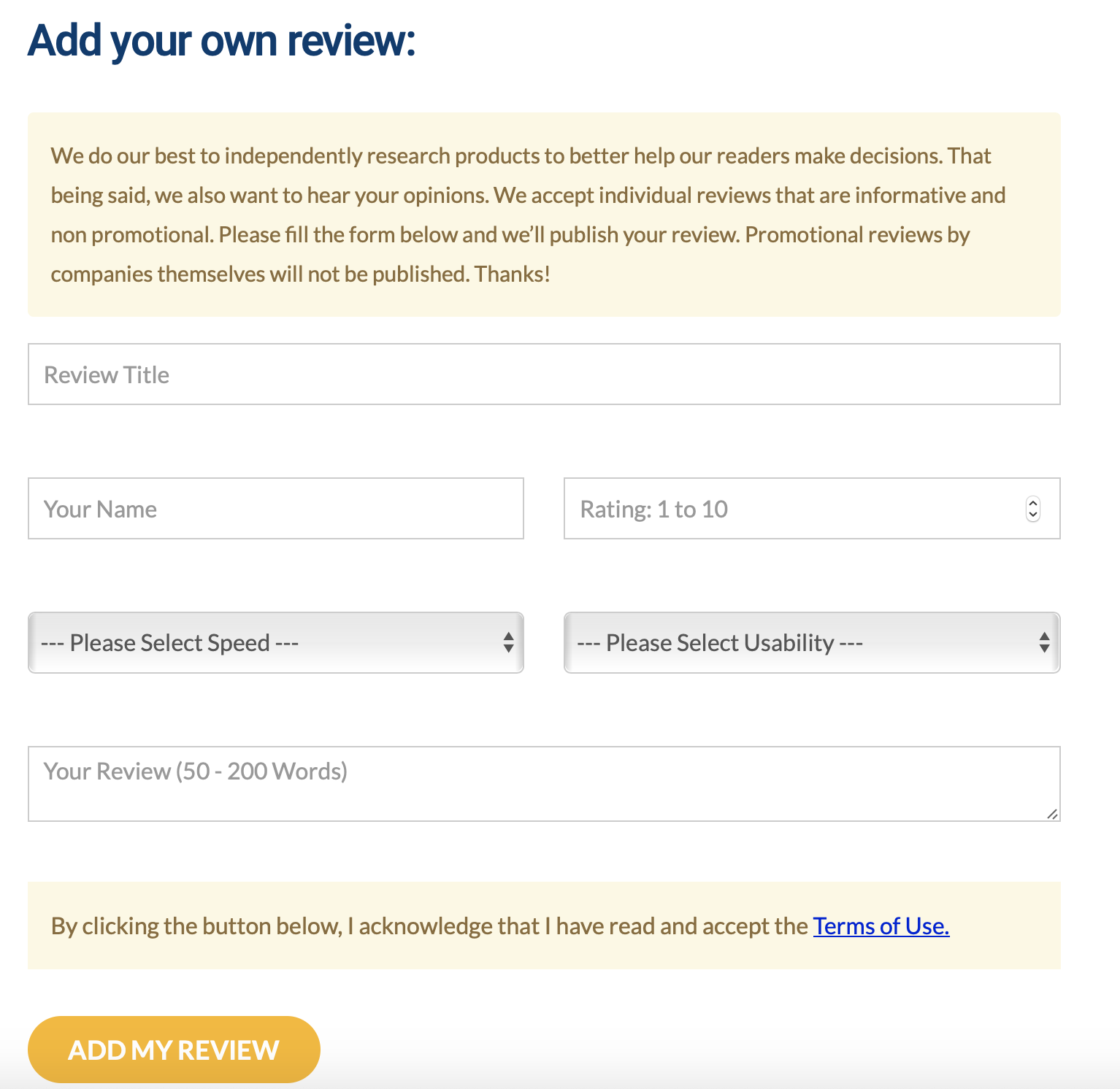 Right underneath this are the reviews left by past and current customers of the product being reviewed.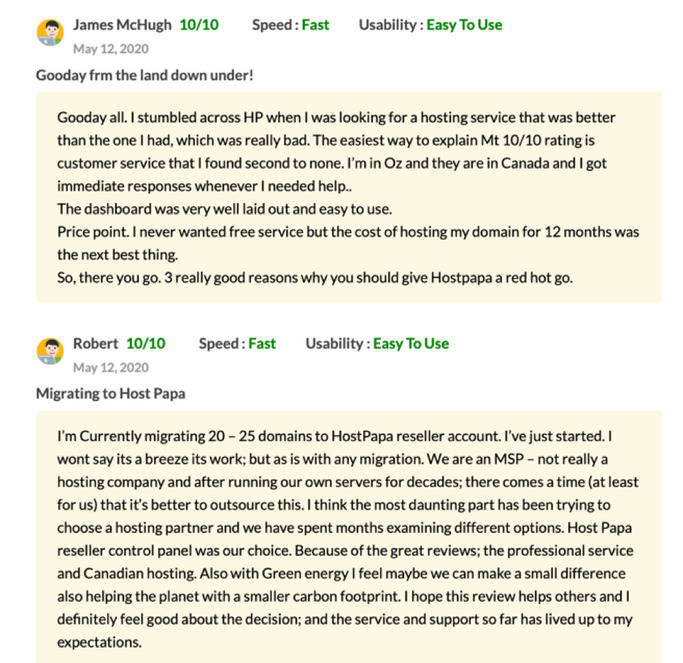 Create a unique hashtag
Creating your brand's very own hashtag helps promote your brand on social media channels like Twitter and Instagram. You can also use social media management tools for the best results in social media marketing.
At the same time, it helps you find posts your customers published on their respective accounts.
Here's a snapshot of user-generated content created that included #socialpilot in their descriptions: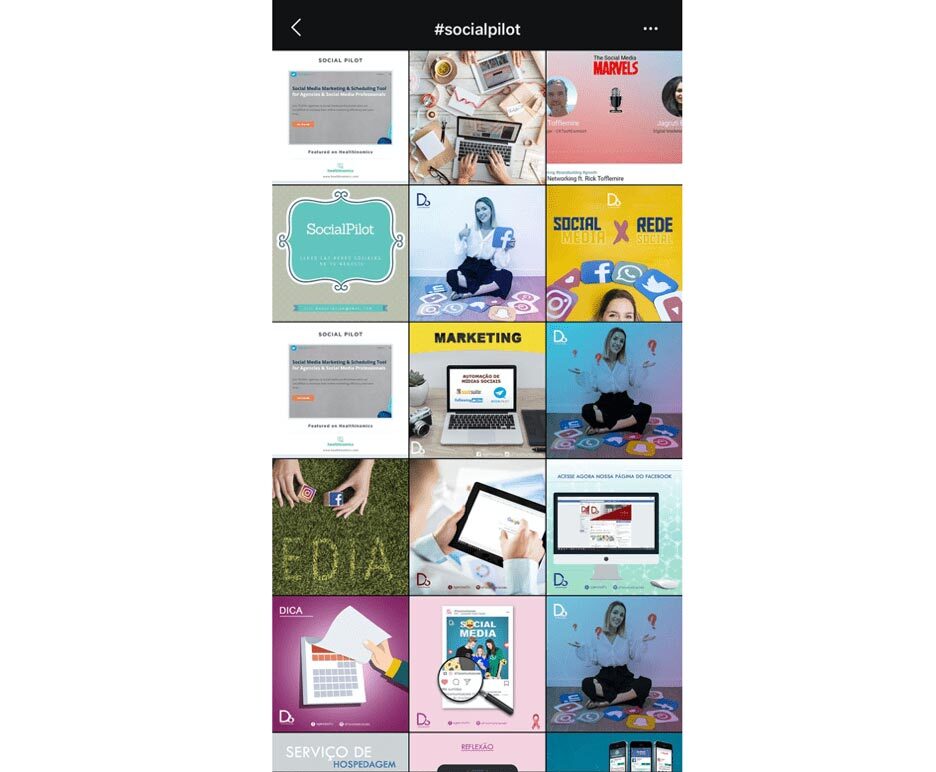 What's great about this is that the user-generated content's already published. All you'll need to do is to reach out to these users and ask if you can repost their content on your website or other social media accounts.
Many of them will be happy to let you. After all, who doesn't like added exposure for their accounts?
Launch a contest on Instagram
Hosting a contest on Instagram is another way for you to get more user-generated content for your brand.
A perfect example of this is the #RedCupContest Starbucks hosts on Instagram every December.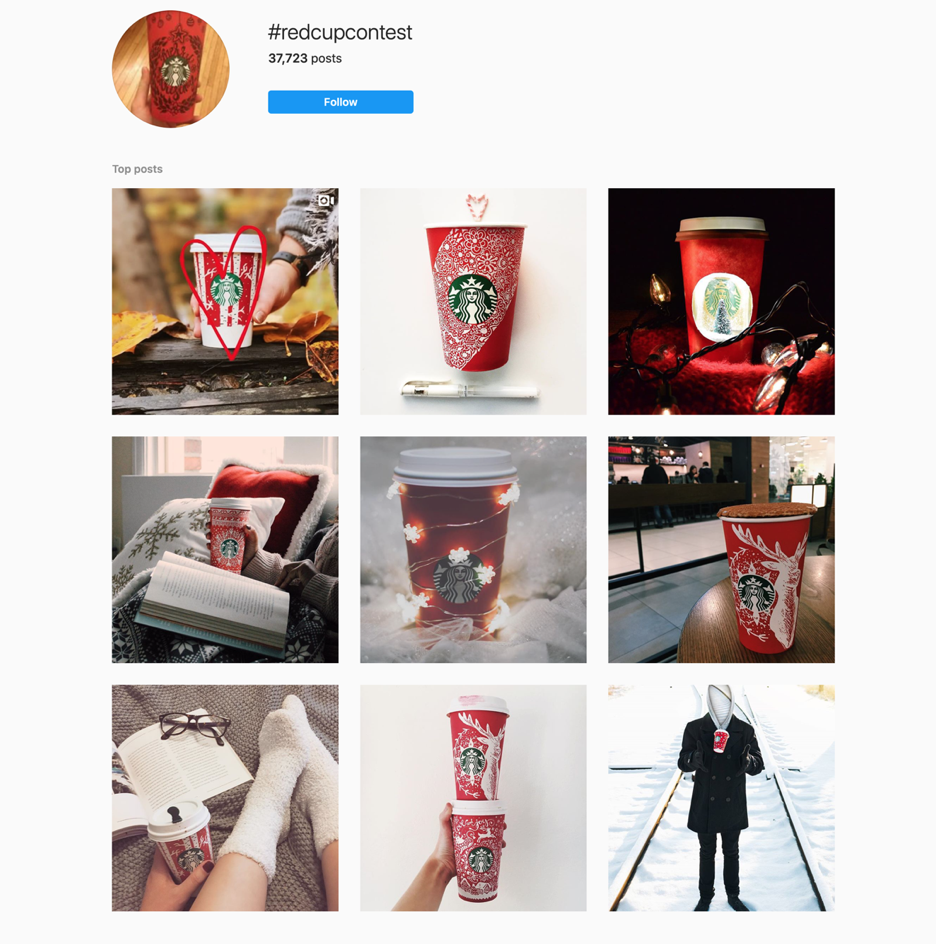 Not only did the contest give Starbucks more than 30,000 user-generated content for them to use throughout the holiday season, but it also positively impacted their sales. After all, you'll need to buy a Starbucks drink in a red cup to participate.
When launching a contest, be sure to clearly state the rules for your contest – including how users can participate.
For example, you might put up a Facebook-only contest that asks customers to create a Facebook post explaining what they love most about your brand.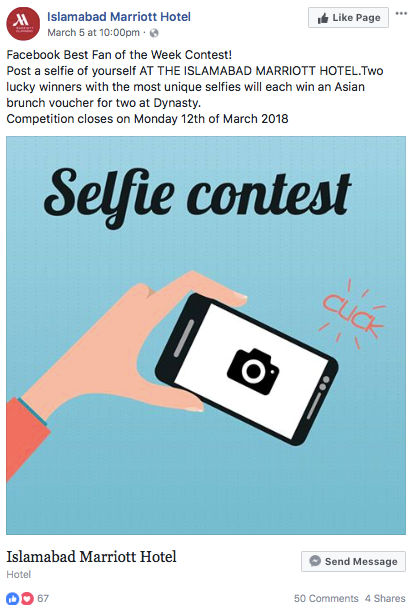 Listen to your users' social conversations.
At any given time, your happy customers would recommend your products and services on social media.
Social media automation platforms can help you keep track of these conversations as they happen. That way, you can thank them for the kind words and also request if it'll be possible for them to work with you by creating a UGC.
These tools come with social media analytics that'll help you track and evaluate which user-generated content is performing and at which social media channels.
Based on the data you've gathered, you can tap these users and work out an arrangement so that they can continue.
Gain some ground with influencers
Working with influencers who are also your customers benefits your brand in two ways.
First, they know what types of content will resonate well with your target audience. That way, you ensure that the UGC they'll be creating for you will yield results.
Second, since they already have a substantial following and are highly respected within their niche, it'll give your brand and product a boost.
For example, vlogger and success coach, Amy Landino, is known for her organization and time management hacks. As someone who admits to practicing bullet journaling, she was one of the ideal influencers Ryder Carroll–the creator of the bullet journal system–could collaborate with when he launched his book on the Bullet Journal method.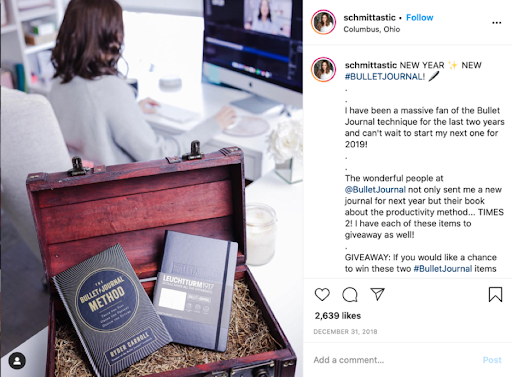 Create an employee engagement program
Your employees are your brand's most valuable assets for three reasons:
First, they're the force that keeps your business running.
Second, they're your best spokespeople when it comes to your brand.
In fact, the Edelman Trust Barometer shows that your customers are more willing to trust what your employees say over your senior leaders, stakeholders, or even you (OUCH)!
Lastly, your employees' engagement levels have a direct impact on your business' brand reputation and even your income.
One way to do this is by creating a social media account where your employees can publish content they've created.
HubSpot's HubSpot Life Instagram account is a perfect example: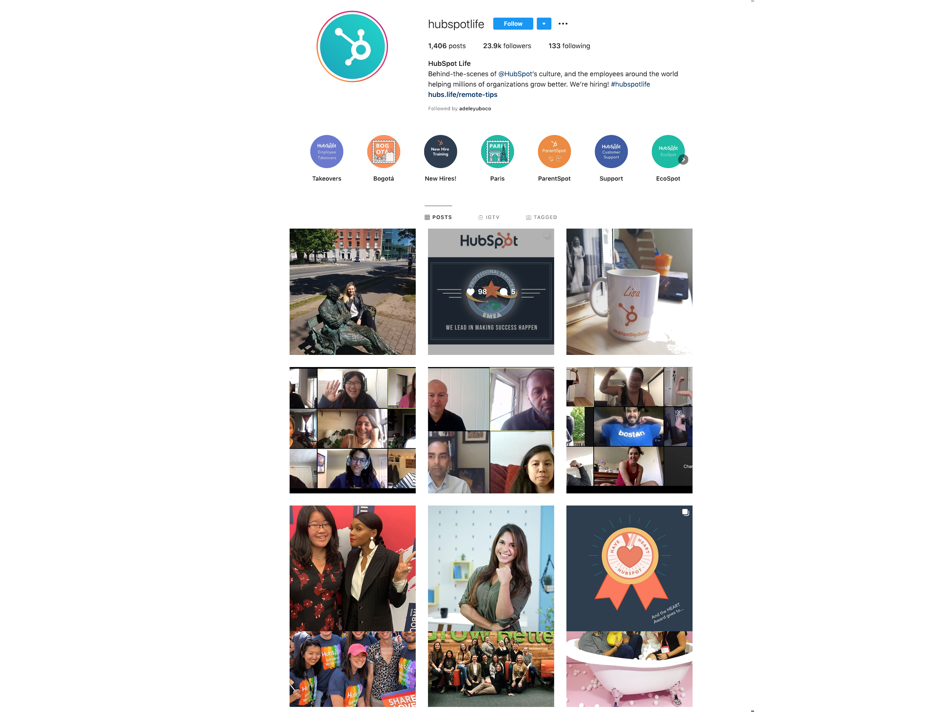 Each week, a HubSpot employee is selected from one of their offices worldwide. He or she is given full control of the account and what to post here.
As you can see, the result is a fantastic collage offering a glimpse of the company's culture. Because of this, HubSpot is able to attract new hires who not only have the skills they need but also have the same values they uphold.
Create an ambassador program
An ambassador program can be a great way to encourage loyal fans and customers to create content for your brand consistently because you're treating them like VIPs.
By becoming part of an exclusive clique and being treated to exclusive perks, your "ambassadors" are more likely to create content about your products and services.
To start an ambassador program, make sure you make the ground rules for users very clear. These may be about the kinds of posts they can create, what they aren't allowed to mention vis-a-vis posting about your brand, and even how to use the perks and benefits that being an ambassador for your brand provides.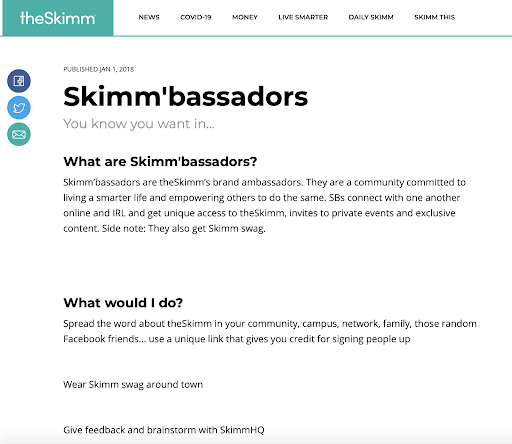 Create a compelling challenge
If you can come up with a challenge that both excites and pushes users either physically or creatively, this can make great content for your brand.
Many fitness content creators, for example, design a multi-day fitness challenge wherein users can participate and share their progress on their social media accounts.
You can find ways to integrate free challenges for your customers, and not only do you get potential content to curate for your marketing channels, but you also engage audiences in ways like never before.
And that's not all. If your challenge is truly exciting to consumers, it even stands a chance to go viral, further increasing brand awareness and retention.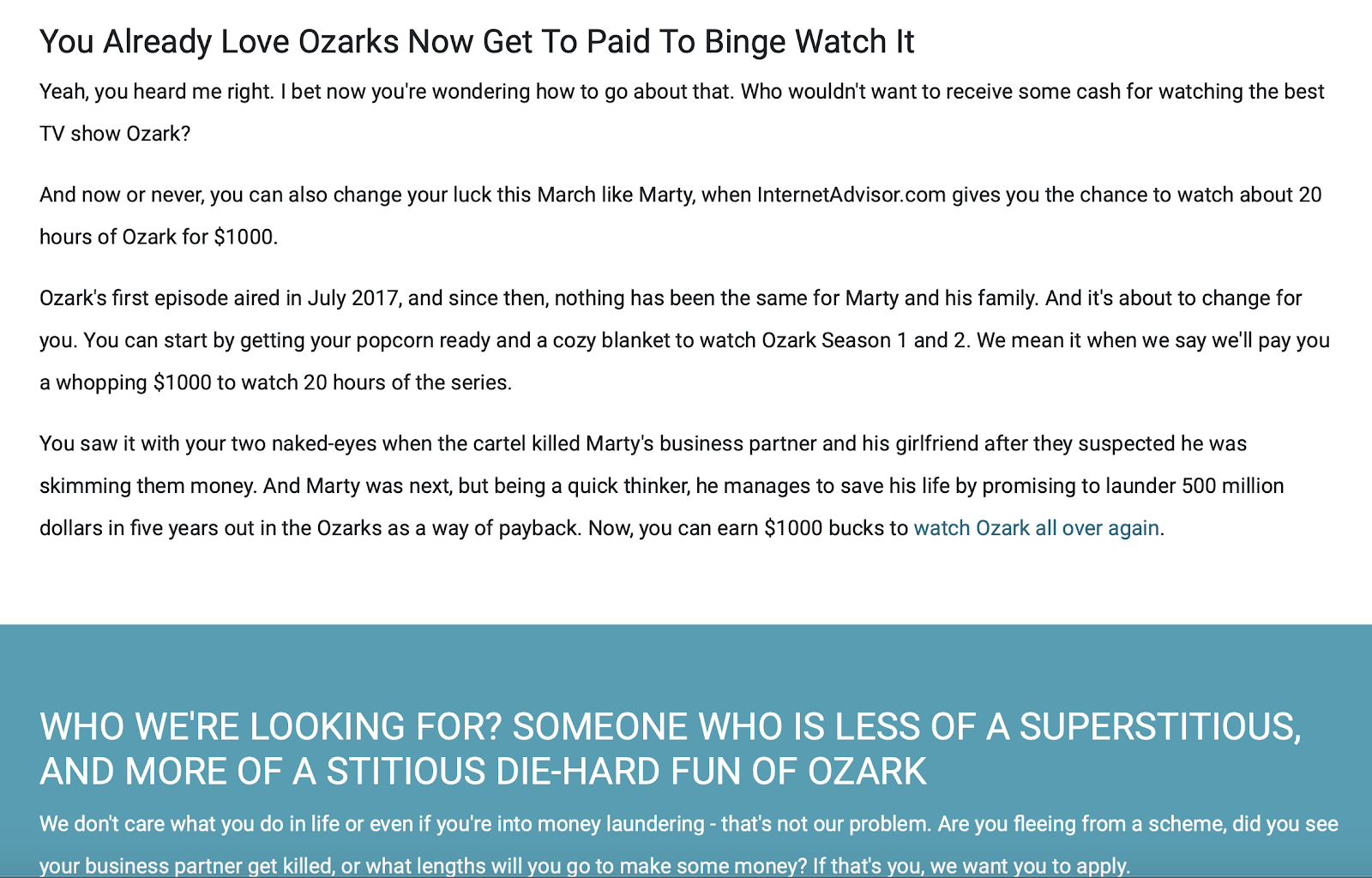 Offer your customers an incentive
I know you're probably thinking: isn't this like bribing your customers to get user-generated content?
No, it isn't. And here's why.
As I've mentioned earlier, creating high-quality content's not easy. If seasoned marketers struggle with this, imagine how much your customers would?
Offering them an incentive like G2's Starbucks coffee treat they offered on Twitter is a way of you saying, "Thanks for taking the time to help."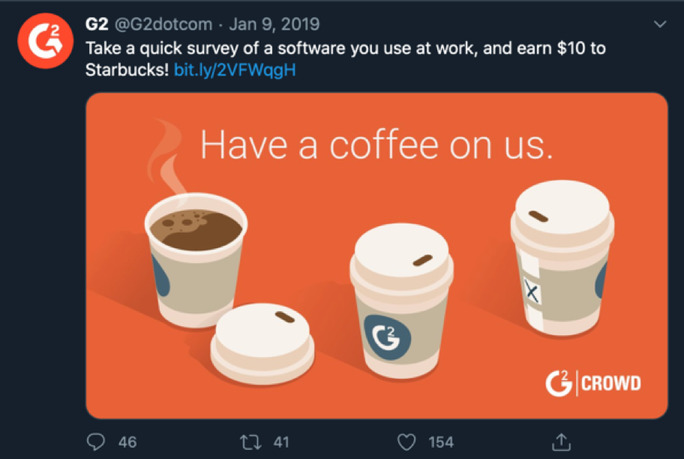 Besides, you won't lose much when you nurture your relationship with your audience. Before long, you'll be getting user-generated content even without incentives – because your fans are loyal enough to talk about your brand online on their own.
Best practices for getting more user-generated content for your brand
As you create your user-generated content campaign, here are a few best practices you'll have to note moving forward.
Always credit back when reposting
If you repost any photos, quotes, or text that you didn't create, credit them back to the original owner. On social media, this can be as simple as tagging the owner in your caption or over an image on Instagram.
Tagging, after all, will bring you more exposure. Especially Instagram image tagging, where the tagged post appears on both profile pages – yours and the account you tagged. The tagged section on Instagram works as a great UGC repository.
Are you slammed with managing Instagram tagging for multiple client accounts?
Use SocialPilot to tag multiple Instagram public profiles in your scheduled image post. No need to jump back to Instagram after scheduling your post. Simply, tag profiles anywhere in the image at the time of scheduling and create Instagram-ready posts directly from SocialPilot.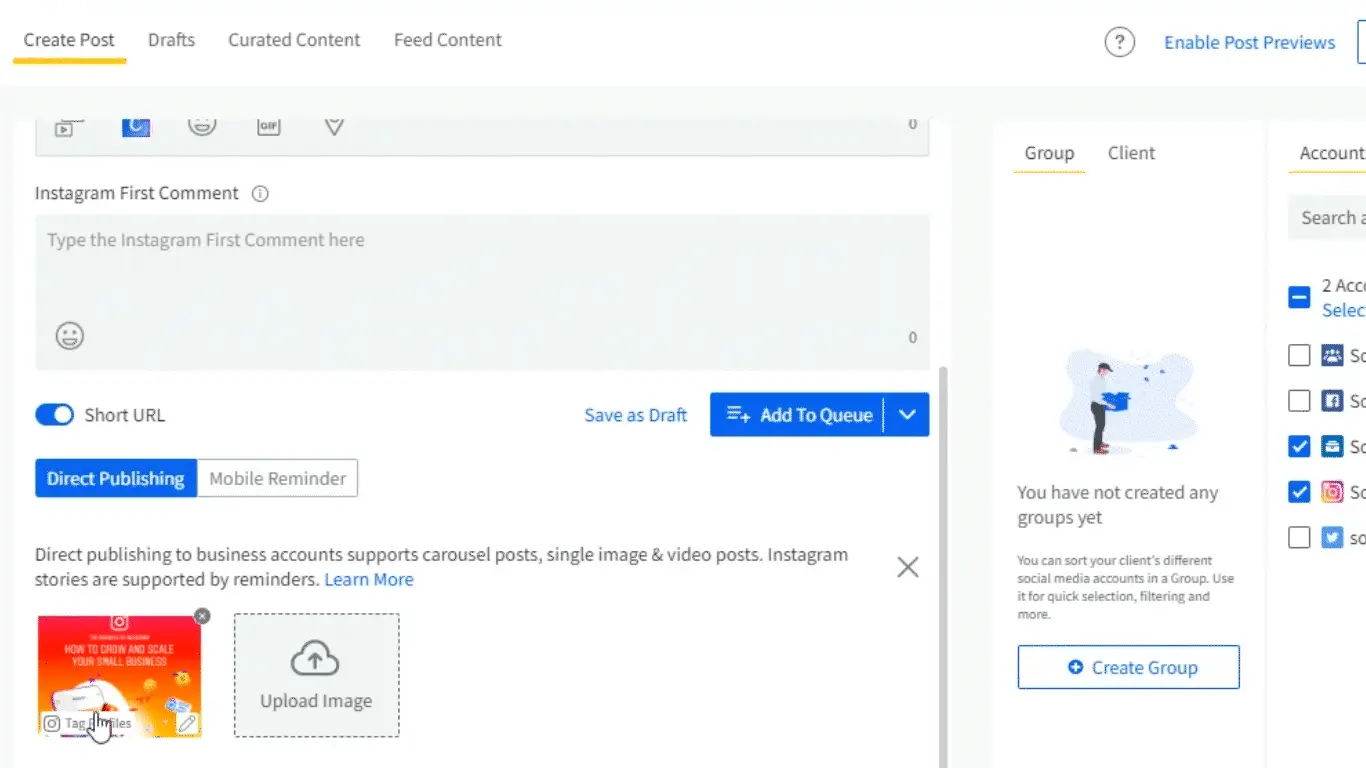 Ask permission to use photos or videos
If you intend to use photos or videos created by fans or customers in any of your brand material, you'll need explicit consent from users.
Get in touch as best as you can to talk about fair compensation for using their work in your brand campaigns. If you're unable to receive a reply, it's best not to move forward with using user-generated content in your marketing campaigns.
Respect boundaries
Next, it's essential to respect the boundaries and privacy of your users. Only curate and repost branded content if you saw you were tagged or mentioned or if your hashtag was used.
Put up full disclosures
Be sure to put up full disclaimers and disclosures about how you intend to use any user-generated content about your brand.
Explain that your business may most likely use these curated content across your social media channels and that you won't compensate for reposted material.
Monitor new content with the right tools
Lastly, make the process of curating and monitoring user-generated content easier by using the best tools on the market. You'll want to use content curation tools to help you spot fresh content about your brand.
Also monitor the performance of your user-generated posts with some analytics tools. Do they get better engagement? What type of user-generated content performed best?
Knowing this, you can refine your efforts even further to only curate the best posts, and think of new ways to keep getting high-quality, curation-worthy posts for your brand.
Final thoughts
Publishing user-generated content can significantly boost your brand's reputation and your products, which will, in turn, help you generate more customers and increase your revenue.
Each of the tips shared in this blog post can help you get more user-generated content for your brand.
Results won't happen overnight. But if you stay consistent, you'll soon start receiving UGC from your satisfied customers.
And that's the key.
More than anything, you need to make sure that you provide your customers with high-quality products and an even higher quality of customer service.
When you can give this to your customers, they wouldn't hesitate to help you spread the word.
Building Decentralized Social Communities
Are you looking to create a community for your NFT project or DAO, without Discord or social media? Wondering if there's a better way to build a thriving community? In this article, you'll learn about the emerging world of decentralized social media and how it can help you or your project. Why Businesses Should Pay […]
The post Building Decentralized Social Communities appeared first on Social Media Examiner | Social Media Marketing.