How to Build Backlinks to Your Website
In my previous entry, I talked about how big of a chunk links are to your site's SEO. In this one, I'll be talking about the fundamentals of how to build backlinks to your website. Why do you need links? How important is it? Where do I start?
Note: This post was originally published in June 2010, and updated in December 2021 to include new tips and data.

What are links?
According to Computer Hope, a link or a hyperlink is a "is an icon, graphic, or text that links to another file or object." Links connect web pages to one another, making navigation easier.
There are three types of links that you need to know:
Inbound links
Internal links
Outbound links
Inbound links
Inbound links are links from other websites that link back to your website.
Here's a simplified version to help you visualize it easier:
You can have multiple inbound links from one external website or referring domain, or one inbound link per external website or referring domain.
That's why when you do a backlink analysis of your website, you will see that your website has so much more backlinks than it does referring domains.
For example, here's the Semrush backlink analysis for SEO Hacker:
As you can see, in the past couple of months we've had around 5,000 referring domains, and we got around 256,000 backlinks from those domains.
There are two types of inbound links: dofollow and nofollow links. Dofollow links pass on link juice to your website, while nofollow links just point other users to your website but don't pass on link juice.
Internal links
Next, we have internal links. Internal links are links you create between the pages of your own website. The link I placed in the anchor text "internal links" is an example of an internal link.
To visualize:
Internal links have a couple of uses:
They make navigation between pages easier.
They help search engine crawlers identify the most important pages of your website.
They help establish your site structure.
So even if internal links aren't as important for ranking as inbound links are, they are definitely important as they have their own functions that the other types of links can't fulfill. By linking between your pages, you get to show your users and the search engine that your content in each webpage is relevant to one another.
Outbound links
Lastly, we have outbound links. These are links you place in your web pages that point to external websites.
Basically, you would want other websites to have outbound links that are directed to your website, making them inbound links.
Webmasters can also reach out to you and request for you to link to their website. Depending on the agreement, you can opt to give them dofollow or nofollow outbound links. When you have a nofollow link, make sure you add the code rel="nofollow" to avoid passing on your website's link juice.
Going back to our backlink profile:
You can see that we've referred to 868 external domains in the past couple of months.

What is link building?
Link building is the process of getting links back to your website from either the same website (internal backlinks) or other websites.
First off, you have to realize link building is one of the slowest processes that you have to go through to grow your site's visibility as an SEO practitioner. Links don't just pop out of nowhere. You have to earn them.
In link building, the most difficult yet most rewarding link to get would be inbound links.

Why do you need to learn how to build backlinks to your website?
Links are one of the fundamental ranking factors that we have. Think of it as word-of-mouth referrals. When you have many people referring your company to their friends and family, that means you're building your credibility as a trustworthy company with good products and services.
But it's not everything too. Links give your site more authority and reputation—giving it the power to strengthen the weight of its keywords.
Your keywords are your foundation, but your links make up the building. And what search engines usually look for is the building—then it makes its way down to the foundation. If your building looks good and is tall enough for it to be easily found, then your foundation is given deeper consideration and trust because it can hold up a tall and well-made structure.
The idea behind this is easy: the more links to your site only means your site is referred to by that many other websites. It means that your site must contain something interesting to all those site owners/webmasters, thus people would most probably also find your content useful—therefore, search engines like Google refer you in their search engine results page (SERPs).

Factors to consider in building backlinks
Not all links are good for your site's ranking. Some links can bring your site down. It's not altogether devastating—but that only means you have to choose your links carefully. Picking links isn't an easy SEO task. It's like one whole module altogether.
In choosing where to get links, there are five major factors to consider:
Domain authority
First, you have to look at the domain authority of the website. Why? Because the higher it is, the more Google juice you can get from it.
Imagine getting a link from Ahrefs vs getting a link from an unknown website. The search engines will determine that your Ahrefs link is of higher quality than if you got some random link. That's plus points for your website.
Niche
Second, look at the website's niche. Is your site related to this website? If you're not related, the links you're gonna get from that site are next to useless.
How come? Because relevance matters.
This doesn't mean you can't get links from forums or directories, but make sure these aren't low-quality, spammy websites.
Outbound links
Thirdly, look at all the outbound links the site is giving away. Too many outbound links can mean that you'll be sharing with all the other websites that this site is linking out to—giving you less Google juice compared to sites with low outbound links.
Link sources
Fourth, look at all the sites it gets its links from. Are they reputable sites? Are they related to your niche? Maybe you can get links from those sites too!
Types of links
Fifth, look at the site's links if they are nofollow links. If you're trying to rank (especially in Google), nofollow links will not help. So you better look for sites that don't put nofollow in their links.
Of course, nofollow links can still be useful in directing users to your page (meaning, helping you generate traffic), but dofollow links are still ideal because they pass on link juice to your page.

How to build backlinks to your website
There are many ways to get links. Some are effective in boosting your rank, some are effective in giving you traffic, and some are effective in wasting your time. Here are some of the ways you can build your backlinks:
Directory listing
One way of getting backlinks is to add your website to a reputable online directory. Matthew Woodward has a fantastic tutorial on how to do this one.
Basically, you choose a directory that has high authority and you submit your website to it. The trick here is to look for high-quality directories that are moderated, so you can be sure that the site is trustworthy and isn't spammy.
Forum posting
Another way to build backlinks to your website is through forum posting. Again, make sure you look for high-quality, moderated forums.
For example, Reddit has a community called Big SEO:
Posting links here is surprisingly difficult, so you have to have built a relationship with this community before you can even link back to your website. That practice helps avoid spammy links.
If you don't have a Reddit account, you can choose to use Quora. Same practice applies—make sure you don't spam links. Answer questions and give suggestions honestly, and don't link back to yourself unless necessary.
Guest blogging
This is probably one of my favorite ways to get backlinks, but it is arguably one of the most laborious. Guest blogging (or guest posting) entails researching reputable sites that allow guest posting, coming up with a topic, writing an article, and undergoing an editing process.
You also have to make sure that you follow the instructions of the website you're trying to publish your article in. For example, if a website allows only two dofollow links to your website, you wouldn't want to be dishonest and put three.
Link bait
Link baiting is the practice of creating content that is so relevant, informative, and awesome that other websites will just have to link to it. The goal of course is to have all your content be linkable to, but the reality is not all our content is this way.
To create link bait content, you can consider the following formats according to Semrush:
Interactive assets
Data-driven studies and other assets
Long-form guides
Visuals
Controversial or talking-point content
For example, we created a report on the State of SEO in the Philippines for 2022 where we discussed the search landscape in the country, our improvements and predictions for the coming year, how we fared against our top competitors, and so on and so forth.
Those who find this incredibly valuable can link to it. You can also create infographics, videos, and other content that other users will see as worth linking to.
Link exchange
This is another one of my favorite ways to get links. It's straightforward—you negotiate with a reputable contact to exchange links. For example, you can email them and say that you have a website with a high domain authority and you're willing to give a dofollow link this month in exchange for a dofollow link to an article you just wrote.
This is also incredibly effective if you guest post a lot. In that way, you won't be giving dofollow links from your website only (or ever), because you can link to them through the blog you wrote on another website.
Paid links
Paid links are one way to earn backlinks to your website, but they can result in harsh penalties simply because paying for links is manipulation of Google's algorithm. This is definitely the easiest way to get a backlink, but it's also the riskiest.
Crowdsourcing
If you don't have plenty of time to guest post, you can opt to be contacted when companies or writers crowdsource answers for a report or an article they're writing.
For example, SEO Hacker was featured in a recent report by Databox titled, "Campaign Reporting: How to Gauge for Long Term Effectiveness?"
This was the result of Databox crowdsourcing answers—and seeing that ours was worth including in their report.
Contacting webmasters
One of the most important things you should learn on how to build backlinks to your website is by contacting webmasters. For example, if you have an article that recently linked to their work, or if you noticed that they have a broken link in one of their articles, you can reach out and pitch your article as a replacement.
This is one of the most difficult ways to get links, but like guest blogging, it is one of the most rewarding. See, this isn't as simple as emailing webmasters and expecting links in return, it's getting noticed and building a relationship with them first.
We already know how important dofollow links are. If you were in their position, would you answer every single person emailing you for a link? No, right? You would answer only those whom you've seen have been interacting with your work consistently.
Internal linking
Lastly, we have to go back to internal linking. This doesn't help your website in the same way as inbound links do as we've mentioned earlier, but it does help your site be more coherent and it generates traffic to the other pages in your website.

Key takeaway
Learning how to build backlinks to your website is definitely still a must in the coming year. It may be a long and tough process as it involves a lot of research, vetting, writing, and relationship-building, but it definitely pays off for your SEO in the long run. Remember to always make sure that the sites you're requesting backlinks from are reputable sites with high domain authority scores, or else they wouldn't really count for much.
Do you have other ways to build backlinks? Which one is the most useful for you? Let me know in the comments!
Comparison, Core Benefits, & Features
If you're preparing to launch an online store and have questions about what kind of eCommerce platform to pick, read on. Here in this article I compare two totally different stages -a hosted and non-hosted one – PrestaShop versus Shopify.
Did You Know!!
According to the development stat, in 2020, the world anticipates approximately 2B online customers. Furthermore, before the end of 2040, 90-95% of the shopping is expected to be done digitally through eCommerce sites and mobile applications.
Both eCommerce platforms have their qualities and shortcomings and can turn into the perfect business solution. I will assist you with picking the most ideal choice for you to begin your eCommerce business experience or possibly switch the current platform of your eCommerce.  
Let's make a side-by-side comparison to help you settle on these two other options.
What is Prestashop and Shopify?
PrestaShop is an open-source eCommerce platform that empowers you to develop anything from a little online shop to a full-on shopping cart solution. With a huge add-on market and an extraordinary set of in-buit features, PrestaShop offers a scalable solution to eCommerce merchants.
Whereas Shopify is an extensive SaaS and a market's leading online store builder. It gives clients perhaps the most extensive eCommerce toolkits of all its rivals. Moreover, you can upload a limitless number of items or products to it.
PrestaShop vs Shopify: Key Data
PrestaShop is a freemium self-hosted open-source platform, established in 2007. As of now, it is being used by over 300,000 shops around the world. This solution doesn't need a particular web-provider and gives its users the opportunity to pick providers themselves.
It's renowned for being completely customizable, i.e., you can alter the store as per your individual inclinations. It's an ideal alternative for those business people who are wanting to set up a small or medium online business.
On the other hand, Shopify is a Canadian hosted platform established in 2004. It powers over one million stores and is viewed as one of the fastest-growing platforms across the globe.
This platform is celebrated for its straightforwardness and fine-featured themes. Because of its flexibility, Shopify is an ideal shopping cart for any online store.
Here's how PrestaShop and Shopify are shown on Google Trends:
Shopify vs PrestaShop: Feature by Feature
1. User Friendly
Shopify
Shopify offers the easiest and most clear interface that you will discover. You don't have to know anything about coding or programming, simply click and you will have your shop prepared in no time with an excellent and professional theme.
This lets you save a lot of time and money. Making this one reason may individuals choose to begin with Shopify.
PrestaShop
PrestaShop is somewhat more complex than Shopify, it will expect customers to know a little bit of coding. This might actually make this platform trickier to a few.
However, the information that you need to work with PrestaShop isn't too advanced in class and the knowledge you need is generally in the forums.
Winner: Shopify
2. Pricing
Shopify
With Shopify, you will have 3 choices. They are Basic Shopify, Shopify, and Advanced Shopify which range from $29 to $299. Also, Shopify offers two other packages which are Shopify Lite and Plus. You can hire shopify developers for further development of your website.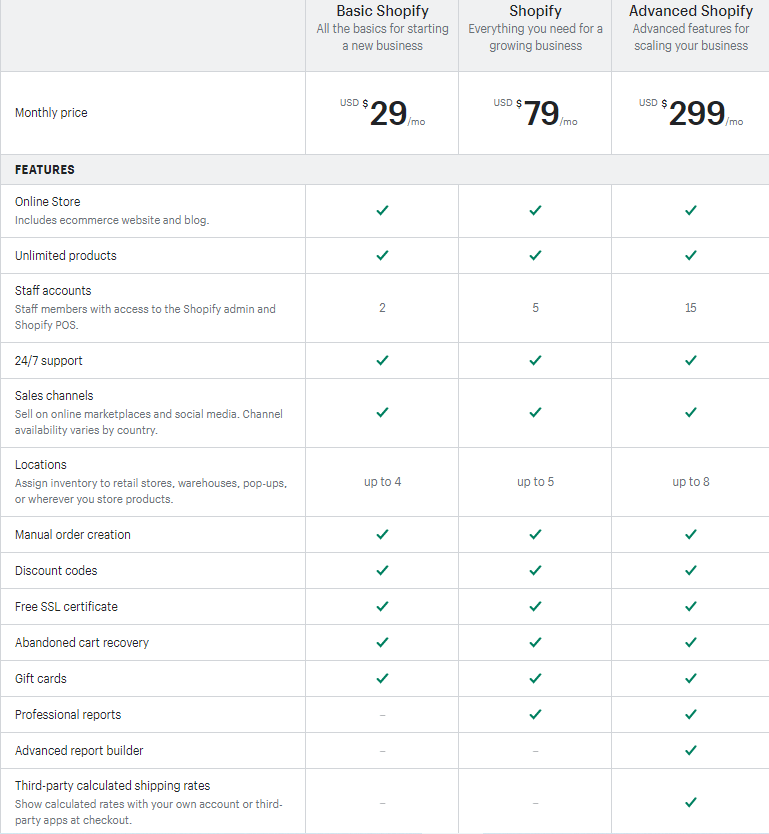 To manage your business, you really need to pick an appropriate package depending upon how huge your store is. Similar to other platforms, Shopify also provides a free 2-week trial to try things when you register a new account.
You could save money by enrolling for the yearly plan if you have a long-term sight of your business future. Moreover, one can save 10% by signing up for an annual subscription, and 20% by choosing a two-year contract.
PrestaShop
Whereas, Prestashop is an entirely distinctive thing compared to Shopify since Prestashop is an open-source cart. It is totally free to download and install, yet at the same time need to pay for a hosting provider or SSL Certificate.
Therefore, dealers should consider the entirety of the necessary costs prior to opening a store. Prestashop users will get an extraordinary deal with Prestashop official hosting partners – 1 and 1 as well as A2 hosting.
You will pay from $4 to $14 every month when you work with a Prestashop hosting partner.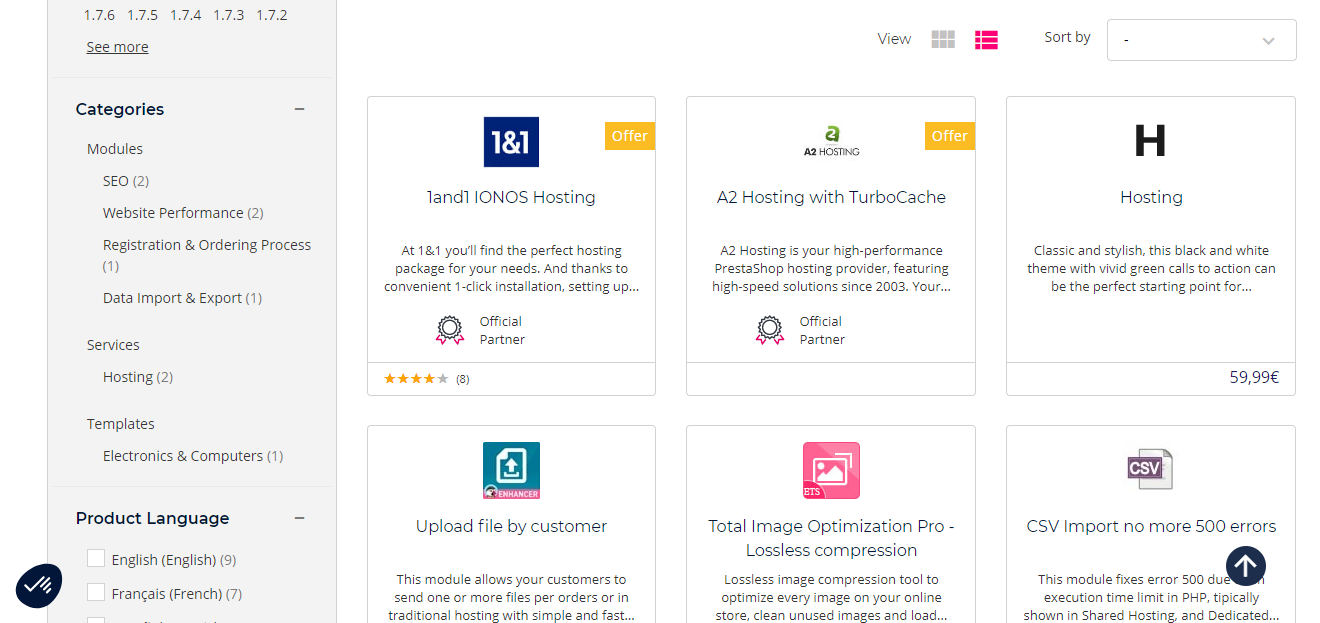 Since PrestaShop is an open-source solution, every modification you make requires code participation. This means that you are more than likely to hire an agency or developer. You can consult a prestashop development company in India to get a helping hand in your store-set up.
Winner: PrestaShop
3. SEO
PrestaShop
PrestaShop lets you work better with the SEO placement of your website. If your site is well configured, PrestaShop stores usually give better results on Google's search rankings.
Shopify
Shopify has been improving the SEO of its stores in recent years and is doing well with it. There are many apps that will also help you in SEO of your page. Shopify has servers in the USA, so if you are based in Europe, your website will be slightly slower which will affect SEO rankings.
Winner: PrestaShop
4. Performance
It is important to monitor eCommerce websites to see how the device works under a particular load. Loading time is about how fast product pages are loaded and identify potential performance bottlenecks.
With fast loading time, you can definitely give your customers a pleasant and enjoyable experience on your eCommerce website.
We can easily see that Shopify is a clear winner of this battle. Within just 1.3 seconds for loading time, Shopify is definitely a potential candidate.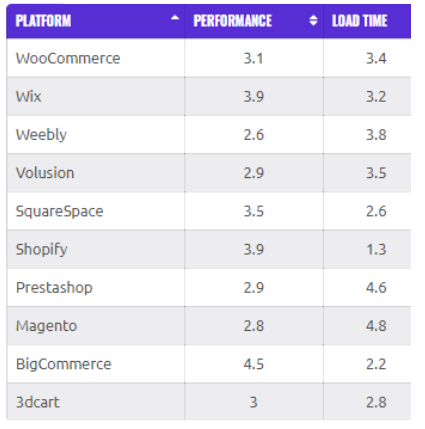 On the other hand, Prestashop can lag behind with 4.6 seconds, which is 3.5 times longer than Shopify.
Winner: Shopify
5. Ease of Use
PrestaShop
Setting up a PrestaShop online store can take time and patience. The reason for this is that the back-end (part of the system you see, not your customers) is more technical to get hold of than the hosted platform.
Having said this, once you get started, PrestaShop provides a demo video with advice that walks you through the first phase of the store set-up.
Shopify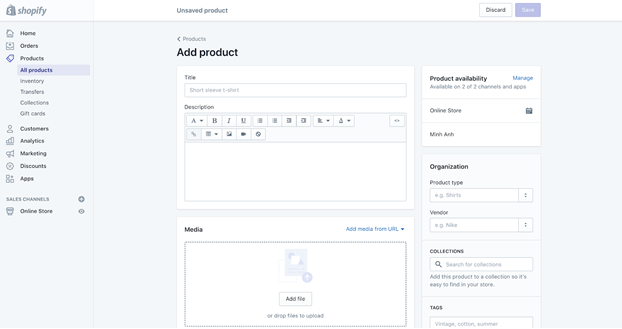 Shopify makes set-up very easy. The interface is intuitive and takes little time to use. The drag and drop functionality to customize your store as you want does not require any technical capability.
Being a hosted platform means that onus is on Shopify to offer all the tools you need to develop a store from scratch and then run it.
You must note that once you sign up, Shopify presents you with a default store that you can make changes to immediately.
Winner: Shopify
PrestaShop vs. Shopify: Which One to Choose?
If you want to start a business without technical skills, Shopify would be an ideal option. With unlimited products and advanced eCommerce functionalities, Shopify is definitely a suitable option for you to see your business. This platform is easy to use and can actively control the price.
On the other hand, if you have a small to medium store size and just want a platform that can provide you with customization and the ability to sell without a hitch, then do it on Prestashop.
In addition, the platform is outstanding in terms of thousands of add-on modules and ready-made themes. You can get started for free, setup is easy, and you don't have to worry about any maintenance.
Wrapping Up
There is no objective winner, it is apparent that each platform has its strengths and weaknesses. Both are amazing platforms to use and create your online store.
Have you not decided yet? Then you must consult a top eCommerce website development company in India, they will surely help you in selecting the right platform that works best for your business.
Good Luck!!
How To Setup Discovery Ads (And Create One, Too!)
In our previous Google Discovery ads post, we talked about what it is and the benefits to users and businesses. Today, we'll walk you through on how to setup your Discovery ads.
To refresh your knowledge, Discover Ads are highly visual, personalized, mobile-optimized ads. Google's machine learning answers a user's question before it appears in its search bar, instead of depending on what the user searches for.
You can find Discover Ads in Google Discover, Gmail Social and Promotions tab, and Youtube mobile home feed.
Unlike Display Ads, Discovery Ads lets you reach up to 3 billion people across Google's Discover, Youtube, and Gmail tabs. As an advertiser or business owner, your goal is to get discovered.
Besides, your campaigns must help drive action from highly engaged audiences. Thus, you must help users become familiar with and trust your brand.
You can create Discover ads campaigns as single static image OR multiple-carousel images.
Businesses can make the most of carousel image ads because it has better engagement. Carousel ads let you showcase your products or relevant content from your website.
Now we know what Discovery Ads are and their many benefits, here are some notes to take as you create your campaigns:
Discovery campaigns are high-visual engaging, so gather all the following creative assets including:
Your headlines and logos
High-quality, high-resolution images that create intrigue or interest with minimal texts. You may also include a brand or lifestyle theme to build brand trust.
Your description must have an effective copy for your audience to take action. In Discover ads, you are not allowed to add any CTA (call to action) elements except texts provided by Google.
You can repurpose your high-performing ads and images to save time and make the most of Google's feeds.
Google's Discovery campaigns are automated, which means you can't control:
Manual bid strategies
Ad rotation
Delivery method
Frequency capping
Device targeting
Contextual targeting
Placement targeting
This campaign type has automated settings for targeting and bidding. With this in mind, you can focus on optimizing your campaigns' performance instead.
Set your daily budget high enough to cover at least 10 times your target CPA bid.
In your Google Ad account, enable sitewide tagging and conversion tracking.
Discover Ads are mobile-optimized so make sure to use high-quality images and content.
How to Setup Discovery Ads Campaign:
Step 1: Go to ads.google.com and sign in to your account.
Step 2: Click 'Campaigns' tab on the left of Google Ads' menu.
Step 3: Click the '+' button and select new campaign.
Step 4: Choose your marketing objective. Your options are "Sales", "Leads", "Web Traffic", "Product or Brand Consideration", or "Local Store Visits and Promotions". You can also create your own campaign without guidance if you prefer.
Step 5: When you're asked to select your campaign type, pick "Discovery".
Step 6: Choose your geographic and language targeting for your campaign.
Step 7: Choose your targeting audiences with the following audience information: custom intent, your data, and in-marketing audiences.
Step 8: Set up your bidding strategy and your average daily budget. Google takes the heavy lifting out of running your campaigns with automated bidding. Automated Bidding takes the guesswork out of setting bids to meet your campaign goals.
Step 9: Save and continue.
Now that you've set up your Discover Ad campaign, you can create your ads next.
How to Create Discovery Campaigns:
This is where you put in all your creative assets in place. You can either set up a single image ad, or multiple carousel display ads. If you want to make the most of your campaigns, you might want to run a test on both ad groups.
Step 1: Login to your Google Ads account and proceed along your Discovery campaign.
Step 2: On the left page menu, click on "Ads and Extension".
Step 3: Click on the blue "+" icon then pick "Discovery ad" for your single-image ad, or "Discovery carousel ad" for your multiple-image ad.
Step 4: Make sure you populate every Google property and check ad preview before you click Save.
When you click "Ads and Extensions" from the left panel and enter all the variable information, keep the following in mind:
You must insert at least 5 headlines, 40 characters each
You can have at least 5 descriptions, 90 characters each
You can only place one of each Business Name, a CTA text, and final URL
You must have at least one square image, a square logo, and one landscape image with a maximum image size of 5MB.
To learn more about Discover ad asset specifications, visit Google Ads help.
The Most Crucial Step in Setting Up Discover Ads
Wait.
As soon as you have setup your discovery ads campaign and assets together, give it room for "Learning". If your campaign status shows "Learning", avoid making any adjustments. Discovery campaigns perform better over time.
Just be sure that your campaign runs with enough budget for two weeks. Google states it's advisable to choose an average daily budget at least 10 times the value of your target CPA (cost per action) bid. Wait at least 40 conversions before making any adjustments to your campaign.
Key Takeaway
As Google continues to develop and improve to serve helpful, personalized content to its users, it's also important for brands to keep abreast of their marketing campaigns as well. Google Discovery takes the heavy lifting out of running and monitoring your campaigns. Plus, it's easier to set up discovery campaign. It's best you take the opportunity to create better and effective search ads for your audience.
Rethinking Upsells & The Psychology of Opt-Ins vs. Opt-Outs
Opt-in or opt-out?
Do sales increase if you present customers with a list of upsells to choose from?
If you make customers opt-out or deselect items, will you decrease buyer satisfaction?
Marketers will often tell you to always use opt-ins because opt-outs just upset customers.
But that isn't always the case.
Psychology research suggests there's a lot more nuance to these decisions. And the difference could be huge for customer loyalty, the customer lifecycle, and your bottom line.
Presenting Upsells To Buyers
While there are plenty of variations, ecommerce generally uses one of two methods:
Opt-In (Choosing Strategy):
Customers can choose what they'd like to buy from a list of upsells.
Opt-Out (Rejection Strategy):
Customers must remove or reject unwanted items from their cart before purchasing.
On the surface, these two tactics don't seem all that different or complex, but research suggests the thought processes behind them are.
For example:
Question 1.
You're building a petting zoo for your favorite hypothetical 5-year-old daughter to play in. Which animal baby will you put in it first?
a) Lambs
b) Kids (The baby goat kind.)
c) Chicks
Question 2.
You're building a petting zoo for your favorite hypothetical 5-year-old daughter. Which one are you picking?
a) Poisonous Cobra snake
b) Black widow spiders
c) Piranhas
Question 3.
Your hypothetical daughter wants to turn the petting zoo into a Halloween zoo. Which animal are you replacing the cute animal with?
a) Poisonous Cobra snake
b) Black widow spiders
c) Piranhas
If the research holds (and I structured the questions right), you'll likely find the first and third questions easier, faster, and a little more satisfying to answer than the second question.
Why?
The second question asks you to choose(+) a negative(-) option. There's a mismatch.
In more dry language, researchers found that users (on a general population basis) make decisions faster and have less indecision when choosing (a positive action) desirable options (positive items) in a positive situation.
In a negative situation, we prefer to reject (a negative action) undesirable things (negative items).
Why?
Less indecision and interruption in the decision-making flow increases decision confidence.
Why Action-Option Mismatch Matters
In the second question, there was a mismatch between the action and the item or result that threw you off guard. You were choosing(+) a negative(-) option in a relatively positive situation(+).
Just like your website.
And the effects can be long-lasting.
Research finds we're usually more deliberate and careful when rejecting items. We pay more attention to our biases and attempt to be consistent.
It's also important to note that when we reject a choice, we focus on the negative aspects of a product, service, brand, or individual rather than positive details that we would otherwise focus on when using a choosing strategy.
We also tend to engage in a bit of lying to ourselves. After we make a decision, we can reaffirm our choice and build our confidence in our decision by focusing on the negative traits.
"I'm delighted I didn't choose the car that I originally wanted. The one I chose may not have all the features I wanted, but it's much more affordable. It was a better choice."
(In fun terms, this cognitive habit is sometimes referred to as our brains "synthesizing happiness.")
Getting More Upsells
When we're more satisfied with a purchase, we tend to be more loyal to that brand.
We're more likely to buy again from the company, and we're less likely to complain. (I know you know this but keep it in mind.)
Some research has argued that a pleasurable decision-making process, combined with achieving a goal (purchase), is independent of the consequences of a decision (the experience process).
So, even if a product ends up not being that great, it was still a positive experience. The user is more likely to return for other purchases.
If this is confusing, think of the buying process this way:
Information gathering and discovery process: Top portion of the sales funnel.
Shopping process: Includes browsing and information collecting.
Decision process: Assessing, rejecting, or choosing an item or service.
Buying process: From the shopping cart to the order confirmation.
Experience process: Receiving and using the product or service itself.
The more congruency between these steps, the better the last step is, and the more likely your customer will return.
This concept has a considerable impact on ecommerce. Consider comparative websites, for example.
The Psychology Behind Gift-Giving Decisions
Research finds our decision-making preference may change when we're selecting an item for someone else.
For example, we get more creative, rely on fewer biases, focus more on quality, and are more desirability-oriented when buying for others.
At the very least, we want to minimize the possibility of negative outcomes.
So, it makes sense that, when we're buying for ourselves, we prefer rejection strategies (opt-out). We're arming ourselves with information we need to feel better about our choices. We're avoiding an undesirable outcome.
But when we buy for others, we prefer choosing strategies (opt-in).
Why? We focus on the positive attributes, the value we're giving the other person, and reaping the most benefit from the situation.
In other words, we want to do good and look good.
What Does This Mean For Websites?
As mentioned earlier, this aspect of decision-making can be a big help when offering competitor comparisons.
Your site is hopefully a pleasant experience. Will you offer positive options to choose from or reject negatives? Opt-in to upsells or opt-out?
If you're a retailer mainly offering holiday gifts, it may be more effective to present items or upsells consumers can add to their cart. However, if your customers mainly buy for themselves, you may want to test and opt-out or "remove" approach.
While these are general theories and they may not work for every audience, there is certainly enough research to justify a test.
They may even answer why you're struggling to increase your Average Basket Size (ABS) or finding it difficult to convert when offering upsells.
More resources:
---
Featured Image: VectorMine/Shutterstock.com
Related And Referenced Research:
Higgins, E. T. (2000). Making a good decision: Value from fit. American Psychologist, 55(11), 1217–1230.
Heller, D., Levin, I. P., & Goransson, M. (2002). Selection of strategies for narrowing choice options: Antecedents and consequences. Organizational Behavior and Human Decision Processes, 89(2), 1194–1213.
Lu, J., Chen, Y., & Fang, Q. (2022). Promoting decision satisfaction: The effect of the decision target and strategy on process satisfaction. Journal of Business Research, 139, 1231–1239.
Higgins, E. T. (2002). How Self-Regulation Creates Distinct Values: The Case of Promotion and Prevention Decision Making. Journal of Consumer Psychology 12(3), 177–191.