Is Organic Marketing the Way Forward to Enhance Business?
Small and medium businesses must leverage the online platform to make sure that they can reach out widely to their customer base. While utilizing social media platforms like Facebook, Instagram, and other such platforms is an essential strategy, businesses do well if they leverage the various ways of organic marketing. However, it's no secret; online companies face many challenges in employing organic marketing alone. On the flip side, startups and small businesses may not have a sufficient budget for exploiting paid marketing to the required level.
Also, organic marketing techniques, when diligently practiced, requires time, at least 3-4 months, to show outcomes. Digital marketing experts at SEO Company India expressed that business owners do not want to wait for greater traffic and improve their reviews. The competition in the market is more significant than ever because most businesses are now online. Therefore, moving ahead of your competitors and getting your services and products seen by potential customers is the first step of the game. Getting conversions is the second.
Businesses relying purely on paid marketing may not earn the necessary level of trust if they do not figure on top results organically. The bigger brand websites are a favorite for Google, so beating them up with organic marketing alone is a tough nut to crack. So, what is the way forward? Delving into this further, we have expressions and opinions of experts from various niches that share insights.
Enhancing your Customers' Trust is Foremost for Conversions
The first requisite for businesses is earning the trust of their prospective customers. Businesses may face budget limitations, and the management may be reluctant to wait too long to see an increase in revenues.
Eric Jones from Shop Couture Candy said, "It's important to understand that not all businesses will require budgetary resources to deploy paid marketing campaigns. Some businesses embrace organic marketing because a marketing strategy designed only based on pay is shallow and won't help you build an authentic connection with the customers. If your customers keep on getting advertisements with no informational mails, educational content, or engaging social media posts to complement those ads, then you'll lose the mindshare of the customers in two primary ways:
You'll lose out on creating an emotional connection with your clients, and this is the number one driver for embracing positive brand experiences in the businesses.
Your customers won't have many ways to connect with your brand.
Therefore, when you build a marketing strategy, always consider how you can address all the business goals with the blend of organic and paid marketing."
It means businesses need a tailored marketing plan based on their business goals, budgetary resources, and their need to establish a meaningful customer-business bond in the long run.
Laurel Mintz is J.D., M.B.A. is the CEO and Founder of award-winning, Los Angeles-based marketing agency Elevate My Brand. Giving her astute viewpoint on the current scenarios of organic marketing, she said, "Organic ain't what it used to be. I would argue that unless it truly is the most magical, unique thing in the world, or a historically easy marketing area like CPG, you better not hang your hat on organic."
"We do believe at least 30-60 days of Organic using a platform like Planoly is a good starting point so you can start to develop hypotheses about the type of organic content your audience wants, but after that, it's time to take to the ads. That's truly the only place where brands will see exponential growth."
Laurel is an energetic CEO and has won several awards and recognitions to her credit. "Her awards include the 2017 Patrick Soon-Shiong Innovation Award; 2016 Goldman Sachs 10,000 Small Businesses Company; Los Angeles Business Journal 2016 Women In Business Award; and more."
Laura Fuentes, operator of infinity dish is a seasoned business leader who manages roughly a dozen full-time employees. Her experience with organic marketing has been somewhat positive. Laura said, "I'm happy to share what we've learned when it comes to organic marketing and growth on social media. Marketing organically shouldn't be overlooked, as many in my industry believe you must spend money to make money. The truth is: organic marketing strategies are some of the best tools you have at your disposal and can be utilized completely free."
Highlighting the experience of their own company, Laura said, "For my team, organic marketing on social media platforms like Instagram has been our best path forward. Interacting with our audience, posting content we know our followers will enjoy, and keeping our profile up to date has dramatically increased our viewership and online sales. However, organic marketing does come with its challenges, and you shouldn't expect to see the same results as you would with more targeted advertising. It can be hard to grow an organic audience quickly, but that doesn't
mean it's not worthwhile."
Link:
A quite peculiar observation comes from Tony Heiser. Tony, a professional eMobility Auxiliary Electrification, Commercial Vehicles – KEB America, and a website owner, said, "A challenge that we've faced in our organic marketing techniques is increasing conversion rates from leads to existing customers. Many people are interested in automation these days, and that's great! But many people want to read about how it might be possible for their company to implement certain changes in the future, as opposed to doing it now."
Giving thorough information has always been the in thing in organic marketing for bringing up consumer awareness. It builds a brand reputation and helps businesses in the long run.
"One thing we've tried to change in an attempt to increase organic marketing conversion rates is we've put a focus on the actual use of certain products rather than how those products can benefit companies. This means that readers are likely in a later stage of the marketing and sales funnel and are closer to utilizing these products rather than simply reading about how they might benefit them later. So far, these changes have had even better results than we originally predicted. It's amazing how a simple adjustment can make such a big difference," said Tony.
Focus on Brand Reputation-Giving Quality Services
Cody Crawford, Co-founder of low-offset, observed that the greater expectation of buyers for their sellers is now changing the complete scene on how people will see your brand.  
"I would say the biggest issue is understanding that marketing is now about operations (how your business runs and the client experience). There was a time when with enough money, or a great campaign, you could make a significant difference even if the product/service you delivered was not that hot."
Further on, Cody stressed on the importance of resolving issues that customers may face. Moreover, the operations of the organization need to be revamped for giving quality and flawless services and products. This is what it would take to bring great reviews that matter a lot. "The internet has affected how small business owners and representatives differentiate themselves and advertise their unique qualities. Not only that, it has also changed buyer behavior. Most people now research products and services as well as providers online. Nowadays, word-of-mouth is word-of-mouth with the whole world. Reviews, review sites, and social media are what needs to be paid attention to. And resolving issues and stopping them occurring is operations," Cody said.
Ralph Severson, the owner of flooring masters had an insightful revelation to make about revamping and resourcing the company's overall marketing target. Besides paid and organic marketing, they have relied greatly on traditional brand reputation management marketing strategy. Ralph suggested that your business's reputation among the consumers holds excellent value. He said," A big challenge for professional services business owners is overcoming the SEO of big index sites that charge companies like ours for leads. It needs a good deal of time and investment to move up the rankings for broad local searches, and you are still competing with pay-per-click ads even after you have surpassed the indexes. Organic SEO is a great way to collect quality leads, but we must still focus on old-fashioned networking. It can be a real challenge, especially when someone first sets out on their own."
Ralph emphasized further, "Doing great quality work, communicating well, and going above and beyond for your customers is the best bet to grow your business through word of mouth. This worked great for us over the years, but I was looking to grow faster. We started providing an incentive for referrals so that our customers would be rewarded for recommending us to remodels for friends and family. Since we started this program, we have hit our stride."
Google has also pointed out the quality of the services will play a significant role in how it will see businesses in the coming times. It is essential that apart from digital marketing, companies must focus on core operations.
Organic Marketing-A Continuous Process
Not only does organic marketing take time to start showing results, but it requires consistent action throughout the process. Subsequently, your outcomes will be getting more and more favorable and nearing your business goals. However, you cannot stop paying attention to organic marketing if you achieve the first year's business goals. Search engine algorithms change, and so do the requirements for staying ahead in the competition. New competitors keep entering the market, and you have to be on the go.
Nicky Tavera, Chief Executive Officer at DNT Home Buyers, observed, "There's no other way of saying this, but my competition is always my biggest pain point when it comes to organic marketing. There's always a race to the top, and the marketing strategies feel like they never end. The back-end work on my website is a constant process that I'm very grateful to my SEO people, but we never stop monitoring and making any necessary changes, so my website ranks high in search. Organic marketing is a great way to get me in front of potential buyers and sellers, so I'm happy to invest the time and the money and happiest that I can delegate this to another person as it's certainly a full-time job. Real Estate is a hot market right now, so it takes extra effort to stay ahead and the benefits of working with me versus my competitors."
In similar terms, Abby Herman, the Director of Strategy at Snap Agency, said, "We often encounter potential clients (business owners and entrepreneurs) with the idea that organic marketing is just pretty much posting on social media every day, or more than once a day. While this might be true in some cases, it's just a small scope of organic marketing and what it means. For us, many of the struggle has been to get new business owners to understand and be on board with how things work to have a good marketing strategy to work and bring in organic traffic. There's a piece of the puzzle that is often missing for them, and it's beyond social media posting."
However, Abby admitted that SEO played a significant role in bringing in greater traffic and emphasized more needs to be done along. "A huge part in bringing new site visitors and potential customers, and while that helps rank your website and shop higher in the search, it is not a once and done process. This is a constant thing that they need to include in their marketing efforts, usually for a few months, so part of getting our clients comfortable with either spending the funds to do it or learning how to do that themselves takes a little bit of time" said Abby.
SEO is a process that needs time to show results, and professionals like Abby acknowledge this. "Also, the time that this takes to show any results or return is also not conducive of super happy clients at first. They are doing a good thing for their business, so we make sure to educate as much as we can and be transparent on what is and isn't working so we can change directions if necessary. It's tricky and very understandably scary to pay for a service and play the waiting game for a while until there is data to be shown and analyzed," she said.
Organic Marketing for Small Business Websites
When it comes to organic marketing, small business websites may face another set of challenges. Though they want to make things easy for customers looking for their products to straightaway make a purchase, optimizing the content on website pages holds the key to attract traffic. Customers may look forward to making purchases on the first go on your website, but how do they find you online? Content optimization, on-page and off-page SEO strategy, and other organic marketing techniques must be in place for this.
Hosea Chang, the marketing consultant at Hayden Girls, said, "SEO tends to run on keyword usage and frequency as well as detailed explanations. One thing that is challenging for Hayden Girls, an apparel company, is the clothes rather than paragraphs of copy. Compare that to a service business that can spend pages explaining what they do. An online store is pretty straightforward, and we wouldn't want to overwhelm our customers with descriptions when they want to shop. But if they can't find us through the search engine results, then no shopping will happen. It's a difficult balance to find. Plus, there's the SEO competition of the big-name companies whose brands have established decades of recognition that Google loves. Taking it as one step at a time, making sure we're using other strategies as well to grow our customer base."
COVID 19 Challenge to Organic Marketing Strategies
Though COVID had brought significant disruption in our lives, it also challenged digital marketers for the greater competition online. Moreover, businesses had to leverage more of all the marketing opportunities present in the virtual world to realize their business goals. Simon Elkjaer from Chief Marketing Officer & YouTuber at avXperten observed, "Though organic marketing has always been a challenging waiting game, the pandemic has upped the difficulty a little bit more. The rise of eCommerce and the growing competition that comes with it has encouraged us to do more research, be more creative, and boost our optimization strategies more."
A diligent effort never goes in vain if it is done smartly according to the need of the hour. Sharing the inspiring part of his story, Simon said, "Thankfully enough, we were able to overcome these challenges with the help of our research, solid work culture, and effective engagement, appreciation, and training strategies. Our story only goes to show that preparation and unity help make challenges easier to overcome."
Chris Kindler, Campaign Director at American Refugee Committee, revealed his exposure to how beneficial and varied organic marketing aspects are in 2020 (the year that taught us a lot!).
"When someone mentions the word organic marketing to me, I think of social media, and to my surprise, it is much more than that. I have often thought that I needed to be consistent on social media to get in front of my audience more organically, but I was very wrong. I also needed to maximize the ranking opportunities on my website with things like SEO, for example, so all the people that are looking for us, whether be volunteers, people seeking a career with nonprofits, and other types of partnerships would be able to find us."
Chris Kindler realized the importance of having a dedicated team that works on organic marketing for the time it deserves. He candidly said, "Our biggest struggle was TIME-Time to do all of this ourselves, time to invest in learning the process and the best strategies and so much more, especially when everything seemed to go digital during the past year. We figured that our best choice was to invest time in things we are good at, connecting and helping people, so we were happily forced to delegate this service to people who know best, marketing experts. Front and center when it come to organically pushing our company in front of people to help us connect, raise awareness to issues we care the most and find very much needed help across many different places around the world."
Many business owners do not have a clear perception of organic marketing and hence cannot leverage the same.
Todd Ramlin, the manager of an cable compare, similarly felt that having a dedicated team that can generate content as per the needs of the target demographics' queries will significantly impact organic results in the long run. Describing their company's strategy for the organic market, Todd said, "We're always trying to rank better on search engine results pages and one thing we use to improve our ranking is the blog on our website. We post articles on our blog that directly answer the questions that we think our target audience may be typing into their search engine. Not every article you write is going to be a winner, so the key to long-term success is frequent and consistent additions of new content to your blog."
Like Chris, Todd also recommended that businesses go for third-party digital marketing efforts according to their requirements. It helps the company to focus on its core operations.
"The nice thing about blogging is that if you don't have the time or the talent in-house, there are plenty of options for outsourcing the work. Also, if you're not sure what to write about, you can check out what topics your top-ranked competitors are writing about and write a better version of it," said Todd.
Need for a Well-planned Organic Marketing Strategy for RoI
Christian Velitchkov, an SEO, Lead Generation, and Content Marketing professional in Huntington Beach, California, said that even the best ideas for organic marketing strategy need the company's approval, which is highly speculative of the returns the idea would generate. So, implementing an idea is the first challenge, and forming a risk cover plan is even more important. This means you should have an alternative method to go about generating RoI or meeting business goals. If Plan A doesn't work, you have Plan B or Plan C in place.
Christian categorically remarked, "Challenge- How might you make an amazing advertising effort without a spending plan? In all actuality, it's quite hard. However, in any event, when you have an extraordinary, income-creating thought, you still ordinarily need to get your budget endorsed by a higher-up."
 "Outcome- The way to opening a budget lies in having the option to demonstrate the ROI of your showcasing endeavors. The amount you invest in organic marketing should pay off returns with incentives. Otherwise, you need to create a better budget plan. Ultimately, your organization will come out stronger and employees more experienced."
Meeting Client Expectations With an Intricate Balance of OM and PM
Maggie Blazo, the Marketing Assistant at Milligan University Career Development Center, said, "We work with several clients at a time, and a lot of it is organic marketing. We have some clients who want to pay for promotions or advertising space, but many want us to take the time to be consistent with their digital marketing. This has proven results, but one of the biggest challenges with organic marketing is its time. It's not a process that takes a few days or even two weeks, it's weeks and months of consistent work. We appreciate that some clients prefer to wait and let us take the time to write the blogs and create the content, but occasionally we do the paid stuff, and those companies who pay for seeing faster results at sometimes a better cost. It can be an intricate balance."
Organic marketing indeed gives results, but clients need to show patience and reap long-term benefits.
Tailoring Organic Marketing Strategy According to Target Demographics
Karol Nowacki, Search Acquisition Manager at Tidio, Warsaw, Masovian District, Poland astutely observed, "Building a successful organic marketing plan is crucial and challenging at the same time. A well-prepared strategy can benefit our business, including more authentic customer engagement and brand loyalty. However, what can be challenging in organic marketing, is the deep understanding of the customer's needs to target our content to the right audience. We need time to research to ensure that what we are creating has the best chance of landing. What's more, organic marketing is not segmented. We cannot precisely choose who should read our content, so understanding the customer's needs is something we have to spend time on and not underestimate the power of deep customer insight."
Companies need to invest time and effort in understanding their prospective consumers' concerns and design content and outreach plans (like choosing relevant platforms for certain age groups of the audience) accordingly.
Conclusion
There is surely a no-one-size-fits-all approach to organic marketing. Businesses need to understand what will suit their requirements and business goals to carve out the right organic marketing strategy. A business's organic marketing should also be combined with paid marketing techniques in a suitable proportion to meet budgetary allowances and beget effective results. Flexibility and expertise are essential criteria that must be taken care of while designing and implementing an online marketing job.
Get the Most Out of LinkedIn Sales with These 5 Steps
Acquiring more qualified targets is now easier than ever before.
In this blog, we'll provide you with step-by-step directions to use the competitors' efforts to your advantage. Moreover, we will show you the tools that enable you to do this on autopilot — with smart automation!
The first two steps are about filtering out the competitors that you should pay special attention to. If you feel like you mastered this already, feel free to jump in straight to #3 — that's where the real fun starts!
Step 1: Determine Your Actual Competitors
Not everyone who offers a remotely similar product or service is your competitor.
Don't waste your resources on a target pool that is too wide. If you do, you'll only spend your precious time on people who won't be interested in what you have to offer.
First of all, divide the companies you think of as your competitors into the following categories:
Direct Competition — they sell the same or very similar products as you do, and the customers will consider both of your products (as well as the others in this range) when making a choice.
Indirect Competition — they offer a similar product, but you're competing for the same market (for example, orange juice and Coca-Cola).
Let's start narrowing it down.
Focus on your direct competitors, and ask yourself a few good questions about them and your own business:
What's included in the full scope of their services?
What about you?
How do they differ at the first glance?
What does their online presence look like?
What is your USP?
The broad answers to these questions will guide you through the next step.
Step 2: Study Your Competitors Thoroughly
Let's start with LinkedIn competitor research.
LinkedIn is a place where industry professionals gather and focus their business efforts — which makes it a perfect starting point when learning about the competitors and their tactics.
Tip No 1: Go to viewing settings and set your profile to private mode.
Remember when you liked your ex's profile photo from 2015? Not cool at all, right?
Well, the same applies when you examine your competitors on LinkedIn. Don't forget — unlike other social networks, LinkedIn will show you when someone looks at your profile.
To prevent this, log out from your Google and LinkedIn accounts (if you don't have a Premium LinkedIn account already).
Tip No 2: Turn off the "Viewers of This Profile Also Viewed" as well!
This will prevent other people from seeing whose profiles you've visited and contacted. Now you can see their connections, followers, ads and newsfeed without being seen yourself — and adjust your strategy accordingly.
Tip No 3: Learn about current trends and topics in your industry.
Being up to date with everything that goes on each day is in itself a full-time job.
To make sure you never miss news and events you could use to your advantage, set up Google Alerts to deliver the news for you! It is free and easy to do so:
Pick the account where you want the news to land
Go to "Create an alert about…" tab and enter keywords for the terms relevant to your business
"Show options" button will allow you to specify how often you want to receive the alerts, sources, language, region, how many results you wish to receive, and the email address/ RSS feed
And just like that, you won't have to look these terms up: Google will deliver them to you.
Tip No 4: Snoop around the niche spots as well.
Don't limit yourself only to your existing connections and followers of your direct competitors — there are other places within the LinkedIn community you can research and discover plenty of prospects.
For example, niche industry groups on LinkedIn are perfect places to find potential customers and users. While we're focusing on LinkedIn here, the same goes for Facebook groups, Reddit, Twitter and Instagram pages. Those can provide you with plenty of useful connections, knowledge and opportunities as well. The group name is an obvious sign of whether it is the right place to look for potential targets or not.
Once you decide the group fits your criteria, join and take a look at the posts. What are people talking about? What are their needs and unmet demands? Can you be of help to them?
Some of the post authors and commentators are looking for exactly the type of service you offer: that's the sign you're waiting for, and the right people to contact!
Now, you can decide to chime in and pitch in their inbox or do it in the specific posts' comments. However, doing this manually will take too long; picking individual accounts, tailoring and sending each message one after the other is long outdated practice.
We have a better idea!
Step 3: Scraping time!
Here we'd like to introduce Expandi.io — a tool to automate everything regarding LinkedIn outreach, but at the same time keep the whole process natural and personalized just as if you did it all on your own.
Expandi will collect all the account names and data from the places you choose, let it be comment section, page followers or connections. For example, you can pick the Twitter pages where your audience gathers to discuss most recent changes in the way your industry works. Then you can scrape everyone who liked that page and turns their names into LinkedIn profiles with help from Expandi.
Now, you have a rich list of LinkedIn accounts to reach out to — all of those people interested in your offer. Imagine how long would it take to vet them out one by one!
The next step is to import this list (you get it in the CSV format) back into Expandi, and you can start to reach out to the targets on LinkedIn.
Step 4: Reach Out to All of Them
One by one?
Nah.
By now, you got the gist — outreach is automated as well.
You may wonder how to automate the outreach so it doesn't look robotic and insincere, while speeding up the outbound prospecting? How to personalize beyond "Hey, (target name)!" for dozens of accounts? How to avoid being flagged for spam?
With all those dilemmas in mind, Expandi adapted it's tool with the following features:
Dynamic placeholder — this is a dynamic tag unique to Expandi. It will take  personalization to another level, so each account you want to reach out to gets a unique message, with something special that shows your effort.
Safety features — to avoid getting banned for sending tons of messages in short time spans, Expandi makes all the automated activities randomized. The outreach cadence mimics the human behavior perfectly, so you don't need to worry about getting penalized by LinkedIn.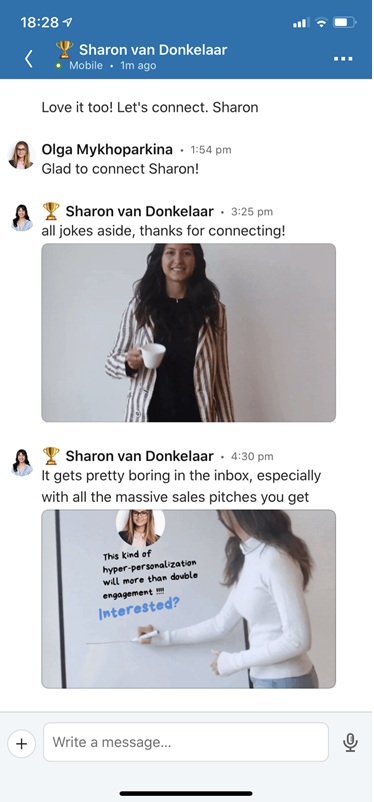 Final Step — Enjoy the Fruits of Your Labor!
Smart LinkedIn automation is the best thing since sliced bread. Instead of tedious manual labor, copying, pasting, and guessing games, there are tools that do all of that for you.
You can dedicate your valuable resources to improve your services or take a break from work in general and spend time with the ones you love the most.
Author Bio:
Stefan Smulders is a SaaS Entrepreneur | Founder of Worlds safest software for LinkedIn Automation / Expandi.io | for more than 5 years Founder of LeadExpress.nl
Best Social Media Content Moderation Strategies
Social media has changed the way businesses operate. From creating an entirely different platform for new marketing efforts and changing how brands relate to their customers. We can all agree that social media is a very integral part of many businesses.
But, just as social media serves as an asset for your business, it could also become a liability if not handled properly. We have all seen certain brands put out content that harmed their image, and caused irreparable damages. This could happen to any business if they don't moderate their content. This is where a social media moderator comes in.
What is a social media moderator?
A social media moderator is someone hired by a company to review, screen, and filter all social media content related to their business. By doing this, a business can ensure that its content is:
Appropriate
Aligned with its branding and
Helping them achieve their overall business goals.
In this article, we will cover some of the best social media content moderation strategies and how you can implement them in your overall social media marketing strategy.
Content moderation strategies for social media.
Having solid strategies set in place for your social media content moderation is extremely necessary. These strategies will ensure that you implement your content moderation following established guidelines. Hence, eliminating room for error.
Here are some of the best social media content moderation strategies you can incorporate into your social media strategy.
1)Establish a standard social media policy.
Setting standard rules are essential because they ensure everyone on your content team knows what's allowed and what's not allowed. When creating your social media content policy, ensure it includes:
The inappropriate content your company disallows. Inappropriate content should entail; bullying, brand bashing, sexually suggestive content, offensive photos, and videos, etc.
Rules on posting spam content. Spamming your audience on social media can diminish your brand's credibility. It can also devalue your content. Additionally, it can make your social media pages look messy and unattractive. Stay away from spam content.
How your company addresses sensitive topics like race and gender.
The method you apply to handle negative comments and reviews on your page or about your brand.
How you deal with content created from influencer marketing, etc.
2) Designate who can submit social media content.
We all know that there are a plethora of ways brands get and create their content. We also know that a high engagement on social media could equal high reach. And if all things were equal, we could trust all content sources without questions and allow everyone to tag and comment on our page. That's why the best writing companies make sure they use trusted sources.Therefore, as a brand, you can never be too careful.
So, set limitations on:
Who can submit content to your brand.
Who can comment on your page & tag you on their content. Most social media platforms have settings to accept, limit, or decline things like brand tagging and commenting.
Where/whose social media content you share. It is best to share or feature content from only people who have accounts with your business.
By doing this, you prevent trolls and fraudsters from taking advantage of your brand.
3) Determine a Content Strategy
Creating a content strategy is essential to your content moderation. It helps you ensure that you are creating content that fits your overall brand/social media marketing goals. Your content moderation strategy should include:
Where you share your content.
How you use the content that you create.
How you want your content to look. This should include your color schemes, style guide, taglines, hashtags, if you want to add logos or not, etc.
The type of content you want to upload.
Your brand messaging must be consistent throughout your social media channels, so a content moderation strategy will help.
4) Create a standard submission process.
While we expect your business to create content regularly, there are also a few other contents generating methods you could implore. Some type of social media contents include:
User-generated content.
Customer reviews.
Contests and giveaways.
Affiliate promotions, etc.
Consumers love reading user-generated content and top writing reviews. However, whatever way you get your content, you need to have a standard submission process.
The three most common submission processes you can use in your business are:
Pre-moderation: In this moderation method, your moderation team reviews and approves content pre-posting. The team has to approve submitted content before they post it.
Post-moderation: In this moderation method, the moderation team posts submitted content, and monitors/reviews them regularly to see how they perform.
Reactive moderation: With reactive moderation, content is submitted in real-time, and only reviewed if the content is flagged.
Ensure that you include all the information content submitters need to know. So, make available information on:
Where you intend to use the submitted content
User permission and rights agreements.
Content submission deadlines, rules, etc.
5) Monitor your content regularly.
Finally, it is essential to monitor your social media content regularly. This helps ensure that you aren't missing out on anything that could harm your brand.
You can monitor your content manually, automatically, or a combination of the two. Tools like Mention.com help you track social media content related to your brand.
In conclusion
Any serious business knows content moderation is vital. It attracts the kind of customers you need and also helps keep existing customers. Other advantages include understanding your users, increasing traffic and protecting the image of your brand.
Top SEO Trends Every Marketer Needs to Know in 2021
Search engine optimization can help companies significantly increase their online visibility and sales. What's great about SEO is that you can learn how to do it yourself online and it won't cost you a penny. However, it does take a lot of time to master search engine optimization. One of the most challenging thing about learning SEO is that it's constantly evolving.
You always have to become familiar with new trends to retain or improve your rankings. Here are some of the most important trends that should play a role in your 2021 SEO strategy.
Follow the EAT Principle
The EAT framework was introduced by Google several years ago, but it's now more important than ever to follow it because a huge amount of your traffic may depend on it. The EAT framework was conceived with the idea to provide Google users with better search results. It's based on three different factors – expertise, authoritativeness, and trustworthiness.
The main purpose of this framework is to give ranking advantages to websites with quality content. The first EAT factor is expertise, which you're required to display in your content. Essentially, you have to display knowledge that's at the same level or higher than your competitors to outrank them.
Being an expert in a certain field will allow you to craft useful content, but that's only one piece of the puzzle. You also have to display authoritativeness. To do this, you have to secure links from authoritative websites and pages relevant to your industry. Even if your business gets mentioned on another site, it can positively impact your rankings.
Finally, trustworthiness is another major factor imperative in SEO strategies in 2021. Let's say that you have a paper writing service that you want to promote online. It will be hard for you to attract new customers if your website isn't trustworthy. Some of the ways you can display trust include providing users with an easy way to contact you, associating your web page with a physical location of your business, having a privacy policy, and switching your domain from HTTP to HTTPS.
Local SEO
With more businesses with an online presence than ever before, local SEO has become fundamental for reaching customers in your area. This is crucial for every business owner that has a company with a physical location. Although you should definitely optimize content, headers, meta descriptions, and tags to target local audiences, your main focus for a good local SEO strategy should be to create a Google My Business (GMB) listing.
When Google provides users with local results, their algorithm looks for companies with complete and accurate information. If you set up a Google My Business listing for your firm, you'll be favored for local searches. Some of the most basic information you need to add to your GMB page includes your business address, opening hours, phone number, website address, and category.
It's always a good idea to add numerous photos that clearly display your business, as well as the goods you provide. Encourage your customers to write reviews about your business on Google, as this plays a huge role in rankings. You can also build trust with consumers if you regularly respond to reviews that you get on your GMB page.
Voice Search
Alexa, Siri, and Cortana have become insanely popular ever since virtual assistants were first introduced. They allowed users to search for information online more easily, which heavily impacted common search queries. While most people usually only enter a few keywords in their queries when they're typing, voice search is more about posing complete questions.
What this tells you about user behavior online is that many people are looking for an answer to a specific question. You can improve your Google rankings by including FAQ sections on various pages on your website. Research what are some of the most common questions consumers in your industry have and write useful answers.
Long-Tail Keywords
You can greatly increase your conversion rate if you optimize your content for long and specific keyword phrases called long-tail keywords. Long-tail keywords are somewhat associated with voice search, but many consumers type them when they're close to a point of purchase.
What's great about these types of keyword phrases is that there's less competition for them, which means you have a better chance of grabbing the first spot on search results pages. Although it won't provide you with a substantial increase in traffic, optimizing for long-tail keywords will effectively help you turn visitors into leads. While your main objective with this approach should be to rank for long phrases, it also helps you achieve rankings for short keywords.
Summary
Every business owner should update their SEO strategy often. As technology evolves, so does user behavior on the internet. It's common for strategies that yield good results to become significantly less effective after a few months. That's why you should always stay up to date on the newest SEO trends.
Author's Bio:
Charlie Svensson is a freelance writer and digital marketing specialist. Apart from writing articles for various online magazines and blogs, Charlie also likes to help college students with their essays. He currently works at my-assignment.help, offering his services to countless students in English speaking countries across the globe.