10 Best Online Quiz Makers to Look for in 2021
Online quizzes are a fun way to engage your target audience, whether they're your customers or your students. With a good quiz maker, you can create a quiz that grabs their attention, connects them to your brand or learning material, and helps you achieve your goals.
Here are some of our favorite online quiz makers that are dominating 2021 and can drive excellent long-term results.
ProProfs Quiz Maker
ProProfs Quiz Maker is a user-friendly quiz creator for businesses and educators. It has a library of 100,000+ ready-to-use questions, 100+ professionally-designed quiz templates, and 10+ question types with branching scenarios. It can help you create a quiz in minutes.
Customize and brand your quizzes, choose from 100+ themes and backgrounds, upload engaging videos, presentations, and images, and create effective lead forms.
Track your users with auto-generated reports and analytics, automate lead capture, and transfer leads to your CRM.
Suppose you create quizzes, tests, and online exams for students. In that case, you can upload them to any LMS, monitor your learners' real-time performance, leverage analytics to help them improve, automate grading, and provide instant feedback.
TryInteract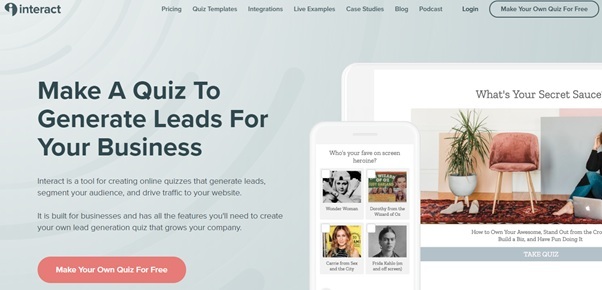 If you're looking for a quiz maker for generating leads, TryInteract might be just what you need. It's ideal for segmenting your audience and boosting conversions, too.
It comes with 800+ quiz templates that you can customize to your business needs. It lets you create lead captures, redirect quiz takers to your landing pages, leverage analytics to learn more about them, and follow up to build relationships based on their responses.
You can integrate it with most marketing tools and create quiz pop-ups and bars for your website with just a little coding.
iSpring

iSpring quiz maker is excellent for building interactive quizzes and tests for employee training. It features customization templates but also lets you create a quiz from scratch.
Once you choose from 14 question types, you can assign points to questions, add branching scenarios, set the passing score, and create slides for each answer to help employees master all the concepts.
This tool even supports audio-based questions and quizzes with equations. It can also automatically send quiz results to a host of integrated tools, such as your LMS or email client.
Survey Sparrow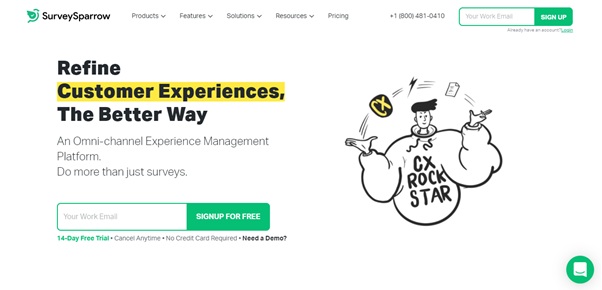 Survey sparrow is another great tool for lead generation, audience segmentation, and maximizing conversions. It comes with step-by-step instructions for creating attention-grabbing quizzes that you can customize to match your corporate style.
You can create text-based or image questions with branching logic, create lead forms and dynamic quiz results, redirect quiz takers to landing pages, and segment them according to their answers. You can even A/B test your quizzes to optimize them for maximum conversions.
This quiz maker is part of Thrive Suite, but you can also get it separately.
Woorise

Woorise is a powerful marketing platform for creating quizzes, surveys, multi-page forms, checkout pages, giveaways, contests, and high-converting landing pages.
Its intuitive drag-and-drop interface can help you design beautiful quizzes with conditional logic. It lets you create bio link pages, use geo-targeting, manage leads in one place, send personalized email follow-ups, export data in a CSV file, and leverage advanced analytics.
It has conversion-optimized templates, supports referral marketing, and allows CSS customization.
LeadQuizzes


LeadQuizzes is an online quiz maker designed to empower marketers by increasing their website lead capture and helping them learn more about their audience. You can use it to create quizzes, lead forms, and surveys with images and videos for better engagement.
Pick from 75+ templates, choose your targeting options, add URL redirects, and promote quizzes on your site, via email, or through paid ads. Integrate the software with marketing tools and enjoy in-depth reports to analyze your audience, enhance your marketing efforts, and grow your business.
Riddle

Riddle quiz maker is an easy-to-use tool for gathering, qualifying, and segmenting leads and boosting conversions.
It comes with 15 different formats for quizzes, polls, and surveys that you can create and customize with a drag-and-drop builder. You can save all your custom styles as templates to ensure consistent branding.
You can make quizzes more engaging with videos, images, GIFs and create custom lead forms that you can save as templates.
This tool integrates with any marketing software and automates custom email follow-ups.
Quiz Maker

With Quiz Maker, you can create a quiz, poll, or survey in minutes, either from scratch or pre-built templates.
Choose from 38 question types, pick a customizable theme, upload your own, set the scoring, create a lead-capture form, add images and URL redirects, and set automated email follow-ups. It's all pretty straightforward.
The reports will delight you, especially all the detailed tables and charts. You can learn a lot about your audience and fuel your business growth.
ClassMarker

ClassMarker is a feature-rich online quiz maker for businesses and educators. It can help you train employees, generate leads, and assess students.
It supports audio-based questions, videos, images, documents, info slides, time limits, URL redirects, multiple languages, customizations, and many third-party integrations. It has excellent real-time reporting features and lets you test thousandsocials of users simultaneously.
The learning curve is a bit steep, but it pays off, as this is a sophisticated platform with loads of valuable functionalities and outstanding security features.
Wondershare

Wondershare quiz creator is another user-friendly tool for building quizzes and surveys for employee training and academic assessments.
It supports 18 question types, images, videos, audio files, and equations. It offers customizable Word and Excel templates and lets you set time limits, randomize questions, and automate grading.
It lets you track users in real-time and provides comprehensive reports for analyzing the results and helping users improve knowledge and skills. You can integrate it with any LMS or email software for seamless user management.
Have you used any of these online quiz makers yet? They may seem quite similar, but each is unique and suitable for different users. Try them for free to play around with their features and find your go-to quiz creator.
Author Bio
Angela White is an ed-tech enthusiast with a passion for writing for the consumer market in the areas of product research and marketing using quizzes and surveys. Having a knack for writing and an editorial mindset, she is an expert researcher at a brand that's known for creating delightfully smart tools such as ProProfs Quiz Maker.
Best Social Media Content Moderation Strategies
Social media has changed the way businesses operate. From creating an entirely different platform for new marketing efforts and changing how brands relate to their customers. We can all agree that social media is a very integral part of many businesses.
But, just as social media serves as an asset for your business, it could also become a liability if not handled properly. We have all seen certain brands put out content that harmed their image, and caused irreparable damages. This could happen to any business if they don't moderate their content. This is where a social media moderator comes in.
What is a social media moderator?
A social media moderator is someone hired by a company to review, screen, and filter all social media content related to their business. By doing this, a business can ensure that its content is:
Appropriate
Aligned with its branding and
Helping them achieve their overall business goals.
In this article, we will cover some of the best social media content moderation strategies and how you can implement them in your overall social media marketing strategy.
Content moderation strategies for social media.
Having solid strategies set in place for your social media content moderation is extremely necessary. These strategies will ensure that you implement your content moderation following established guidelines. Hence, eliminating room for error.
Here are some of the best social media content moderation strategies you can incorporate into your social media strategy.
1)Establish a standard social media policy.
Setting standard rules are essential because they ensure everyone on your content team knows what's allowed and what's not allowed. When creating your social media content policy, ensure it includes:
The inappropriate content your company disallows. Inappropriate content should entail; bullying, brand bashing, sexually suggestive content, offensive photos, and videos, etc.
Rules on posting spam content. Spamming your audience on social media can diminish your brand's credibility. It can also devalue your content. Additionally, it can make your social media pages look messy and unattractive. Stay away from spam content.
How your company addresses sensitive topics like race and gender.
The method you apply to handle negative comments and reviews on your page or about your brand.
How you deal with content created from influencer marketing, etc.
2) Designate who can submit social media content.
We all know that there are a plethora of ways brands get and create their content. We also know that a high engagement on social media could equal high reach. And if all things were equal, we could trust all content sources without questions and allow everyone to tag and comment on our page. That's why the best writing companies make sure they use trusted sources.Therefore, as a brand, you can never be too careful.
So, set limitations on:
Who can submit content to your brand.
Who can comment on your page & tag you on their content. Most social media platforms have settings to accept, limit, or decline things like brand tagging and commenting.
Where/whose social media content you share. It is best to share or feature content from only people who have accounts with your business.
By doing this, you prevent trolls and fraudsters from taking advantage of your brand.
3) Determine a Content Strategy
Creating a content strategy is essential to your content moderation. It helps you ensure that you are creating content that fits your overall brand/social media marketing goals. Your content moderation strategy should include:
Where you share your content.
How you use the content that you create.
How you want your content to look. This should include your color schemes, style guide, taglines, hashtags, if you want to add logos or not, etc.
The type of content you want to upload.
Your brand messaging must be consistent throughout your social media channels, so a content moderation strategy will help.
4) Create a standard submission process.
While we expect your business to create content regularly, there are also a few other contents generating methods you could implore. Some type of social media contents include:
User-generated content.
Customer reviews.
Contests and giveaways.
Affiliate promotions, etc.
Consumers love reading user-generated content and top writing reviews. However, whatever way you get your content, you need to have a standard submission process.
The three most common submission processes you can use in your business are:
Pre-moderation: In this moderation method, your moderation team reviews and approves content pre-posting. The team has to approve submitted content before they post it.
Post-moderation: In this moderation method, the moderation team posts submitted content, and monitors/reviews them regularly to see how they perform.
Reactive moderation: With reactive moderation, content is submitted in real-time, and only reviewed if the content is flagged.
Ensure that you include all the information content submitters need to know. So, make available information on:
Where you intend to use the submitted content
User permission and rights agreements.
Content submission deadlines, rules, etc.
5) Monitor your content regularly.
Finally, it is essential to monitor your social media content regularly. This helps ensure that you aren't missing out on anything that could harm your brand.
You can monitor your content manually, automatically, or a combination of the two. Tools like Mention.com help you track social media content related to your brand.
In conclusion
Any serious business knows content moderation is vital. It attracts the kind of customers you need and also helps keep existing customers. Other advantages include understanding your users, increasing traffic and protecting the image of your brand.
Top SEO Trends Every Marketer Needs to Know in 2021
Search engine optimization can help companies significantly increase their online visibility and sales. What's great about SEO is that you can learn how to do it yourself online and it won't cost you a penny. However, it does take a lot of time to master search engine optimization. One of the most challenging thing about learning SEO is that it's constantly evolving.
You always have to become familiar with new trends to retain or improve your rankings. Here are some of the most important trends that should play a role in your 2021 SEO strategy.
Follow the EAT Principle
The EAT framework was introduced by Google several years ago, but it's now more important than ever to follow it because a huge amount of your traffic may depend on it. The EAT framework was conceived with the idea to provide Google users with better search results. It's based on three different factors – expertise, authoritativeness, and trustworthiness.
The main purpose of this framework is to give ranking advantages to websites with quality content. The first EAT factor is expertise, which you're required to display in your content. Essentially, you have to display knowledge that's at the same level or higher than your competitors to outrank them.
Being an expert in a certain field will allow you to craft useful content, but that's only one piece of the puzzle. You also have to display authoritativeness. To do this, you have to secure links from authoritative websites and pages relevant to your industry. Even if your business gets mentioned on another site, it can positively impact your rankings.
Finally, trustworthiness is another major factor imperative in SEO strategies in 2021. Let's say that you have a paper writing service that you want to promote online. It will be hard for you to attract new customers if your website isn't trustworthy. Some of the ways you can display trust include providing users with an easy way to contact you, associating your web page with a physical location of your business, having a privacy policy, and switching your domain from HTTP to HTTPS.
Local SEO
With more businesses with an online presence than ever before, local SEO has become fundamental for reaching customers in your area. This is crucial for every business owner that has a company with a physical location. Although you should definitely optimize content, headers, meta descriptions, and tags to target local audiences, your main focus for a good local SEO strategy should be to create a Google My Business (GMB) listing.
When Google provides users with local results, their algorithm looks for companies with complete and accurate information. If you set up a Google My Business listing for your firm, you'll be favored for local searches. Some of the most basic information you need to add to your GMB page includes your business address, opening hours, phone number, website address, and category.
It's always a good idea to add numerous photos that clearly display your business, as well as the goods you provide. Encourage your customers to write reviews about your business on Google, as this plays a huge role in rankings. You can also build trust with consumers if you regularly respond to reviews that you get on your GMB page.
Voice Search
Alexa, Siri, and Cortana have become insanely popular ever since virtual assistants were first introduced. They allowed users to search for information online more easily, which heavily impacted common search queries. While most people usually only enter a few keywords in their queries when they're typing, voice search is more about posing complete questions.
What this tells you about user behavior online is that many people are looking for an answer to a specific question. You can improve your Google rankings by including FAQ sections on various pages on your website. Research what are some of the most common questions consumers in your industry have and write useful answers.
Long-Tail Keywords
You can greatly increase your conversion rate if you optimize your content for long and specific keyword phrases called long-tail keywords. Long-tail keywords are somewhat associated with voice search, but many consumers type them when they're close to a point of purchase.
What's great about these types of keyword phrases is that there's less competition for them, which means you have a better chance of grabbing the first spot on search results pages. Although it won't provide you with a substantial increase in traffic, optimizing for long-tail keywords will effectively help you turn visitors into leads. While your main objective with this approach should be to rank for long phrases, it also helps you achieve rankings for short keywords.
Summary
Every business owner should update their SEO strategy often. As technology evolves, so does user behavior on the internet. It's common for strategies that yield good results to become significantly less effective after a few months. That's why you should always stay up to date on the newest SEO trends.
Author's Bio:
Charlie Svensson is a freelance writer and digital marketing specialist. Apart from writing articles for various online magazines and blogs, Charlie also likes to help college students with their essays. He currently works at my-assignment.help, offering his services to countless students in English speaking countries across the globe.
4 Science-Backed Tools To Improve Your Performance On The Job
There are dozens of tools out there that claim to boost performance on the job. But do they really work? How to choose the one tool that will take the working process to the next level?
Today, we will talk about science-backed tools that are worth using. We will discuss the most common performance-related issues and explain how advanced technology can address them.
Anti-distraction tools
Can you call yourself a "media multitasker"? Are you capable of writing a monthly report and replying to incoming emails at the same time? We have bad news for you. Your "multitasking ability" negatively affects your performance.
You get distracted more often than your co-workers, who tend to perform one task at a time. And what about the quality of your work? It's likely lower than it could be.
The truth is that the processing capacity of the human brain is limited. Trying to perform a few tasks simultaneously, you just waste your potential.
Well, you probably have heard lots of stories about highly effective people who can perform a few tasks simultaneously. Social scientists believe that these people do not multitask – they have the ability to quickly switch their attention from one task to another and fully concentrate on one specific task.
Do you want to improve your performance instantly? Say "no" to media multitasking. Use tools like FocusMe and Freedom to block access to social media platforms and other sites that distract you. It will allow you to boost your concentration so that you will be able to deliver better results.
Proofreading tools
Every day you write dozens of emails, reports, and other documents. And whatever your writing skills level is, you need to proofread all the texts you create. Typos are inevitable, and you should do your best to catch and correct them.
But there is a problem. Our brain works in a way that makes it difficult for us to spot our own mistakes. The human brain constantly uses previous experiences to interpret new ones, and that's called generalization. Unconsciously we build mental maps compiling the sights, smells, and sounds to free up our brain to think about more important things.
To put it simply, our brain is operating on instinct, and sometimes it works against us. When you're trying to proofread your own writing, you become blind to details. Since your text already looks familiar to your brain, you can't spot a misspelled word.
If you want to improve your texts' quality, you should trick your brain into pretending that you're reading your writing for the first time. You can try to change the font style or background color to change the way your text looks.
Or, you can use proofreading tools to ease your work. Check out best essay writing services, and grammar checkers like Grammarly. It will be wise of you to opt for automatic proofreading to save your time and boost your performance.
To-do list tools
Do you write to-do lists? No? It's time to fix it. Find a to-do list tool that works for you and start using it on a daily basis.
Here is what scientists say about the benefits of using to-do lists.
The first benefit is all about eliminating intrusive thoughts. Once you add a specific task to your to-do list, the idea related to this task stops circulating in your mind and distracting you from work.
Let's say you need to buy food for your cat and book a table for your anniversary. If you do not write down these two tasks, they will come to your mind repeatedly. You will be unable to concentrate on the job that needs to be done.
But if you add these two tasks to your to-do list, the magic will happen – you will free up your mind and fully focus on your current job.
Another benefit of to-do lists tools is that they allow you to prioritize your tasks and make a plan for a day. Using such tools, you can manage your time more effectively and improve your job performance.
There are lots of to-do list tools and apps out there. You can use Todoist, TickTick, Remember The Milk, or any other tool that appeals to you.
Pomodoro timers
We can't stay focused on one task for too long because that results in cognitive boredom. Our brain needs breaks. We need to have some time to rest and unwind during the workday to perform at our best.
In other words, the effectiveness of your work decreases when you concentrate on one task for a few hours in a row.
Let's say you need to write a monthly marketing report. It will take you around four hours to complete the task. In the first 25 minutes, your concentration levels and your performance will be the highest.
But with every next half an hour, your performance will be lowering. You will start getting tired and experiencing boredom. As a result, you will write fewer pages per hour, make more typos and other mistakes.
What can you do to keep your productivity at the highest level? One of the easiest ways is to try out the Pomodoro technique with the use of tools like Pomofocus or TomatoTimer. Here is what you should do:
Choose one task you want to complete
Set the timer to 25 minutes and work without distractions until the timer rings
Take a five-minute break – do something that helps you unwind, like watching a funny cat video on YouTube or calling your friend.
Take longer breaks (15 to 30 minutes) for every four work intervals.
Pomodoro timer apps will help you stick to a well-optimized work-and-rest schedule and boost your performance. You will start using your time more wisely and get more tasks done within fewer hours.
Wrapping up
Use new technologies to your advantage to excel in your career. Be open to innovations, and choose science-backed tools that work for you.
Leverage grammar checkers, timers, to-do list tools, and anti-distraction apps – and you will accomplish your goals.
Author Bio:
Nicole Garrison is an experienced blogger and freelance writer. She has a passion for writing about digital marketing and teaching her readers how to improve their online presence. She currently works as a writer at best cheap essay writing service. She also loves photography and travel blogging.