8 Social Media Content Marketing Strategy Examples to Avoid
Sure, you've established your brand on social media.
But are you satisfied?
Or is it something that you need to relook? Something that's missing?
According to Statista, there are over 3.6 billion active social media users worldwide, and that number is expected to reach 4.41 billion by 2025.
Therefore, mere social media presence to get the word out about your brand is not enough.
What you need is a strong content marketing strategy. Otherwise, you would end up wondering why your content is going unnoticed.
And, you don't want that.
So in this article, we shall discuss a few social media content marketing strategy examples along with some common mistakes to avoid.
But before that let's first understand why do you need a content strategy for social media.
Why is a Social Media Content Marketing Strategy Important?
An effective social media content marketing strategy can make a world of difference in your overall digital marketing campaign. It can help you get ahead of the competition, reach your target customers, influence their purchasing decisions, and offer real value to achieve maximum conversions.
When people follow a brand on social media, they start engaging with it in different ways. The latest social statistics revealed some eye-opening facts that show how you can benefit from a well-thought-out strategy.
Using the right strategy, you can experience all of these benefits and more
connect with your target audience on a personal level
build trust and loyalty
forge meaningful relationships
turn your followers into brand advocates
generate more leads
boost your conversions and sales
drive more traffic to your website and improve your SEO ranking
But it's crucial to avoid some common mistakes that may result in the decline of your follower count, engagement rate, and conversions.
What are those mistakes?
Let's find out.
8 Social Media Content Marketing Strategy Mistakes to Avoid
The concept of social media content marketing starts when social media meets content marketing. That's nothing new. The goal is to get your content in front of your target audience in an optimized way and simultaneously enhance your social media efforts with top-notch content.
Although this seems obvious, you'd be surprised at how many brands don't optimize their social sharing.
So, to enjoy the maximum potential of your social media content marketing strategy, we have gathered the most common mistakes to avoid on that journey.
1. Not Having a Content Plan in Place
No matter what industry you are in, a social media content plan will serve as a roadmap for all your marketing activities. It should outline everything you expect to achieve, how you want to do it, what resources you'll need, and how you'll measure the success.
Without it, you might end up sharing content for the sake of it and not engaging your followers.
Start by defining your goals and objectives, establishing a budget, and creating an action plan for reaching and engaging your audience.
Then, create a social media content calendar to manage upcoming posts and a publishing schedule to maintain consistency.
Nike's implementation of its content plan is a great example. Their Instagram engagement averages 21.7K interactions per day, including posts and mentions.
2. Not Knowing Your Audience
If you don't know your followers, prospects, and customers, your content and social media efforts may resonate with just a handful of people.
You must learn everything about their pain points, interests, and expectations.
How do you approach this?
You do it by gathering the necessary data before drafting any content piece and sparking conversations on social networks once the content is live. You can't rely on guesses if you wish to connect with your followers.
Here's a chart from a recent Pew Research Center survey that shows different demographic groups' social media usage in the US:
Arming yourself with such insightful data and leaving assumptions out of the equation will help you target your audience better and refine your strategy.
As we examine Starbucks' target audience, we realize that it mainly consists of high-income, tech-savvy 22-60-year-olds. This is exactly who Starbucks targets via social media platforms such as Instagram.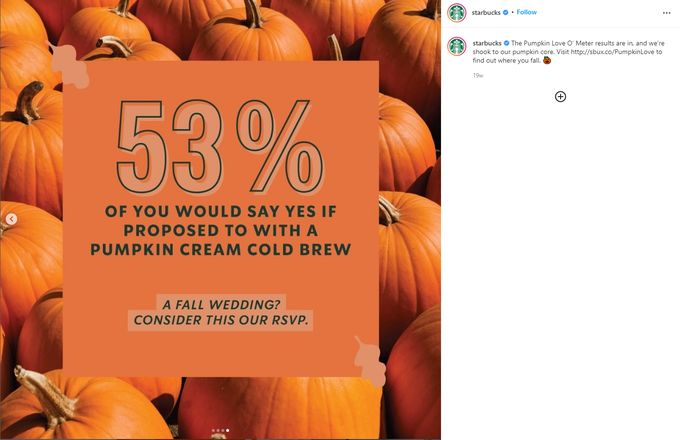 3. Using Complex Language and Tone
Overwhelming your audience with technical jargon may not be the best way to get their attention and convey your core message.
You must use the language that resonates with your audience and a tone that shows your brand's human side, engages people, evoke positive emotions, and makes you memorable.
The language you use could be — casual, professional, or neutral.
Your tone of voice can be either professional or friendly, yet informative. It can be uplifting, confident, empathetic, compassionate, but also empowering and playful (with an emoji here and there).
It all comes down to being on the same wavelength as your followers.
Wendy's mastered this better than any other company. Through their playful Twitter interactions, Wendy's has gained a great deal of fame.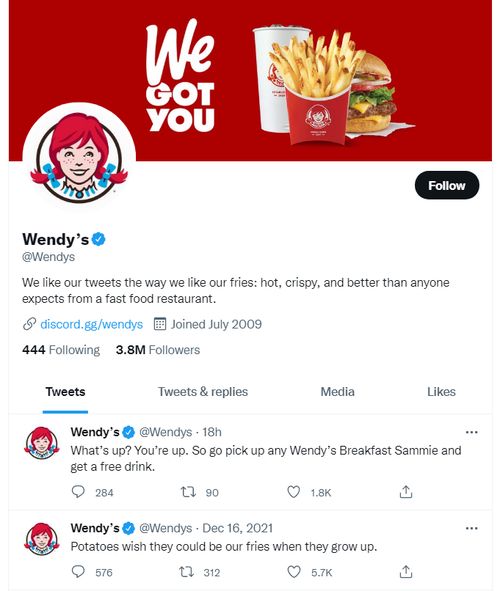 4. Not Using a Social Media Monitoring Tool
Social media monitoring is a vital step for measuring your strategy's success. If you don't analyze the data to get actionable insights, how will you ever know if your strategy is working?
A social media listening tool will give you a clear insight into your social media engagement.
Here's what you can find out:
Who has talked about you on social and when (even if they didn't tag or mention you)
What people are saying about your brand
How they like your products/ services, customer service, content, etc.
What they would like you to improve
How they want to interact with you
Which social media platforms work best for you
Which of your content pieces are high-converting
How you fare against your competitors
Tracking, analyzing your social media engagement, and promptly responding to your users' comments will help you better understand your audience, craft more relevant content, and make data-based decisions to improve your strategy.
5. Assuming that all Social Media Platforms are the Same
Each social media platform offers unique opportunities to get on your target customers' radar and capture their attention. Everything from their intended purpose to demographics and marketing tools is different for each platform.
That's why you should have a separate strategy for each, ensuring you speak the same language as the users.
For instance, the Pew Research Center survey above shows that female users in the US outnumber their male counterparts on Facebook. In contrast, more male users spend time on Instagram, LinkedIn, and Twitter.
Furthermore, Pinterest is best for targeting women in the 50-64 age range, while Twitter and Snapchat are the preferred choices of younger demographics (particularly in the 18-29 age range).
So, find out which platforms your target customers spend most of their time on and plan your strategy accordingly.
Organic Basics' social media indicates that they prefer to attract customers with highly stylized images. Instagram is the best platform for this.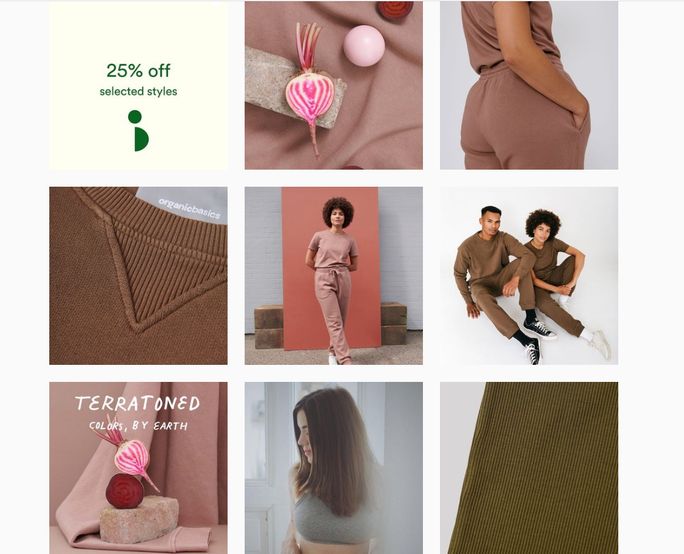 6. Putting Quantity over Quality
If you post too much content on social media, you might overwhelm your followers. No one likes brands that spam their newsfeed with posts about their products or services.
In fact, posting too much is one of the top reasons people unfollow brands on social media.
Instead, focus on sharing high-quality and relevant content once or twice a day to maintain a connection with your followers without the risk of losing them.
We can see from Red Bull's huge Facebook following with over 47M likes that high-quality content is the secret to its success.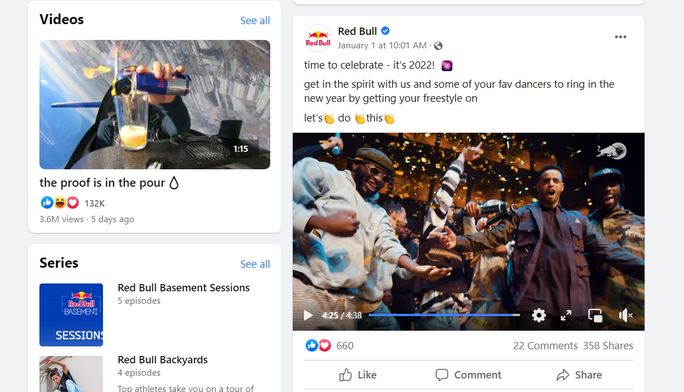 7. Failing to Create Engaging Content
People don't want to waste time on something that doesn't bring them real value. Instead, they want to follow brands that provide engaging and useful content that addresses their pain points or helps them learn something new.
When you know what your followers want and need, you will know what content will capture their attention. If you do a great job, they might even share it on their social networks.
Let's take a look at PlayStation's Twitter account. Their fan base is large, with 23.6M followers, and they strive to produce content that their audience enjoys. As an example of how they interact with their followers, they have competitions like The Fortnite PlayStation Cup.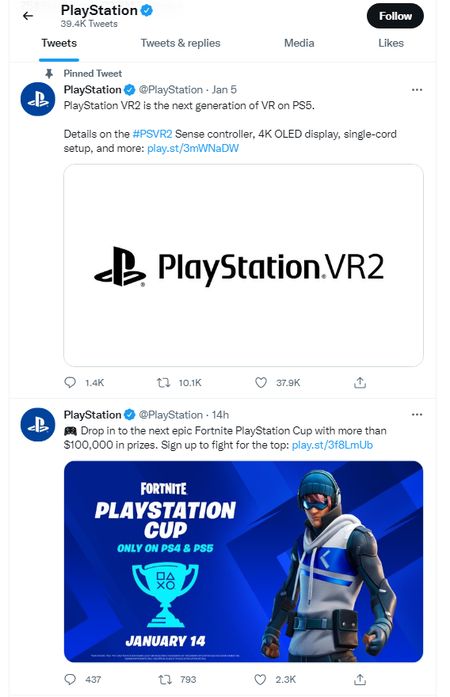 8. Lacking Attention-grabbing Visuals
Visuals have the power to evoke emotions and compel people to engage with your brand. They can help you tell a story, explain complex concepts, and communicate statistics (e.g., charts, graphs, and infographics).
Ask yourself, "What type of visual content do social media users prefer?"
Of course, you should have text-based posts, but enrich them with high-quality images, professional videos, niche-focused hashtags, GIFs, and other attention-grabbing visuals that will make your content exciting and engaging.
Use Stories and live videos to humanize your brand and show your fun side so that people relate more to you. Show you're one of them, and you'll gain life-long fans.
National Geographic is known for their stunning images on Instagram, each one telling a story.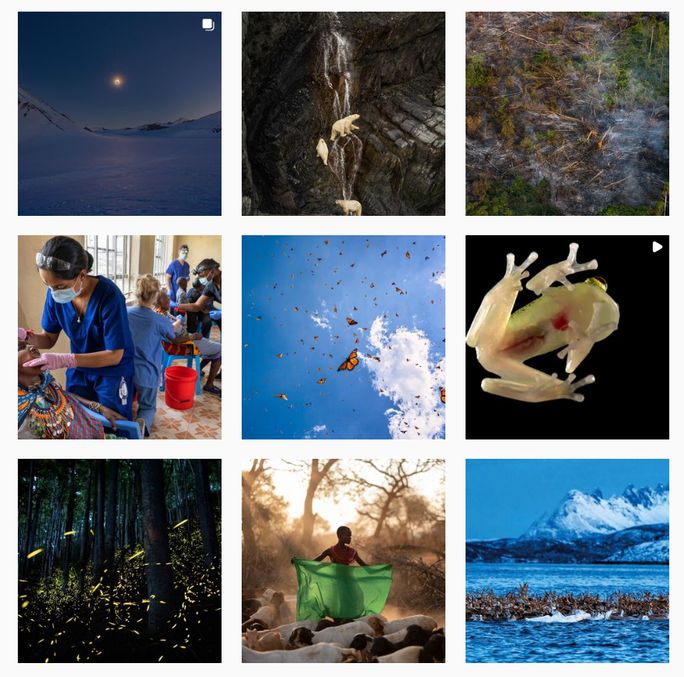 Wrapping Up
Now that you know what social media content marketing strategy examples to avoid, you can ensure you don't fall into the common pitfalls and impede your chances of success.
So, follow our tips above to learn everything it takes to create a winning strategy that will turbocharge your leads, conversions, and sales.
And, oh while you are busy avoiding the common social media content strategy mistakes, do take the help of SocialPilot. It's a tool that can help you automate your posts, show you the performance reports of your posts, and much more.
Try its free trial today and boost your social media efforts.
The 6-Step Process to Build a Digital Marketing Strategy
A digital marketing strategy is a must for any business hoping to reach its audience online.
Whether you want to take advantage of social media platforms, use live streaming platforms to promote your eCommerce products, or use your blog to bring in website traffic, you need to have a clear and actionable plan in place.
How do you put together your digital marketing strategy?
We're going to look at
Exactly what a digital marketing strategy is
Why a digital marketing strategy is important
How to develop your own strategy
Let's get started.
What is a Digital Marketing Strategy?
A digital marketing strategy is a plan that you develop to help your company achieve its goals by using a range of digital marketing channels across your owned, paid, and earned media.
Before you start to invest time and money into digital marketing, you need to outline what you're aiming to achieve, such as:
Creating awareness
Generating leads
Guiding leads down your sales funnel
Nurturing your existing customers
Once you know how your strategy is going to support the business, you then map out how you're going to use your digital channels to hit your goals.
There is a range of digital channels that you can harness and the one you pick will be influenced by the goals you set out.
You might choose a pay-per-click (PPC) campaign like the companies in the screenshot below have done.
These companies have chosen to target people searching for "best live streaming camera" to generate interest in their products and close sales.
On the other hand, referral tracking software Viral Loops has chosen to use email marketing in its digital strategy, generating brand awareness by sending regular newsletters and demonstrating expertise in its industry.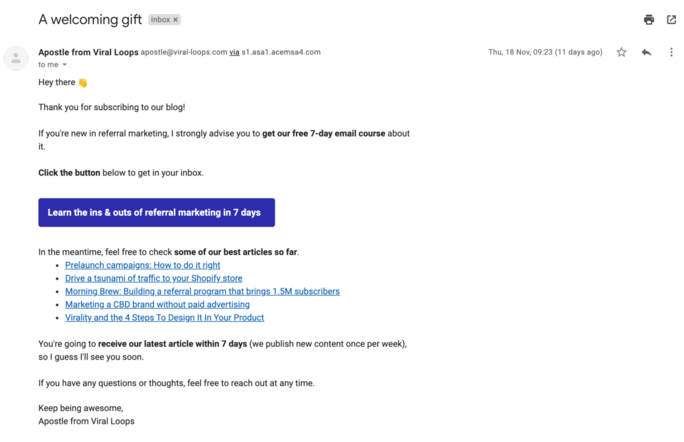 However you choose to reach your target audience, you need to have a plan before you begin.
Why do You Need a Digital Marketing Strategy?
You need a digital marketing strategy to know what you want to achieve, how you're going to do it, and what metrics for success you're going to use.
Formulating a strategy will help you decide which marketing tactics you're going to use and what tools you'll need to monitor the results.
Here's a breakdown of exactly why you need to have a digital marketing strategy in place from the very beginning.
1. To Reach Your Customers Online
It's estimated that more than 30% of all business is done online, up from 21% just five years ago.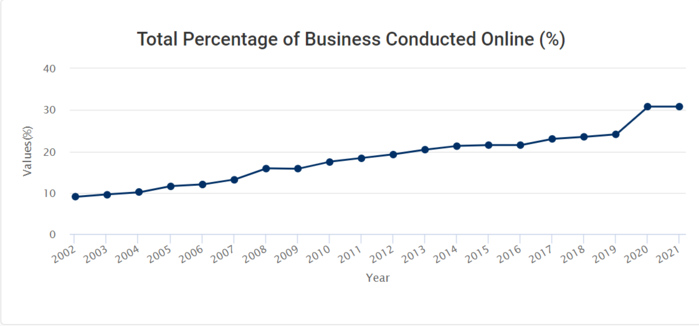 This means that your target audience is likely to be online and keen to work with you there.
One of the new digital marketing strategies being embraced by businesses is influencer marketing—working with influencers to put their products in front of an engaged audience.
It's an effective way for a growing small business to reach more people, half of women have bought a product or service due to an influencer post and 62% follow influencers to get achievable inspiration, meaning they're actively seeking new brands.
Beauty brand Becca Cosmetics harnesses the power of influencer marketing, working with micro-influencers who have small but engaged followings.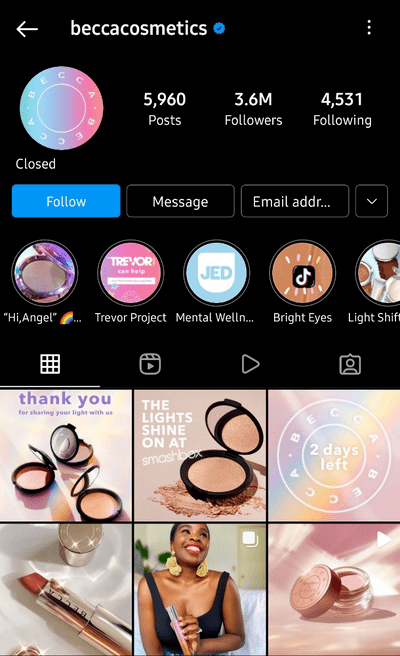 It recently worked with Amber Latrice who has 11,000 followers on Instagram: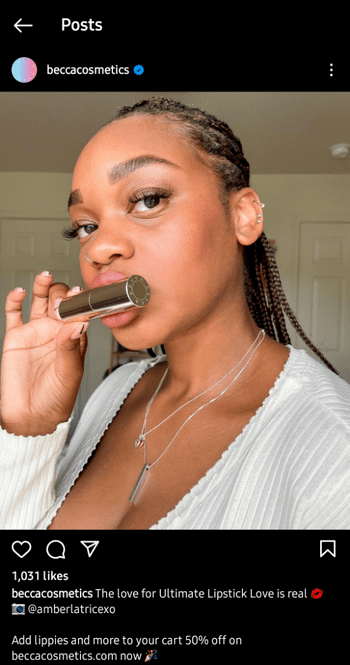 This helps the brand connect with a broader audience and take advantage of the trust that influencers have already built with their audience.
2. Better Insights into Your Online Performance
A strong digital marketing strategy will have a focus on the results it generates for your marketing team and the wider business.
Offline or traditional media can be difficult to quantify—you can't always be sure which advert a new customer saw or at which stage of the customer experience they decided to become a buyer at all.
On the flip side, online activity is very easy to trace.
Marketing campaigns ran online can track which link a person clicked on in a blog, which keyword they searched for that generated an advertisement that they bought from, or which Instagram ad took them to a lead generation landing page.
Here's a screenshot of the analytics and metrics you can get through Facebook Business Suite as an example.

These campaigns didn't have an action in mind, but if there was a desired outcome like clicking on a call-to-action (CTA) or joining a group, it would be tracked under Results and you'd have a clear indicator of how much each result cost you to achieve.
Not only can you see what elements of your strategy are working, but you can also be responsive and tweak your plans if you don't hit the KPIs that were set.
3. You're not Dependent on a Brick-and-mortar Business Model
Although a pandemic might be a once-in-a-lifetime event, it does demonstrate the need for a resilient and adaptive business structure.
Businesses accelerated their digital transformation by up to 7 years due to COVID, according to a study by Kinsey, everyone is now getting in on digital working and digital marketing initiatives.
Chinese companies were fast to adapt to a hybrid model, with executive insight company Gartner citing a mall that engaged in social media marketing and used their sales clerks as presenters. It managed to preserve its sales figures through the pandemic by expanding outside of its physical space.
Even without a wholesale change in the way we do business, taking your real-world business into the digital realm can offer you faster expansion and a wider audience.
London-based fitness center Gymbox has eleven physical locations and have also built a successful online offering.
They have used its detailed knowledge of the type of person who goes to the on-site gyms to build an online video membership site that matches the needs of their ideal customer.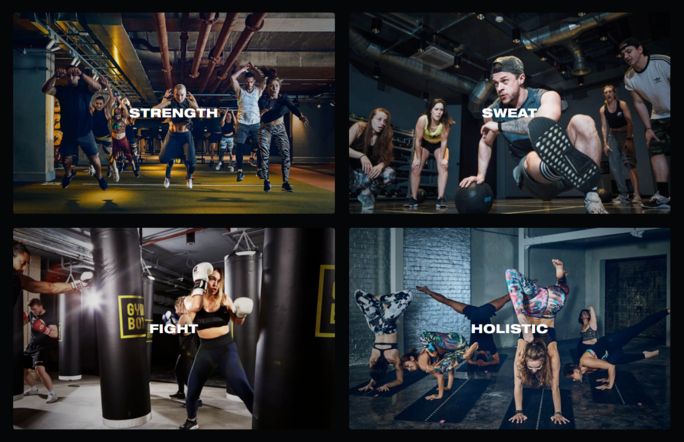 4. Digital Marketing Costs Less than Traditional Marketing
Choosing digital marketing activities can require a lower investment to get going. It's much cheaper to run content marketing and search engine optimization (SEO) with a new blog than it is to have thousands of postcards sent out to a mailing list, for example.
By 2023, it's predicted that over two-thirds of all media ad spending will be spent on online marketing.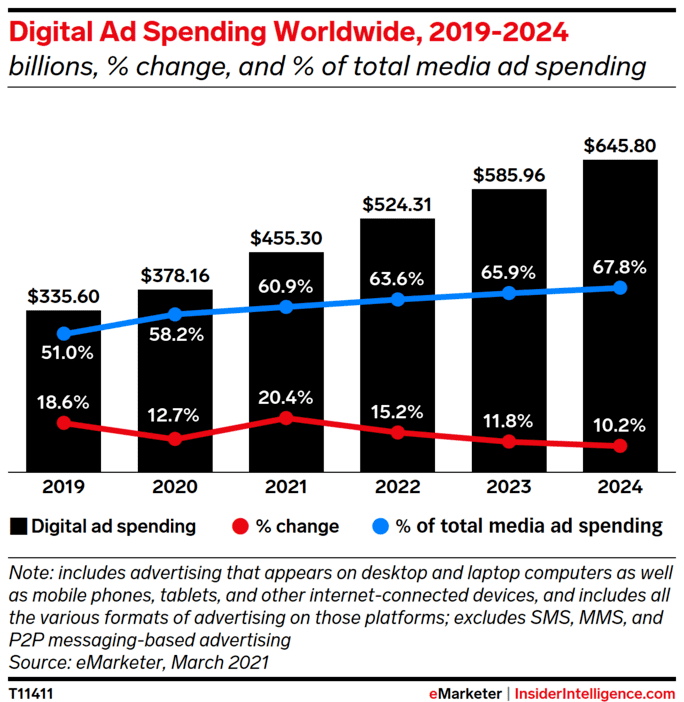 The reason for that is likely the higher return on investment (ROI) you can achieve from digital marketing than traditional marketing.
As an example, TV advertising could give you an ROI of around $4.30 over a 3-year period, whereas using influencer marketing, for example, can give an ROI of $5.78.
Here are 6 steps to get your digital marketing efforts started.
6 Steps to an Effective Digital Marketing Strategy
Now you understand how digital marketing can align with your business goals, you need to get down to some strategic planning.
A lot can go into digital marketing; you may think you need a social media strategy, content marketing strategy, and a plan for running webinars, but you should work on focusing on a limited number of channels where you know your target customer can be reached.
Here's how you can put together a plan for using digital marketing tactics to meet your business objectives.
1. Identify Your Audience Personas (AKA Customer avatars)
In an established business, you will already know who your customer base is and if you're launching a new business, you need to figure out who will want your product.
Your buyer persona will be a detailed description of your ideal customer based on demographics, brands they like, where you can connect with them, and so on.
Knowing who your target market is for your digital marketing will help you understand who you're trying to reach, where to find them, and the emotions you need to connect with.
2. Identify Your Goals and Objectives
Your business will have goals and objectives and you should use your digital marketing strategy to meet them.
Some examples of goals could be
Increase brand awareness
Have the CEO become a recognized industry authority
Increase engagement on your social media channels
Increase the subscribers and open rate of your email list
Boost visitors to your product landing pages
Make your goals specific, measurable, achievable, results-focused, and time-limited, for example:
We want to increase engagement rates on product-led Instagram Reels to 15% from the current 10% over the next three months
3. Conduct Competitive Research (AKA Competitor analysis)
There's no need to reinvent the wheel—you can look at other businesses in your industry and see what they're doing right and replicate their strategy and success.
There are lots of tools available to help with this. You shouldn't copy anyone's digital marketing strategy outright but it's definitely worth looking around your industry to get inspiration, or even learn what isn't working.
4. Define Your Digital Marketing Channels
You should choose your digital marketing channels based on your customer avatar, goals, and what works in your industry.
Different channels will work for different goals, such as
Email marketing can work for nurturing your leads and retaining your existing customers
Social media marketing can drive brand awareness and send buyers to your sales pages
PPC advertising can convert people who are ready to be paying customers
SEO can help educate your potential customers about your product
Affiliate marketing can grow your customer base quickly
Web hosting and domain listing company GoDaddy has chosen to run an affiliate program to drive growth and bring in new business.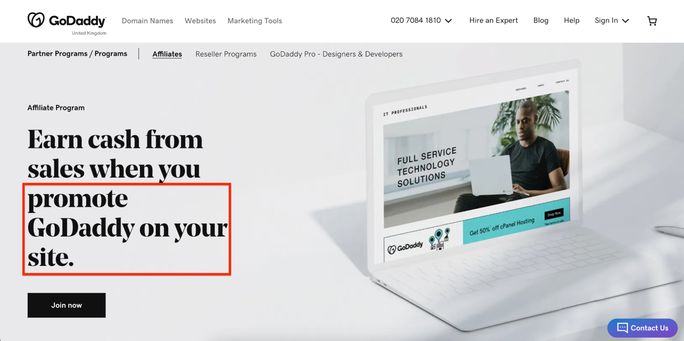 By asking bloggers and other businesses to promote the services on their behalf, they are using the trust that people have in their personal network to gain credibility and customers.
5. Define Your Content Strategy
You may have heard the phrase "content is king", and it's true for all digital marketing strategies.
Your content strategy should join up all the channels you're going to use and ensure that they complement each other.
For example, your email newsletter should link to the week's new blog post and the Reel you post should connect to the YouTube explainer video that gets uploaded the next.
Your content strategy should also define your visual aesthetic and brand voice, including design templates, your color palette, and whether you write in formal or conversational language.
6. Find Ways to Amplify Your Content
This could be through a process of content marketing, which includes building backlinks or asking companies in adjacent industries to refer to your business in their content or share your relevant blog post on their social channels.
You can also use paid ads to boost the reach of your content, for example, you could promote your latest TikTok about a cool product feature.
Working with influencers to highlight your recent campaign can help you gain more attention from their audience and drive the action that you're looking for from your marketing campaign.
Over to You
Now you know how to get started with your digital marketing strategy, there is a whole range of ways you can harness its power.
As long as you have a solid roadmap that gets your business results there are lots of ways to use it.
Following our steps, you should see a strong return on investment and your business move one step closer to your goals and objectives.
While you're at it don't forget to use SocialPilot to help you with your social media marketing efforts. Go for its free trial today to know more.
7 Ways to Optimize Your Facebook Strategy for Leads and Conversions
3 of the Best Tools to Boost Your LinkedIn Marketing Strategies
Over the years, LinkedIn has spanned its usage beyond an online resume site where job seekers hunted for opportunities to find their desired jobs.
According to the social media marketing industry, LinkedIn has now crossed Facebook as the most crucial platform for marketers and B2B companies. More marketers are focusing on LinkedIn marketing strategies for better lead capture.
Some more statistics to help you decide on the LinkedIn marketing strategies are:
More than 57 million companies are listed on LinkedIn.
97% of B2B marketers use LinkedIn to help drive their content marketing strategy.
80% of B2B leads coming from social media are from LinkedIn.
92% of B2B marketers have LinkedIn included in their digital marketing mix.
65% of B2B companies have generated a customer through LinkedIn paid ads.
These statistics indicate that LinkedIn is indeed one of the most effective platforms to generate quality leads and sales for marketers. However, you need to target the right set of audiences, and that is when the LinkedIn targeting tools come into play.
LinkedIn has the potential to bring great revenues for your business only if you present your ads to the right audience. I have narrowed down the list of targeting tools on LinkedIn that will certainly help you draw the attention of your target audience.
Top 3 LinkedIn Targeting Tools to Reach Your Target Audience Easily
Marketers like you and I prioritize our target audience no matter what. LinkedIn understands our requirements and, thus, has brought forth a list of new targeting tools for apt LinkedIn marketing strategies.
Let's see what these tools are all about and why you should add them to your LinkedIn marketing strategies to attract potential customers on LinkedIn.
Campaign Forecasting Tool or Campaign Manager
The campaign forecasting panel is my favorite tool on LinkedIn. It helps you understand who your target audience is. Once you know your target audience and what they want, it will be easier for you to customize your LinkedIn campaigns better.
The dashboard on the Campaign Manager lets you take a look at the demands, requirements, and a brief overview of your target audience. You can even customize the panel based on the top industries that you want to target.
Tanner Stolte, an accountant executive and media buyer at Elite Digital Group, said, "Since we gained access to this feature, we have been able to assess the makeup of our targeting and ensure our ads would get in front of decision-makers."
What are the features of the Campaign Manager?
Easy to navigate: You can combine multiple screens into an easy to navigate and single flow on this tool. Thus, you will have fewer pages to click through to get what you want from the tool.
Customizable forecasting panel: You can not only see the outcome of your campaigns, but you can also compare similar campaigns and advertisers. This helps you stay a step ahead of your competitors always.
Quicker responsive experience: The updated campaign forecasting panel has a faster and more responsive interface. This will allow the release of new updates for a higher quality experience.
Live ad preview: You can now see how your ad will look after being published with the help of this tool. The 'live ad preview' option will let you get a preview of your ad while you build it.
Proper guidance in each step: The campaign manager offers contextual tips and best practices at each step in the campaign creation process. Thus, it's okay if you are not tech-savvy. The tool will guide you through the entire procedure.
The best thing about the campaign manager is that you can choose your ad format for your first campaign. You can choose anything from Sponsored Content formats (including video ads, carousel, and single-image), Text Ads and Sponsored InMail (including message ads that pop up in LinkedIn ads.)
Say you want to show ads based on the APA referencing tool for students who are looking for jobs on LinkedIn. You can use the Campaign Forecasting Tool to make sure your ads are shown to people who belong to the academic industry.
Use this tool and stay abreast of the requirements of your target audience easily. Present the right ads to the right people at the right time. Good Luck.
Precision Targeting with Boolean Logic
LinkedIn introduced the Boolean logic to build targeted strings for social selling engagements. A search string is a mathematical formula that generates a particular list that will meet your desired criteria. With proper search strings, you can pinpoint your buyers, influencers, and stakeholders and start a conversation with the right people.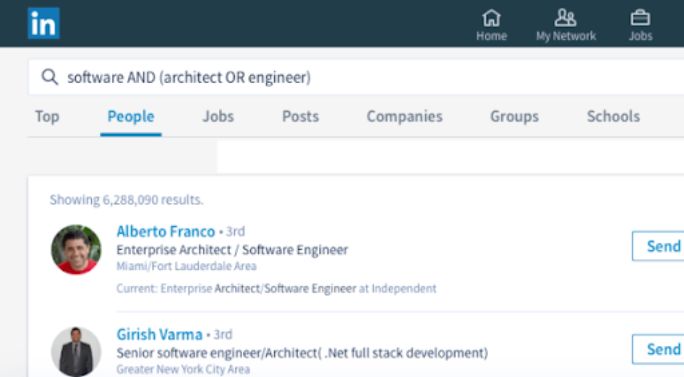 The Boolean logic makes it 10X easier for marketers to refine their search on LinkedIn. If you want to generate ads for software engineers with specifically 6 years of experience, using Boolean logic will help you achieve that goal easily. That's why it is also known as precision targeting.
How should you use Boolean logic to target your desired audience?
Quoted searches: You can enclose your keyword in quotation marks if you are familiar with the exact phrase that you want to target. For example, if you want to target product managers, type: 'product managers' on the search bar to get the exact results.
NOT searches: You can type NOT in uppercase letters if you want to exclude a specific term from the search query. Say you want to look for a programmer and not a manager. Thus, you can type programmer NOT manager, on the search bar to get the desired results.
OR searches: What if you want to target either programmers or managers for your campaigns? In that case, you need to type OR in uppercase letters in the search bar. Thus, considering the same example, you need to type programmers OR managers.
AND searches: You can use AND in uppercase to separate two or more terms in the search bar. If you type programmer AND managers, you will get the results of LinkedIn users who are both programmers as well as managers.
Parenthetical searches: Say you want to look for people who have mentioned VP on their profiles. And you also want to target users who have both programming and management skills. In that case, you need to type VP OR (programmer AND manager). You may not know it, but the Boolean search is virtually incorporated in every search engine, including LinkedIn and Google. All you have to do is use the right commands or a combination of commands to get the results.
Demographic Reporting
You may have posted an interesting video ad on LinkedIn to draw the attention of your target audience. But what's the point if nobody watches it?
The worst part is that you may not even know if anybody is actually watching or acting on your ads. Thus, LinkedIn has introduced this tool of Demographic Reporting to make things easier for you.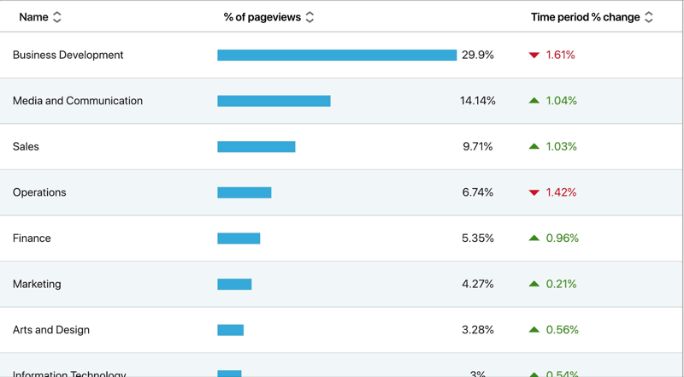 The demographic report will help you obtain the following data:
Performance (available for all advertising objectives)
Clicks: You can find the total chargeable clicks on the basis of your campaign's objectives.
Impressions: You can also see the number of people who saw your ads.
Average CTR: This one gives the percentage of clicks relative to the impressions.
Conversion Rate: This one gives the percentage of conversions relative to clicks.
Conversions: This is the time taken by people to commit an action after clicking on your ad.
Leads (available if your objective is to generate leads)
Leads: As the name suggests, this one provides you with the total number of leads you've collected through the ad campaign.
Open rate: This is the total number of users who opened a lead form divided by the total number of impressions.
Lead form opens: You will also find the number of times a LinkedIn user opened a lead form.
Sponsored InMail (available if you use the message ad format)
Sends: This indicates the number of times InMail was sent.
Opens: It is the number of times your InMail was opened.
Open rate: It is equal to the total number of times your InMail was opened divided by the number of times InMail was sent.
Click to Open Rate: This is the percentage of users who clicked the ad after getting access to your InMail.
Simply put, Demographic Reporting lets you know about the progress of your ads on LinkedIn. You can understand if things aren't working out and modify your LinkedIn marketing strategies accordingly.
You can measure the conversions on your ads and also analyze the performance of your ads using this tool. Are the right people interacting with your ads? How close are you getting to your objectives with this tool? Use Demographics Reporting to find out.
Bonus Tool: LinkedIn Analytics from SocialPilot
OK, that was a surprise for you!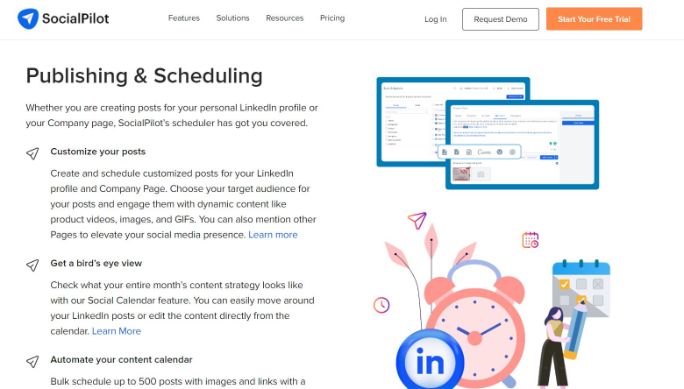 SocialPilot is one of the most advanced LinkedIn Tools that can simplify not just Linkedin marketing strategies but also aid you in promotion in more than 7 major social media networks.
For LinkedIn, it provides you with a bird's eye view of key metrics such as:
Demographics Analysis: It lets you view your page's followers' seniority, the company size they work in, the country they belong to, and their profession.
Post Monitoring: You can monitor which of your posts had the maximum reach and on what day they turn out to be best.
Engagement Trends: Measure your engagement trends. Find out likes and comments on your company posts and analyze engagement received in a certain time frame.
Instant Shareable PDF Reports: Quickly analyze the results of your LinkedIn page using graphs and charts. SocialPilot also helps you to create, plan, schedule, and publish your posts on LinkedIn using advanced features, thus saving you time, optimizing your marketing budget, and utilizing resources efficiently.
Try it for free here.
Wrapping Up
We all know that running a successful business is all about connecting with the right people. The same applies to your LinkedIn marketing strategies.
You may have different objectives. Some may want to enhance leads, while others may want more conversions. No matter what your objectives are, the LinkedIn tools mentioned above will help you reach them easily.
Use the tools to craft appropriate LinkedIn marketing strategies with a clear mind to make your voice heard to the right people. All the best!