430+ Social Media Statistics You Must Know in 2022
2021 was all about reimagining and rebuilding.
And how!
From new updates and features to whole new platforms, 2021 changed the social media industry. The year began with the dramatic need for curbing the spread of false news and information.
Privacy policies and community guidelines changed. Community-led methods to report misleading content, like Twitter's Birdwatch, were introduced.
We saw a rise of Audio Rooms thanks to Clubhouse. TikTok trends and Reels became increasingly popular, helping small businesses expand their organic reach.
The rise of content creators led to more subscription-based services, monetizing and collaborating opportunities within social media platforms like Twitter, Facebook, and Instagram.
The biggest news of all was the rebranding of the Facebook company as Meta to reflect their expansion towards metaverse.
So that was the year gone by, in a nutshell.
With social media constantly evolving, the marketing strategies for brands and businesses need to change too. Understanding and recognizing patterns and trends will help you plan better and stay one step ahead of your competition.
To make things easier, here is a list of social media statistics related to user behaviors that you need to know for 2022. These statistics will help you understand your target audience and identify various touchpoints to reach out to them.
With these stats, you can answer crucial questions like
Which is the best platform for marketing your brand?
What type of content does your audience engage with the most?
How much engagement can you expect from different social media platforms?
And, a lot more!
The list is divided into comprehensible sections for each platform to help you navigate and process insights:
Demographic Statistics: These numbers tell you about the characteristics of the population who are using a particular social platform, for instance, their gender, age, income, etc.
Usage Statistics: These numbers highlight how the users access a particular social platform.
Engagement Statistics: These numbers tell you the kind of content users engage with on a social platform and how and where they engage with brands.
Business Statistics: These numbers show how businesses use these platforms for marketing themselves – social selling, customer service, content marketing, etc.
Ads Insights: These numbers talk about the amount brands are investing in ads, their returns, and the kind of response ads receive on these platforms.
Top brands: This section focuses on brands that have nailed social media marketing on each platform and are now considered touchstones for marketers.
Table of Contents
1. Facebook Statistics +
2. Instagram Statistics +
3. Pinterest Statistics +
4. Twitter Statistics +
5. LinkedIn Statistics +
6. TikTok Statistics +
7. Snapchat Statistics +
True to the vision of Meta, Facebook adopted new features taking inspiration from various other platforms. Reels from Instagram, live audio rooms and podcasts, live game streaming, and even live shopping.
Facebook has also introduced new policies and features to help businesses, brands, and influencers monetize their content.
While you plan for 2022, let these insightful statistics power your Facebook marketing strategy. Time to create dynamic content that your audience is likely to engage with and stay consistent with the help of Facebook publishing tools.
Facebook Demographics Stats
Facebook has 2.91 billion monthly active users, a 6% increase year-over-year.
81% of all adults in the United States have a Facebook account.
India is ranked first in terms of Facebook audience size with almost 400 million users.
The United States, Indonesia, and Brazil also have 200 million, 140 million, and 130 million Facebook users, respectively.
Between the ages of 25 and 34, 12.5% of all active Facebook users are female, and 19% are male.
With 11.2 billion total visits, 1.5 billion unique visitors, and an average visit time of 21 minutes 52 seconds, Facebook is the third most-visited website globally.
75% of high-income earners use Facebook.

Facebook Usage Stats
1.93 billion people on average log into Facebook daily.
Facebook is the world's third-most downloaded app.
The average U.S. adult spends 33 minutes a day on Facebook.
36.9% of the total world population uses Facebook every month.
98.5% of users access Facebook from mobile devices.
The time spent on Facebook by U.S. teens saw a drop of 16% year-on-year.
69% of U.S. adults use Facebook.
Over 1.8 billion people now use Facebook Groups every month.
There are more than 70 million admins and moderators running active Facebook groups.
1 billion Facebook Stories are shared daily.
400 users sign up on Facebook every minute.
The U.S. adult population on Facebook uses the social media platform daily, while 49% of them use it several times a day.
43% of American users use Facebook to read the news.
16% of Facebook users are fake or duplicates.
60.6% of all social media users use Facebook.

Facebook Engagement Stats
More than 4 billion video views take place on Facebook every day.
Facebook generates 4 million likes every minute.
35 million people update their Facebook status every minute.
Facebook engagement increases by 18% on Thursday and Friday.
There are more than 350 billion photos already uploaded on Facebook.
85% of smartphone users have the Facebook app.
87.1% of U.S. marketers use Facebook.
57% of the brands feel Facebook stories effectively promote their products.
A video post increases interaction by 600% on Facebook.
90% of Facebook users post native videos.
85% of videos watched on Facebook are on mute.
A live video engagement is 26% on Facebook, higher than any other social media platform.
Facebook videos with captions increase the watch time by 12%.
49.9% of all posts are link posts, making it the most common Facebook content. This is followed by images and videos.
Status posts show a 0.14% engagement rate which is the highest for any content on Facebook.
The average engagement rate of Facebook posts is 3.91%.

Facebook Business Stats
There are more than 200 million businesses on Facebook.
44% of users admit that Facebook influences their shopping decision.
There are over 80 million business pages on Facebook.
15% of Facebook users shop on Facebook.
93% of all social media marketers use Facebook ads.
Facebook Ad Revenue is $28.2 billion in Q3 of 2021.
More than 160 million businesses use Facebook to interact with their customers.
The average organic reach for a Facebook post is 6.4% of the page's total likes.
84% of video marketers use Facebook to promote their videos.
96% of B2C marketers and 91% of B2B marketers use Facebook.

Facebook Ads Insights
2.28 billion people can be reached through adverts on Facebook.
43.5% of the ad audience is female, while 56.5% is male.
Adding a CTA button boosts the conversion rate by 2.85 times.
Cost-per-clicks are most expensive on Fridays and cheapest on Sundays.
The average cost-per-click is $1.86 on Facebook.
A CTA in the middle of the video has witnessed a higher conversion rate of 16.95%.
The cost of a video ad is 10% of carousel or single image ads.
Audiences aged 18-24 spend 75% of their time on Facebook watching video ads.
71% of shoppers feel they see relevant video ads on Facebook.
A Facebook user clicks on an average of 8 ads a month.

Facebook Top Brands
Samsung's Facebook page is the most popular, with 161 million likes.
CGTN's Facebook page has 117 million likes.
Real Madrid CF's Facebook page has over 111 million likes.
Coca-Cola's Facebook page has 109 million likes.
China Daily's Facebook page has 103 million likes.
Instagram moved further away from just being a photo-sharing app. This year, Instagram got its own professional dashboard for business and creator accounts.
It also traded swipe-up links for stickers, introduced Remix for Reels, and introduced a Collab feature for posts and Reels.
These new features are in tune with Meta's vision of bringing together an array of features that help brands and businesses. Improve your Instagram marketing strategies, create engaging posts, and streamline your scheduling using Instagram marketing tools.

Instagram Demographics Stats
Instagram has more than 2 billion active users.
64% of Instagrammers are under 34 years.
The 25-34 year old age group is the largest of the demographics, attributing to 31.2% of the total Instagram population.
Daily active users of Instagram stories are 500 million.
17.6% of the world population uses Instagram.
Instagram has 51.6% female and 48.4% male audiences.
The highest users of Instagram are in India (201 million), the U.S. (157 million), and Brazil (115 million).

Instagram Usage Stats
58% of marketers are planning to leverage reels in 2022.
About 6 in 10 Instagram users log in at least once daily.
21% of users log in weekly, and 16% log in less often than that.
38% of users log in to the platform multiple times.
More than 100 million photos are uploaded on the platform each day.
The average time spent on Instagram is 28 minutes.
70% of the people watch Instagram stories daily.
71.9% of the content on Instagram is photo posts.
130 million users tap on shopping posts each month.
40% of Instagrammers post stories daily.

Instagram Engagement Stats
The average engagement rate for all post types is 0.83%.
The average engagement rate for photo posts is 0.81%, video posts is 0.61%, and carousel posts is 1.08%.
Business accounts with fewer than 10,000 followers have an average engagement rate of 1.11%.
Business accounts with 10,000-100,000 followers have an engagement rate of 0.93%.
The average number of likes per Instagram post is 1261.
Longer captions get better engagement.
On average, 10.7 hashtags are used in Instagram posts.
Instagram has 58% more engagement per follower than Facebook.
100 million Instagrammers watch or launch live videos daily.
Photos with faces perform almost 40% better than without faces.
Videos get 21.2% more engagement compared to images.
Posts with at least one hashtag average 12.6% more engagement.
Instagram users engage more on weekdays, with Wednesday and Thursday showing the most engagement.
Users like 4.2 billion posts on Instagram each day.
80% of the stories with voiceover or music drive better low funnel results than ads with no sound.
Posts with tagged locations get 79% more engagement.

Instagram Business Stats
More than 25 million businesses use Instagram to promote their services and products.
90% of accounts follow at least one business on Instagram.
2 in 3 people surveyed believe Instagram enables interaction with brands.
81% of Instagrammers use the platform for researching new products and services.
44% of businesses use stories to promote their products.
98% of fashion brands use Instagram.
67% of users watch branded stories.
83% of Instagram users discover new products and services on the platform.
73% of marketers are in favor of Instagram for influencer marketing.
The average monthly follower growth of business accounts on Instagram is +1.46%.
There are 500,000 active influencers on Instagram.
54% of all influencers on Instagram are nano-influencers, while 33% are micro-influencers.
70% of shopping enthusiasts turn to Instagram for product discovery.
Instagram business accounts post an average of 1 post daily.
Instagram Ads Insights
50% of Instagram users are more interested in a brand when they see ads on Instagram.
Instagram marketers spend 69% of their budget on influencer marketing on Instagram.
The U.S. has the highest potential Instagram advertising reach, followed by India and Brazil.
75% of Instagrammers take action on at least one ad.
The highest Instagram advertising audience is from the 25-34 age group, which is 32.3% of all Instagrammers.
Instagram's advertising audience grew by 20.3%.
1.39 billion people can be reached through adverts on Instagram.
Marketers can reach 22.7% of the population aged 13+ with adverts on Instagram.
48.4% of the ad audience on Instagram is female, and 51.6% is male.
Collection ads receive 6% more conversions.
Video ads have 3x more engagement than photos.

Instagram Top Brands
National Geographic is the most popular, with 199 million followers.
Nike has 189 million followers on Instagram.
Real Madrid CF has 107 million followers on Instagram.
FC Barcelona has 103 million followers on Instagram.
UEFA Champions League has 85.8 million followers on Instagram.
Over the last year, Pinterest has actively grown more inclusive and creator-friendly. We saw new features for the beauty industry, like expanded search options based on skin tone and hair type.
Shopping on Pinterest also became easy with features like Live Shopping and shoppable Idea Pins. Pinterest also launched Creator Code – guidelines for creators to keep content positive, safe and inspiring.
Pinterest is not just an important platform to drive website traffic; it is also a platform for branding and e-commerce. Pay attention to these statistics before planning your marketing and SEO strategy by using Pinterest tools.

Pinterest Demographics Stats
Pinterest global monthly active users are 444 million.
Out of all, 90.45 million active users are from the U.S.
38.8% of Pinterest users are in the age group of 25-34.
Pinterest has 78.1 million female users and 21.9 million male users in the U.S.
More than 75% of Pinterest users are from outside the U.S.
Females make up more than 70% of the users on the platform.
38.8% of the pinners are in the age group of 25-34.

Pinterest Usage Stats
More than 2 billion searches happen on Pinterest each month.
There are more than 5 billion boards on Pinterest.
74% of users use the Pinterest app.
Pinterest users have cumulatively placed over 200 billion pins.
85% of Pinterest usage occurs on mobile apps.
The average Pinterest user types in 8 searches per month.
Pinterest users, in general, spend 29% more while shopping than non-users.
86% of millennials use Pinterest to plan life events.
63% of millennials use the platform to search for products and services.
Over 75 billion pins have been uploaded to Pinterest.
Some 43% of Internet users in the U.S. have a Pinterest account.
High-income households are twice as likely to use Pinterest as low-income households.

Pinterest Engagement Stats
Video views on Pinterest have increased by 200%.
78% of Pinterest users say it's useful to see brand content on the platform.
55% of people use Pinterest to shop and buy.
89% of U.S. pinners use Pinterest for inspiration in their path to purchase.
98% of the users have tried something they found on Pinterest.
Pinterest is most popular with women—especially moms.
Related Pins account for 40% of engagement on Pinterest.
More than 56 million pinners actively engage with home content.
70% use Pinterest to find accessories, watches, and jewelry.
52% use their platform to develop their knowledge of great food and drinks.
Dads are 3x more likely to have shared boards than the average male pinner.
80% of moms use Pinterest.
Pinterest trends increased to 56%, while the rest of the platforms rose to 38%.
600 million visual searches occur via the Pinterest lens every month.

Pinterest Business Stats
Interaction with organic Pinterest shopping pins has increased by 44%.
87% of people on Pinterest have bought a product because of Pinterest, while 93% use Pinterest to plan a future purchase.
76% of pinners save items to purchase later.
97% of all searches on Pinterest are unbranded.
Pins that show a product or service in action are 67% more likely to drive sales.
Shopping is a top priority for 48% of Pinterest users.
85% of pinners put visuals first when shopping for apparel and furniture.
61% of users have purchased because of sponsored pins.

Pinterest Ads Insights
233 million people can be reached with adverts on Pinterest.
77.1% of ad audiences are female, and 14.8% are male.
Marketers can reach 3.8% of the population that is aged 13+ with adverts.
The highest reach ranking of Pinterest is witnessed in the U.S., followed by Brazil and Mexico.
The majority of ad audiences on Pinterest are from the age group of 25-34, which constitutes 38.8% of all Pinterest users.
Quarter-on-quarter change of Pinterest's advertising reach is +4.4%.
78% of users say content from brands is useful, including ads.

Pinterest Top Brands
Oh Joy has an extensive following base of 15.2 million followers on Pinterest.
Poppytalk has 10.5 million followers on Pinterest.
Tasty has 10.4 million followers on Pinterest.
Pejper has 6.8 million followers on Pinterest.
Harper's Bazaar has 6.4 million followers on Pinterest.
Twitter made big news this year with their iconic and viral 3-word tweet during a global social media blackout – "Hello, literally everyone." Twitter has taken bold steps towards revolutionizing conversations on the internet.
Many of the new features introduced, like Safety mode, misinformation label, Prompts, etc., helped ensure conversations were safer and meaningful for everyone.
Twitter also made monetizing easier for businesses and creators with Super Follows, Ticketed Spaces, Tips, and Twitter Blue.
So while you plan to include these new features in your 2022 marketing plan, keep in mind these statistics below and use Twitter tools to magnify your reach.

Twitter Demographics Stats
Twitter has 211 million daily active users, while the monthly active users are 330 million.
83% of the world's leaders are on Twitter.
79% of users of Twitter are not from the U.S.
38.5% of global Twitter users are aged between 25 and 34 years.
77.8 million active users are from the U.S., while 58.2 million users are from Japan and 24.5 million active users from India.
29.6% of Twitter users are female, and 70.4% are men.
7.1% of all people aged 13 and above use Twitter.
42% of all Twitter users are college graduates.
77% of Twitter users earn more than $75,000+ each year.

Twitter Usage Stats
26% of U.S. users check Twitter multiple times in a day.
46% of all Twitter users visit the platform daily.
25% of users use the app every week, while 71% visit at least weekly.
The average time spent on Twitter is 3 minutes and 39 seconds.
12% of U.S. users rely on Twitter for news.
The total number of tweets sent per day is 500 million.
The half-life of a tweet is 24 minutes.
The daily limit is 2400 tweets and 1000 messages per day.
9281 tweets are sent in one second.
There are 200 billion tweets per year.
80% of the active users access Twitter via smartphones.
Twitter's total website traffic is 3 times the actual active user base.

Twitter Engagement Stats
79% of marketers have continued leveraging Twitter Spaces.
The average number of hashtags used each day on Twitter is 125 million.
Tweets with hashtags have witnessed engagement by 100% for individuals and 50% for brands.
Using 1-2 hashtags can get you 21% more engagement.
Tweets with more than 2 hashtags might have 17% lesser engagement.
Hashtagged tweets have a 55% more chance of being retweeted.
A user on Twitter has an average of 707 followers.
391 million followers have no followers at all.
The top 10% of tweeters contribute 92% of tweets in the U.S.
Twitter's timeline generates +31% higher emotional connection and +28% higher levels of memorability versus the social media average.
"Face with Tears of Joy" is used 14.5 billion times, making it the most used emoji on Twitter.
Tweets with a GIF gain 55% more engagement than those without.
People watch 2 billion videos on Twitter daily.

Twitter Business Stats
67% of B2B businesses use Twitter as their marketing tool.
85% of SMB users on Twitter say providing customer service is important.
53% of Twitter users are likely to be the first purchasers of new products.
Companies using Twitter for customer service see a 19% lift in customer satisfaction.
50% of consumers use Twitter, while 36% follow brands on Twitter.
40% of the users admitted purchasing something they saw on Twitter.
92% of companies tweet more than once a day.
93% of brand followers on Twitter plan to buy from them.
69% of brand followers on Twitter have already purchased from them.

Twitter Ads Insights
436 million people can be reached with adverts on Twitter.
Ads with no hashtag received 23% more engagement.
Marketers on Twitter can reach 7.1% of the 13+ age group population with adverts.
29.6% of ad audiences are female, and 70.4% are male.
The highest reach ranking of Twitter ads is witnessed in the U.S., followed by Japan.
The majority of ad audiences on Twitter are males from the age group of 25-34 and females from the 18-24 age group.
The advertising revenue of Twitter grew 87% year on year.
Everyday revenue from location-based targeting campaigns increased by 7 times.
Advertisers saw a rise of 89% in video completion rates.
Total ad engagement increased by 32% year on year.
Around 164 million ads are shown on Twitter daily.

Twitter Top Brands
CNN Breaking News's Twitter profile has 61.8 million followers.
CNN's Twitter profile has 55.7 million followers.
The New York Times's Twitter profile has 51.2 million followers.
Nasa has 50.7 million followers on Twitter.
BBC Breaking News has 48.6 million followers on Twitter.
Twitter provides immense possibilities for brands and individuals to communicate with their audience quickly. You need to schedule engaging tweets at the right time, monitor brand mentions, respond quickly, reach out to influencers, and collaborate with other brands for cross-promotion, analysis, and much more.
With so much to do, it becomes essential to manage it effectively using Twitter tools like Socialpilot, MeetEdgar, Keyhole, etc.
LinkedIn said hello to Stories, Live streaming videos, and Video Meetings. For recruiters and job seekers, LinkedIn's profile frames helped their search for candidates and jobs.
Another cool feature is the name pronunciation, which allows users to record and add the correct pronunciation of their names to their profiles.
LinkedIn is far from just a platform for job seekers. It has grown into a platform to share world-changing thoughts and ideas for businesses, brands, and professionals alike.
Craft your marketing strategies taking insights from the below statistics and leverage LinkedIn tools to leave an impact.

LinkedIn Demographics Stats
The population of LinkedIn is more than 800 million from 200 countries.
There are 180 million users from the U.S. on LinkedIn.
There are 56.6% of male users and 43.4% female users on LinkedIn.
After the U.S., India(81 million), China(54 million), and Brazil(51 million) have the highest number of LinkedIn users.
There are 180 million senior-level influencers.
LinkedIn has 65 million decision-makers and 10 million C-level executives.
Almost 60% of LinkedIn users are in the age group of 25-34.
60% of the U.S. LinkedIn users earn $100,000/year.

LinkedIn Usage Stats
3 professionals join LinkedIn every second, with 172800 new users every single day.
57% of LinkedIn traffic is from mobile devices.
LinkedIn receives 1.17+ billion visits worldwide.
3 people get hired on LinkedIn every minute, with 55 job applications submitted per second.
91% of executives rate LinkedIn as their first choice for professionally relevant content.
280 billion feed updates are viewed annually on LinkedIn.
There are 9 billion content impressions in LinkedIn feeds every week.
2 million posts, articles, and videos are published on LinkedIn every day.
3 million users post on LinkedIn every week.
4 in every 10 millionaires are active LinkedIn users.
Only 1 million users have published an article on LinkedIn.
About 45% of LinkedIn article readers are in upper-level positions (managers, VPs, Directors, C-level).
39% of LinkedIn users never share content, while 16% of the profiles actively share multiple posts every week.
On average, users spend 7 minutes 12 seconds on LinkedIn.
The average visit duration on LinkedIn is 8.52 minutes.
Users visit an average of 6.4 pages on LinkedIn before leaving.
LinkedIn Live streams witnessed a 437% year-on-year increase in views.
2% of LinkedIn users haven't yet joined any group on LinkedIn.
36K skills are listed on LinkedIn.
39% of users are LinkedIn premium account holders.

LinkedIn Engagement Stats
22.04% of LinkedIn traffic comes from search alone.
99.63% of LinkedIn search traffic comes from organic search.
LinkedIn Pages with complete information get 30% more weekly views compared to others.
Each week, 45 million people look for a job on LinkedIn.
More than 14 million open jobs are posted on LinkedIn Jobs.
200+ million jobs are submitted on LinkedIn each month.
4 people get hired on LinkedIn each minute.
There is a 50% rise in engagement year-over-year on LinkedIn.
Companies posting weekly see an engagement rise by 2x on LinkedIn.
98% of marketers on LinkedIn agree that personalization helps advance customer relationships.
According to LinkedIn, companies that post 20 times per month reach at least 60% of their unique audience.
Including the links in a post can drive twice the engagement than a post without it on LinkedIn.
Images on average result in a 98% higher comment rate than without on LinkedIn.
Links to Youtube videos play directly in the LinkedIn feed and typically give a 75% higher share rate.
Linkedin accounts with completed and updated information gain 40 times more opportunities.
Long-form content gets the most shares on LinkedIn, so aiming for between 1700-2100 words should give your content a boost.
LinkedIn articles with 8 images and 5,7, or 9 headlines are best for engagements.
Messages sent have increased 35% year-over-year on LinkedIn.
Weekly LinkedIn members who engage heavily with content are 5x more likely to return daily.
Listing 5 or more skills on your LinkedIn profile can lead to up to 17x more views.

LinkedIn Business Stats
More than 57 million companies are listed on LinkedIn.
46% of social media traffic to the company's website comes from LinkedIn.
45% of marketers have gained customers through LinkedIn.
Lead Gen Forms on LinkedIn can increase conversions by 3x.
89% of B2B marketers rely on LinkedIn for lead generation.
62% of B2B marketers generate leads on LinkedIn successfully, over double the next-highest social channel.
4 out of 5 LinkedIn users drive business decisions.
52% of buyers list LinkedIn as the most influential channel during their research process.
InMail has a 300% higher response rate than email, with a 10-25% hit rate on LinkedIn.
LinkedIn is generating revenue for 38% of B2B marketers.
80% of B2B leads coming from social media are from LinkedIn.
97% of B2B marketers use LinkedIn to help drive their content marketing strategy.
92% of B2B marketers have LinkedIn included in their digital marketing mix.
15% of Linkedin users are senior-level influencers.
As per Linkedin, an average of 10 content pieces are considered before making a purchasing decision.

LinkedIn Ads Insights
790.4 million people can be reached with adverts on LinkedIn.
An ad on LinkedIn can reach 14.3% of the world's population over 18 years of age.
Quarter-on-quarter change of LinkedIn's advertising reach is +2.9%.
43.4% of ad audiences are female, and 56.6% are male.
Sponsored InMail has an opening rate of 52% on LinkedIn.
The U.S. offers the largest group of LinkedIn advertising audiences with a reach of 170 million users.
LinkedIn Message Ads have a 40% conversion rate.
65% of B2B companies have generated a customer through LinkedIn paid ads.
The cost per lead is 28% lower than on Google AdWords on LinkedIn.
Lead Gen forms on LinkedIn have reduced the cost per lead for 90% of B2B marketers.
LinkedIn has reported that its "matched audience" targeting feature procured a 32% increase in post-click conversion rates and a 30% boost in CTR.
58% of B2B advertisers like the ROI of LinkedIn ads.
The average conversion rate of video ads on LinkedIn for the U.S. is 6.1%, more than any other contemporary platform.

LinkedIn Top Brands
Google has 23.3 million followers on LinkedIn.
Amazon has 23.2 million followers on LinkedIn.
Ted Conferences has 22.3 million followers on LinkedIn.
LinkedIn has 20.3 million followers on LinkedIn.
Microsoft has 15.9 million followers on LinkedIn.
LinkedIn is undoubtedly the preferred network for professionals around the globe, and with two professionals joining this network every second, it will witness tremendous usage.
To leverage this network effectively, you should publish about your brand, offers, company culture, and new product announcements regularly.
Use LinkedIn tools like Socialpilot to create a LinkedIn posting schedule and automate your posting for the right time and day.
Short-form videos are here to stay. For all brands targeting the Gen-Z population, TikTok is still a vital channel for communication. When marketed right, your brand has the potential to go viral on TikTok and influence your audience.
Take a look at some of the user statistics of TikTok before you come up with that next viral trend for your brand.

TikTok Demographics Stats
TikTok has over a billion monthly active users worldwide.
TikTok has around 120.8 million active U.S. users.
56.1% of TikTok users are female, and 43.9% are male.
45% of TikTok users are in the age group of 18-24.
Females in the age group of 18-24 account for a greater share of TikTok's audience than any gender aged 35 or more.
69% of the U.S. teens use TikTok.
63% of Gen Z use TikTok on a daily basis.
After the U.S., Indonesia (87.5 million), Brazil (72.3 million), and the Russian Federation (48.8 million) account for most users on TikTok.
20% of TikTok users earn more than $75,000.

TikTok Usage Stats
Users spend 52 minutes per day on the app.
Children between 4-15 years spend 75 minutes on the app.
The U.S. users alone spend almost 500 minutes monthly on TikTok.
There are over 100 billion average monthly video views on TikTok.
Over 34% of TikTokers make videos daily.
90% of all TikTok users access the app on a daily basis.
68% of TikTok users watch someone else's video.
55% of TikTok users upload their own videos.
41% of users have uploaded their reactions to other videos on TikTok.
87.3% of videos have at least one hashtag.

TikTok Engagement Stats
The engagement rate of TikTok is 18%.
90% of TikTok users open the app multiple times.
90% of TikTok users use android.
43% of users have taken part in duets.
The most popular TikTok content categories have over 1 billion views.
The most viewed content category was entertainment on TikTok, having a whopping 443.3 billion hashtag overall views.
63% of engaged TikTok users claim to have liked a video in the last month.
54% of engaged TikTok users claim to have commented on somebody else's video.
25% of the featured videos are either by celebrities or influencers.
There are approximately 12 engagements in the form of likes, comments, shares, etc., per 100 views.
Brands post an average of 3-4 posts weekly.
80% of the top videos have music.

TikTok Business Stats
Bytedance, TikTok's parent company, is about to hit $400 billion.
In-app purchases increased by 500% in 2018-19. TikTok also saw an additional jump of 380% in 2020-21.
TikTok revenue grew by 60% in 2021.
42% of all TikTok revenue now comes from the U.S.
TikTok influencers with 2.5 million followers charge around $800 per post.
Influencers on TikTok could expect a flat $500 payout for signing on to the platform plus $25 for each video they upload.
TikTok lost $500,000 from the Indian ban.
The ban cost TikTok a loss of 15 million new users.

TikTok Ads Insights
Brands are currently buying TikTok's in-feed ads for $10 per impression with a $6,000 minimum campaign spend.
Brands expect to pay $50,000 per day for a brand takeover with 5 million impressions guaranteed on TikTok.
61% of TikTokers mentioned that they tend to buy from brands they see advertised, and 63% consider themselves brand conscious.
TikTok offers ad credits of $300 and $2000 for new brands advertising on the platform.
TikTok recommends an additional $100,000-$200,000 in ad spend within TikTok to promote a hashtag challenge.
Challenges with hashtags cost brands $100,000+ on TikTok.
Brand takeover ads cost anywhere between $20,000-$200,000 on TikTok.
Brands create 3.7% of the content on TikTok.
33% of customers respond better when ads refer to them directly on TikTok.
50% of ads have emotional messages.

TikTok Top Brands
TikTok has 59.3 million followers on its own platform.
Flighthouse, a digital entertainment brand, has 28.1 million followers on TikTok.
XO Team has 25.3 million followers on TikTok.
Yolo House has a following of 23.3 million followers on TikTok.
PSG has 23.2 million followers on TikTok.
Snapchat's response to Tiktok is Snapchat Spotlight. If your marketing plan does not include Spotlight, it is time to restrategize.
Similar to TikTok and Reels, Spotlight lets you create 60-second videos complete with the trademark filters and lens from Snapchat. This is good news for brands and creators because submitting your snaps to the Spotlight allows you to monetize every view.
If Snapchat is not already a part of your marketing strategy, perhaps these statistics will convince you otherwise.

Snapchat Demographics Stats
Snapchat has over 538.1 million users.
There are over 306 million daily active users of Snapchat.
India has over 116 million active Snapchatters.
The U.S. population accounts for 106.2 million active users, followed by France(24.1 million) and the United Kingdom(20.1 million).
Snapchat has 42 million Gen Z users.
More than 80% of users are in the age group of 13-34.
54.4% of Snapchat users are female, and 44.6% of users are male.

Snapchat Usage Stats
The average snaps created daily were over 5+ billion in 2021.
The daily snap creation witnessed a growth of 25% year on year.
On average, Snapchatters spend over 30 minutes on Snapchat every day.
76% of Snapchat's daily active users engage with augmented reality.
The average time spent on the app is 28 minutes.
About 2.1 million snaps are created every minute on Snapchat.
46% of Americans open the Snapchat app multiple times a day.
Snapchat scored 72 out of 100 points on a consumer satisfaction scale.
200 million Snapchatters use Snap Maps every month to locate their friends.
Snapchat sees an average of +500M minutes of AR playtime daily.
Snapchat Engagement Stats
Videos posted on Snapchat reached 18 billion daily views.
The longest Snapchat streak was recorded to 2089+ snaps.
57% of the total content shared on Snapchat is videos.
70% of Gen Z in the U.S. has watched the news on Discover content on Snapchat. There is an 80% increase in SportsCenter viewership from last quarter too.
50 million Snapchatters watch TV content each month.
More than 70% of Gen Z watch Snap Originals.
60% of Snapchat users create new content on the app every day.
Snapchat users created more than 1.5 million lenses with Lens Studio to date.
Snapchat's swipe-up rate is 5x higher than normal social media click-through rates.
Snapchat saw a 50% rise in video calls.
100 million+ Snapchatters play snap games.
Snapchatters are spending 25% more time than usual playing with lenses.
Snapchat confirms increased engagement on ads, with a 36% increase in install volume for app ads and a 19% increase in swipe-up rate overall.

Snapchat Business Stats
Snapchat increased its revenue by 57% year on year in Q3, 2021.
The average revenue per Snapchat user is $1.91.
32.7% of U.S. marketers are on Snapchat.
64% of businesses are on Snapchat.
34% of teenagers consider Snapchat as their preferred app in the U.S.
The direct spending of millennials and Gen Z through Snapchat is around $1 trillion.
76% of Snapchatters make their purchases online every holiday season.
Snapchat users are 60% more likely to make impulse purchases.
Snapchatters are 20% more likely to make purchases on mobile.
Snapchatters use apps to make purchases at least once a month.
4 out of 10 Snapchatters said they discovered a brand via celebrity endorsements.
More than 1 out of 5 Snapchat users bought a product they discovered on Snapchat.
35% of Snapchatters send snaps about products they're interested in buying.
Geofilter shared to a national audience can reach 40-60% of the daily Snapchat users.
80% of users use Snapchat at a restaurant, 66% while shopping, and 50% use Snapchat at the gym.

Snapchat Ads Insights
Marketers on Snapchat can reach 8.8% of the 13+ age group population with adverts.
54.4% of ad audiences are female, and 44.6% are male.
Quarter-on-quarter change of Snapchat's advertising reach is +4.7%.
Snapchat global advertising revenue is predicted to reach $2.62 billion.
64% of Snap Ads are viewed with sound on.
55% of Gen Z have an ad recall after watching 0 to 2 seconds of a Snapchat ad.
Snapchat ads were seen to capture 2x the attention of users compared to Facebook.
Snapchat Sponsored Lenses are predicted to reach 16 million daily viewers.
Snapchat Discover Ads start at $50,000 daily.
Sponsored lenses on Snapchat cost from $600,000 to $750,000 per day.
Snapchat Ads are available for $3000 per month.
Users engage with Snapchat ads at an average time of 30 seconds.
57% of all brand posts are video ads.

Snapchat Top Brands
Boombit witnessed a 2.8x increase in installs after scaling the Snap SKAN campaign.
L'Oreal Paris Mascara witnessed a 9pt lift in recommendation intent among Gen Z females.
Walmart observed a 7pt lift in brand awareness and a 9pt lift in the brand association.
RBX achieves a 9X return on advertising spend on men's sneakers.
Hershey had 1 million earned impressions and a 29pt lift in ad awareness of their multi-product campaign on Snapchat.
Sources
Conclusion
Whether you are heading a small or medium business, a part of the social media team of a company, or a marketer looking to build an electrifying social media presence, these marketing insights will help you understand the changing dynamics of major social media platforms.
Don't just post but also keep a keen eye on the analytics and run campaigns like a pro. Manage it all in one go with SocialPilot. Take its free 14-day trial and watch the game unfurl.
10 Useful Tips For Getting More Engagement On Instagram
Do you know how to get more engagement using Instagram?
Instagram is a great way to connect and engage your customers. With more than 300 million active users, and almost 85 million images and videos uploaded every day, it is an awesome visual platform for business.
By using Instagram in the right way, you can successfully market your business. Still, most marketers struggle to get the engagement they hoped for on Instagram.
If the low engagement horrors on Instagram also haunt you, this blog is for you.
Whether you are new or want to find out how to get more Instagram followers, here you will find tried and tested ways to market your brand more accurately on Instagram and tips on increasing your posting consistency using the Instagram automation tool.
How to get more engagement on Instagram?
1. Optimize Your Profile
A well-optimized profile tells your potential followers who you are and give them a reason to follow you.
Start by choosing a username that is easy to recognize and searchable. Ideally, your username should match your business name. If your business name is already taken, try keeping your business name as the first part of your username so that people searching for your business are more likely to come across you.
On the same note, choose a profile picture that's on-brand and similar to your other social network profiles. It will help you maintain brand consistency across the various platforms and won't confuse your followers.
Another necessary thing is to turn your Instagram profile into a business account. It will unlock loads of extra features necessary to grow your business.
Also, make sure your profile is public. Nothing kills your engagement like a private account. Being hidden from the eyes of your potential customers isn't going to help you grow.
2. Update Your Bio
Updating your bio is also a part of optimizing your profile.
Update your bio with informative information about your brand. Add information that allows people to know who you are and what your business does.
Here are a few bio examples for your inspiration:
@Staples: "We make it easy to #MakeMoreHappen"
@wdywt: To be considered: Tag your on-feet photos with #WDYWT
@caratlane: We're Obsessed with Making Beautiful Jewelry Accessible #CaratLane
Use this space to feature a call to action, branded hashtags, and website links. Adding a link to your product page is essential, especially when most of your traffic comes from mobile devices. It becomes easy for your followers to visit your website and buy your products.
After that, enable notifications so you can see when people share or comment on your photos. This will allow you to engage with them more quickly. To enable notifications, go to options and then push notification settings. Select from everyone for every category.
3. Reorder The Filters
Instagram filters are all about fun. Choosing suitable filters can lead to moving views and engagement.
It is found that filtered photos are 21% more likely to be viewed and 45% more likely to be commented on than unfiltered ones. So it would be best if you found out what works the best for your business.
Additionally, if you use Instagram a lot, chances are you have a few favorite filters you use all the time and others you never touch. To make editing photos easier, you can reorder the filters in your editing window. This way, you can prioritize the ones you use the most.
To reorder the filters, simply hold your fingers down and drag each filter one at a time to reorder.
Once you are done trying a few filters, it's recommended to choose anyone and continue using the same filter every time you post. Sticking to one filter will give your post a more distinctive, relative, and recognizable look.
4. Respond To Your Followers
Make sure you are responding to all the comments you receive both positive and negative because it is a big part of engaging your audience. Also, thank people for kind comments or for tagging their friends. Reply to comments where people ask you questions about the photo or about your business. If you ignore their comments, it sends the message that you are not interested in building a community.
Show them that you care about what they have to say. Respond to comments, follow them back and engage with what they're sharing if relevant. This will lead to creating strong connections and more engagement as well.
5. Make Use Of Captions
Use photos that show exactly what followers will get from your business. If you are an author, show your book's cover or use a photo of someone reading your book. If you are into the eCommerce business, share your products with a nice background.
Although Instagram is a visual platform, your photo captions also play a huge role in helping you get more Instagram engagement.
A beautiful picture stimulates your followers to stop and concentrate on your post, but strong captions will help you market your intent and sell your products. Your caption is what drives your followers to your profile and click the link in your bio.
Your caption should leave a call to action at the end. Now, what that call to action will be, totally depends on the intent of your post.
One of the best ways to get more likes and followers on your Instagram photo is to use captions that ask questions. It is a great way to drive not only photos but engagement with comments as well.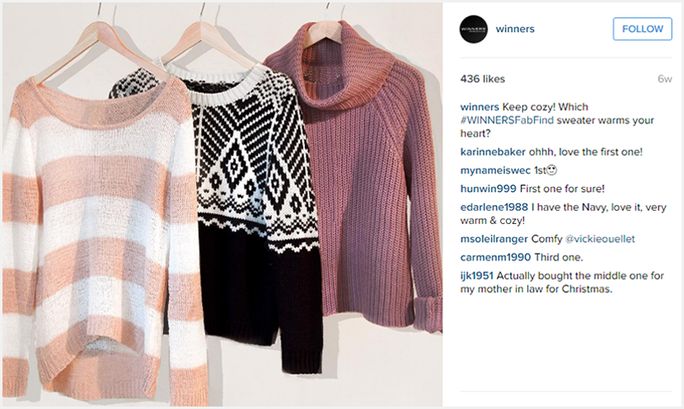 6. Use Quality Hashtags
Instagram allows for a maximum of 30 hashtags per post; however, try to use hashtags effectively by limiting the number of hashtags per caption to around three.
Additionally, using the relevant hashtag in your captions will help your posts appear to an audience beyond your followers. Depending on the industry, you can use the popular Instagram hashtags to get more visibility on your photos.
Here's a tip!
Before using any hashtag, find out which hashtag you should use in order to reach a wider audience and achieve the highest level of engagement.To find the hashtags, your audience might be using, research the "explore" tab in the Instagram app. When you search for any hashtag, it will show you a list of related hashtags at the top of the screen.
For example, when I search for #contentmarketing on Instagram, it shows me relevant hashtags such as #blogging, #content, #businesstips and etc.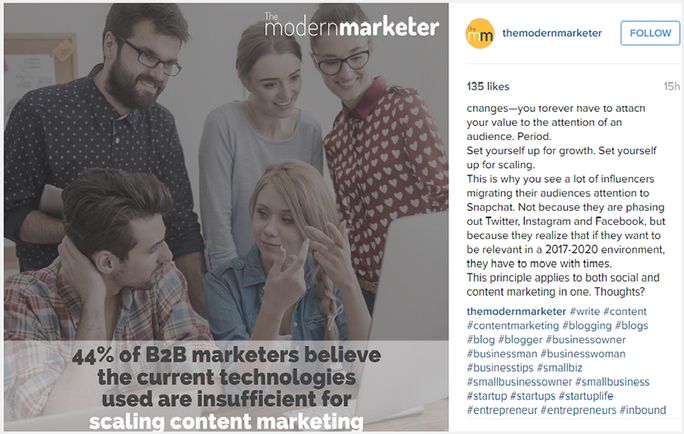 7. Leverage Instagram tagging
Besides hashtagging, you can leverage account tagging on Instagram to increase your visibility and reach among your target audience.
Account tagging, as the name suggests, is tagging other Instagram public profiles in your organic posts to win valuable engagement, impressions, and comments.
You can do account tagging in two ways – mention tagging or image tagging.
To mention an Instagram account, simply use @ and then type the username in the post caption or comments to tag the accounts. It's a more straightforward way to shout out client/customer accounts through your posts.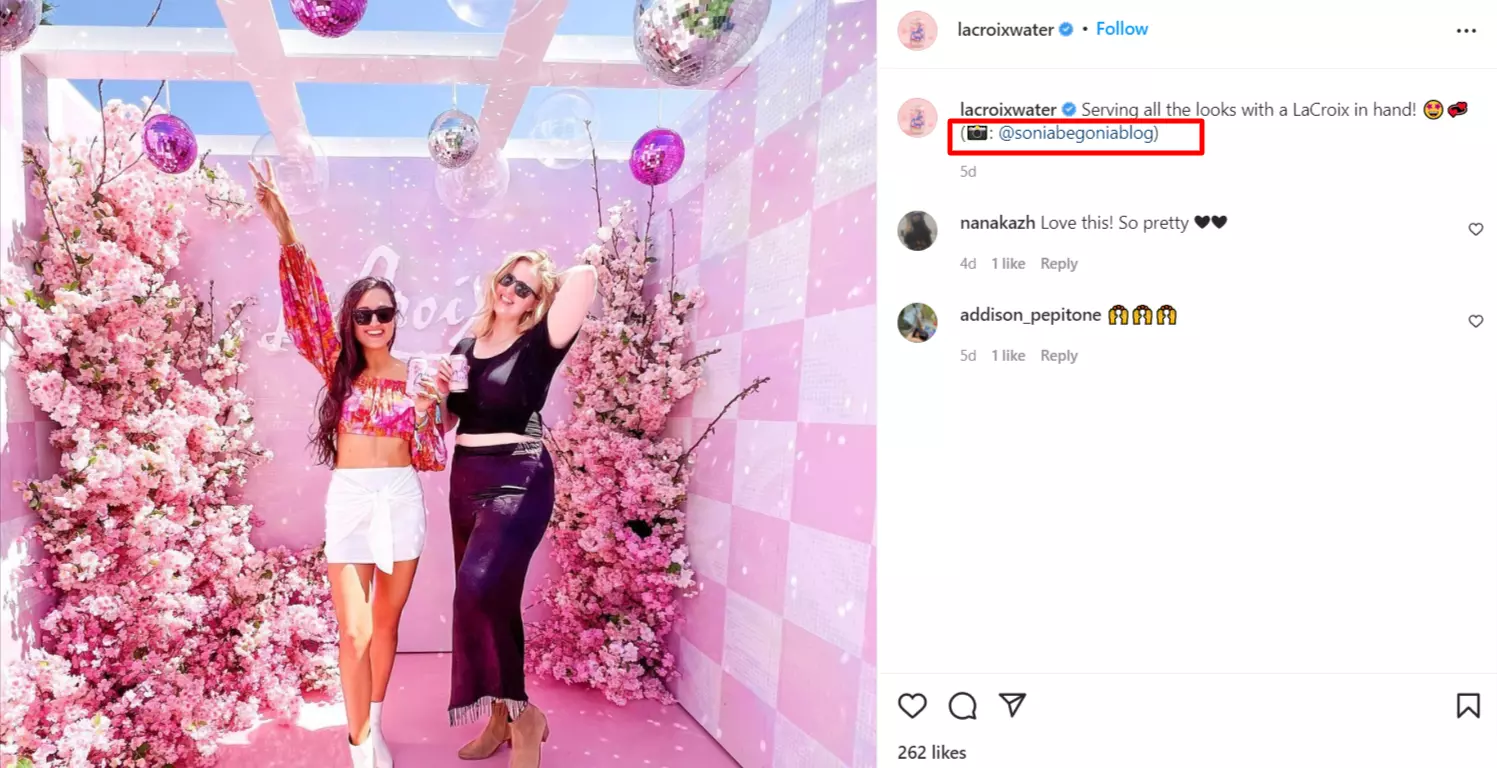 On the other hand, you can add single or multiple profile tags over the image of your posts to perform the image tagging. When you tag an account, it will receive a notification, and your post will show up in the "Tagged" section of your and your tagged account's profile.
This tagged section on your profile works as a great repository of user-generated content that you can promote through Instagram Stories later.
Look how Alfred, a Coffee brand, leverages the image tagging feature to promote its collaboration with KylieCosmetics.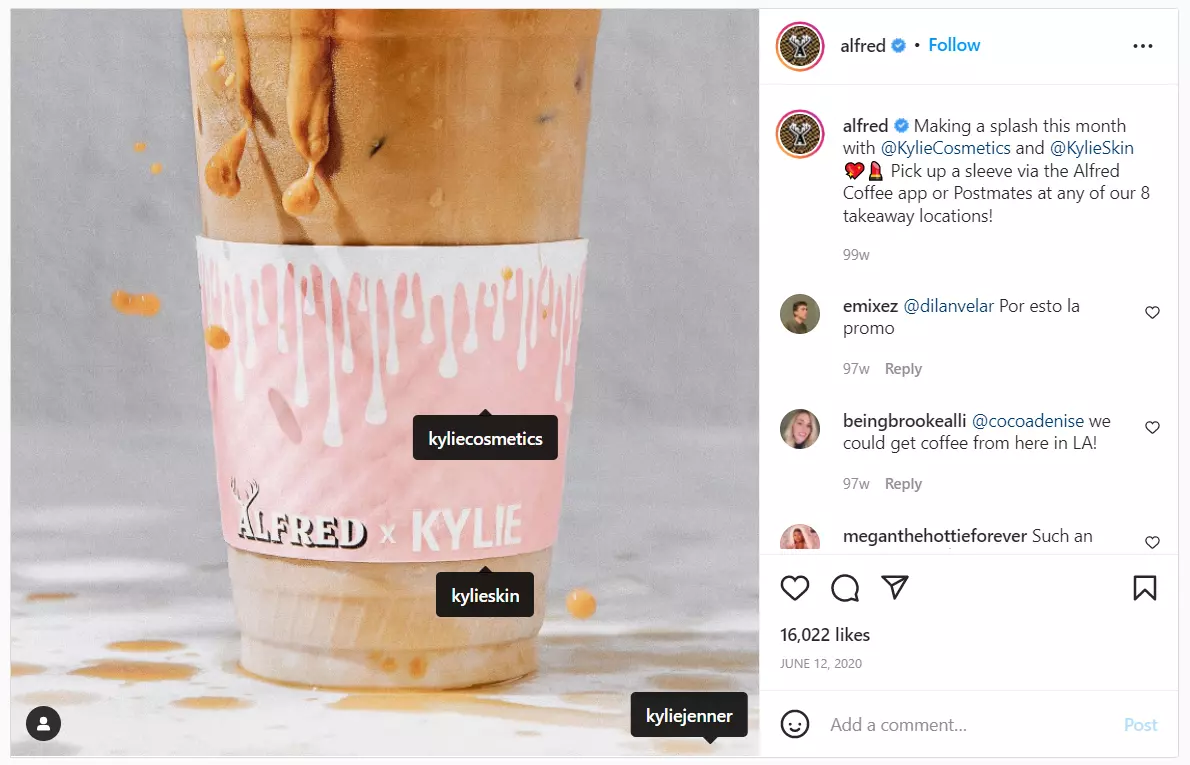 However, don't get carried away and start tagging anyone without a strategy. It will make your account look spammy.
Is it getting hectic to manage Instagram image tagging for multiple client accounts?
Use SocialPilot to tag multiple Instagram public profiles in your scheduled image post. No need to jump back to Instagram after scheduling your post. Simply, tag profiles anywhere in the image at the time of scheduling and create Instagram-ready posts directly from SocialPilot.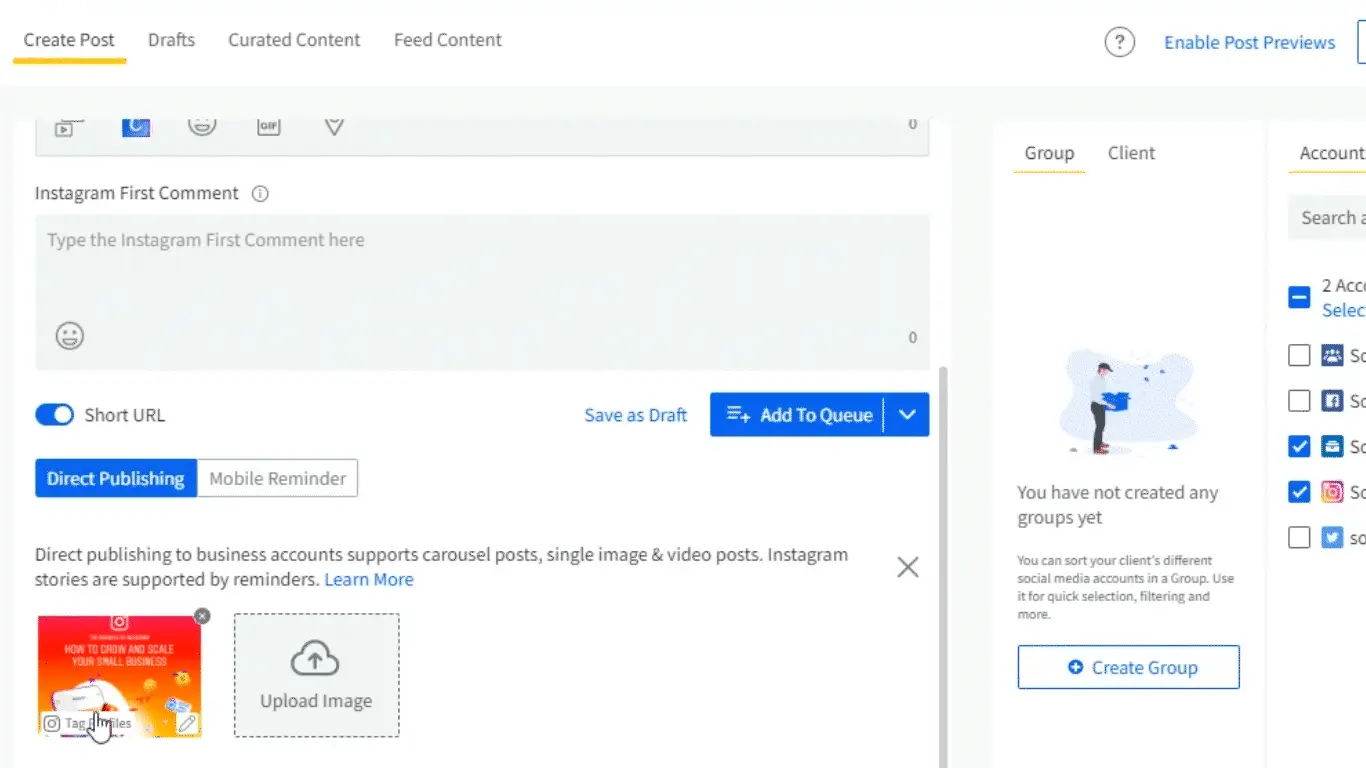 8. Post Consistently
If you are aim for engagement on Instagram then prepare to post consistently. The more regularly you post, the more are your chances to be seen by your followers.
A consistent account not only keeps your followers keep coming back to you but also appears as a great place to connect for profile visitors. When you are consistent, it conveys that you care about your followers enough to post valuable content regularly.
However, maintaining consistency doesn't mean bombarding your post feed every hour with inferior content. Make sure you don't sacrifice quality for quantity.
If you post too much content, you might overwhelm your followers. It's best to decide on a post frequency of not more than two posts on Instagram to maintain a healthy post feed.
Also, create defining elements for your account. If you're consistent with the content of your photos, the filters you use, and how you caption your photos, you'll start to be seen as a distinctive profile in your niche.
On a final note, keep in mind that the goal is to ensure your photos appear in the feed of your followers so they can interact with them. The more you post, the more your brand is visible to your followers.
If you want to post consistently while saving time and effort, then schedule your posts with a social media scheduling tool. It is the best way of building a loyal following and community faster.
9. Find Perfect Timing For Posting
Before you post on Instagram, there are two things you need to keep in mind – your audience's time zone and what time they often check Instagram.
Mostly, users prefer to check Instagram in the morning and the evening. But, if your business caters internationally, consider posting according to different time zones.
However, not all brands have the same time to post on Instagram. Your personal best time depends on your audience. Make use of Instagram analytics tools for deep analysis. Pay attention to when most of your audience is online.
The most effective way of determining the best time to post on Instagram is by testing how your posts perform at different times of the day. If you notice that content posted in the mornings consistently earns more likes, comments, or followers than afternoon or evening, set your content sharing schedule accordingly.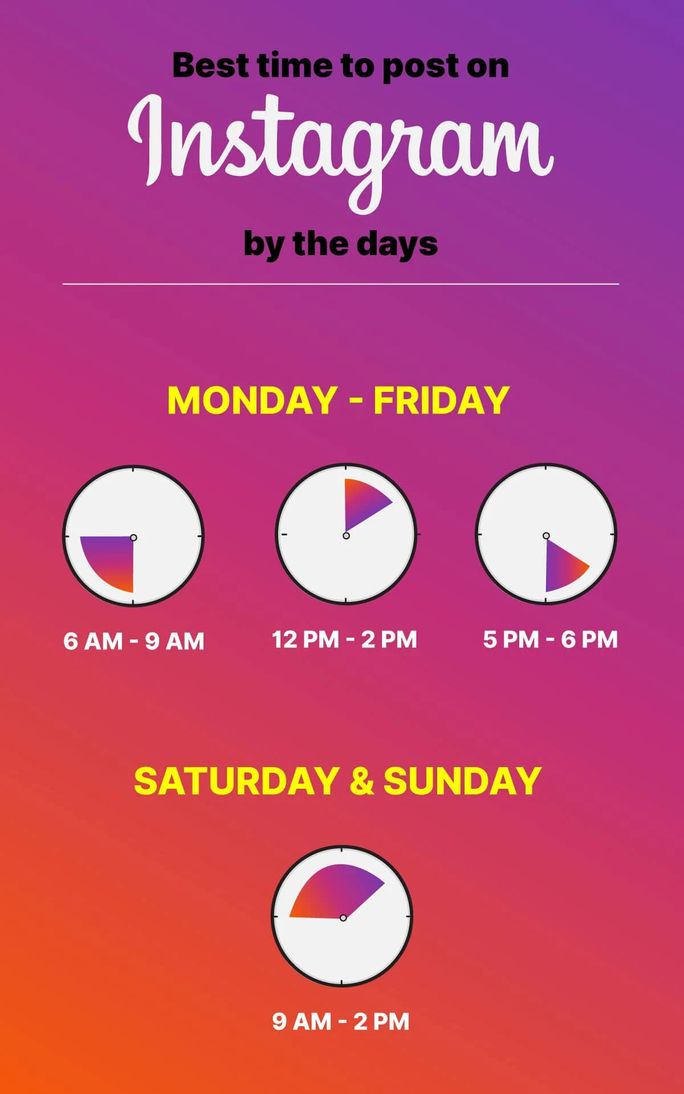 10. Use the Power of Videos
In addition to pictures, Instagram has tons of features, such as Reels, stories, live, and in-feed to share video content. Instagram videos are a great resource for your brand to stand out on the platform and engage with fans.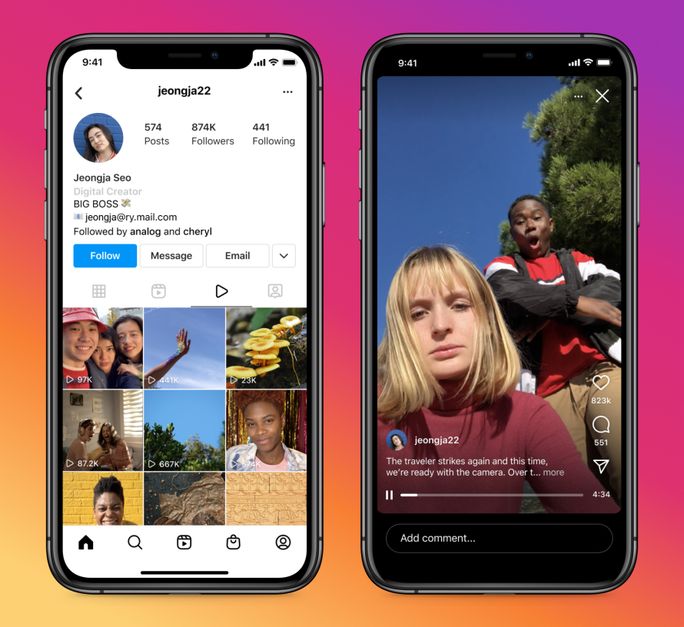 However, being boring is not an option on Instagram. Luckily, there are tons of creative ways you can use videos on Instagram to create valuable content for your audience.
You can introduce new products, do a Q&A, show tutorials, showcase company culture, and share behind-the-scenes moments to create more engagement with your audience.
Check out our complete guide to Instagram Videos.
Conclusion
Instagram is a great platform for sharing, engaging, and branding your business. If you haven't started using Instagram for your business, consider adding it as your next top priority.
And when you sit back to plan your Instagram strategy, give engagement a prime spot and make sure to incorporate all the tips we have discussed in it.
The best way to get more engagement on Instagram is to create authentic content with the intent to connect with your audience. All your content should be prepared to loop in your audience in the conversation in one way or another.
To maintain your Instagram marketing effortlessly, use the power of SoicalPilot. Easily create, schedule, analyze, and connect with your followers' messages from a single dashboard.
Wait no more. Go for its free trial or schedule a demo call today.
9 Tips to Get More User-Generated Content for Your Brand
Collecting user-generated content or UGC has become an integral part of many successful marketing campaigns.
One reason is that you build a repository of helpful and engaging content to publish.
More importantly, people are 10 times more inclined to trust your brand and buy from you when you publish user-generated content on your website and social media accounts.
That's because UGC, like reviews and social media posts, are created by your users and existing customers based on their experience and opinions about your brand and products.
The challenge, of course, is getting your customers to create them.
That's why I'll be sharing with you today 9 tips to get more user-generated content for your brand that you can start doing today.
Ask For Feedback From Users
There's a saying: "You have not because you ask not."
If you want your customers to leave you a review of your product or brand, then go ahead and ask them.
One way you can do this is by sending them an email like this one from Gecko.
Another way is by adding a form right below your content for customers to fill up.
Hosting Canada makes it easy to curate reviews of online hosting providers by providing a "Leave a review" CTA at the bottom of each of their reviews.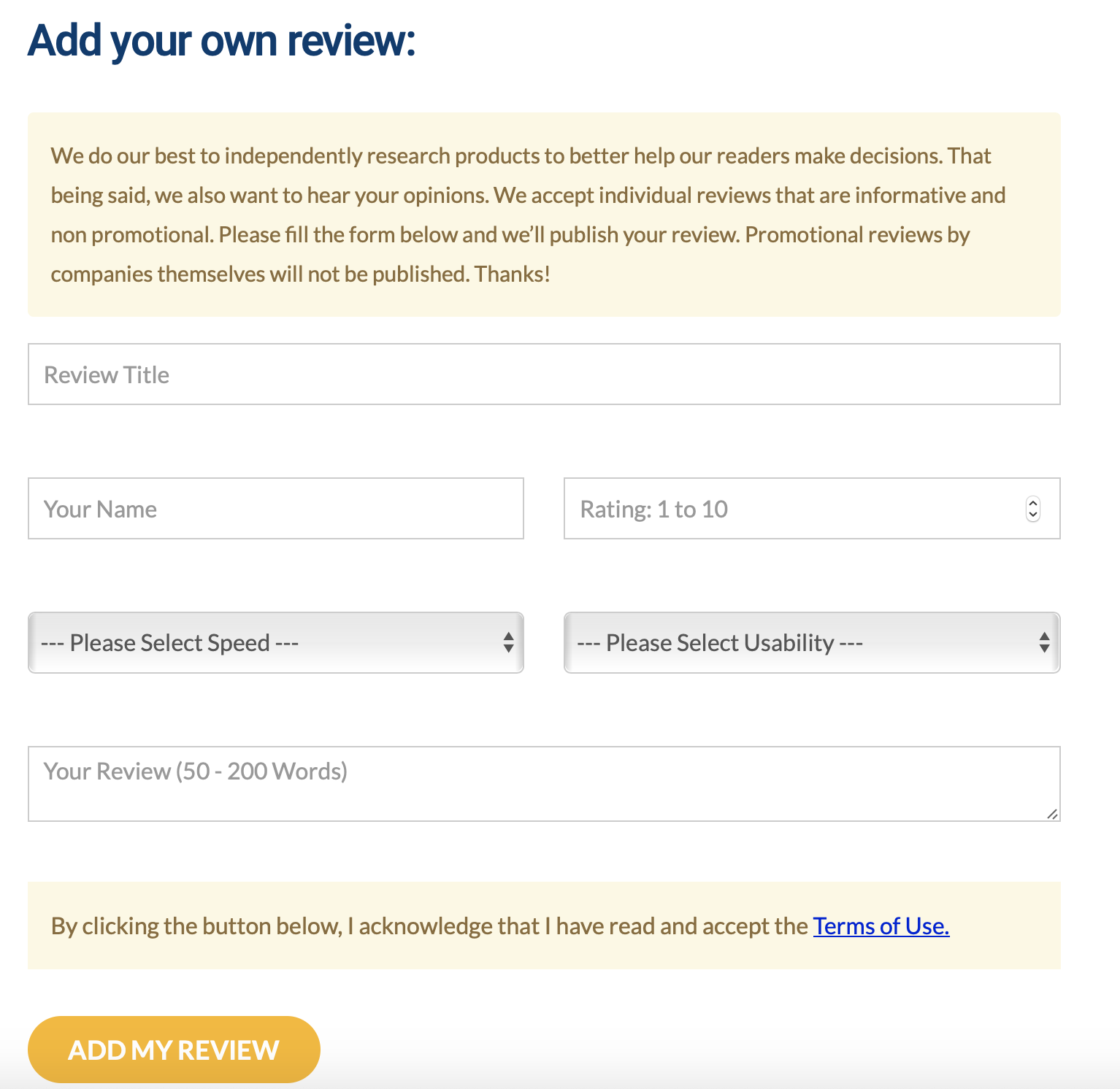 Right underneath this are the reviews left by past and current customers of the product being reviewed.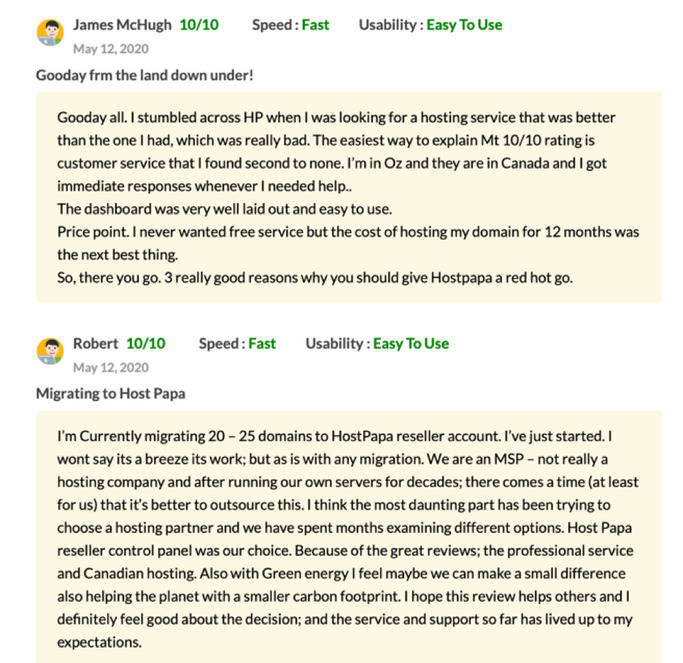 Create a unique hashtag
Creating your brand's very own hashtag helps promote your brand on social media channels like Twitter and Instagram. You can also use social media management tools for the best results in social media marketing.
At the same time, it helps you find posts your customers published on their respective accounts.
Here's a snapshot of user-generated content created that included #socialpilot in their descriptions: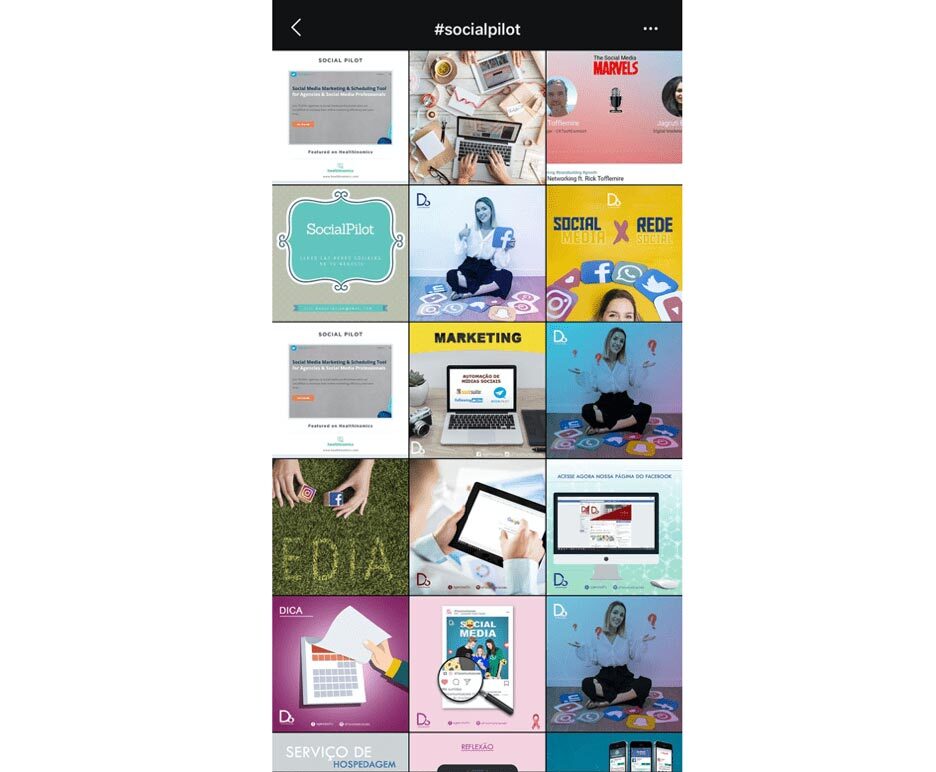 What's great about this is that the user-generated content's already published. All you'll need to do is to reach out to these users and ask if you can repost their content on your website or other social media accounts.
Many of them will be happy to let you. After all, who doesn't like added exposure for their accounts?
Launch a contest on Instagram
Hosting a contest on Instagram is another way for you to get more user-generated content for your brand.
A perfect example of this is the #RedCupContest Starbucks hosts on Instagram every December.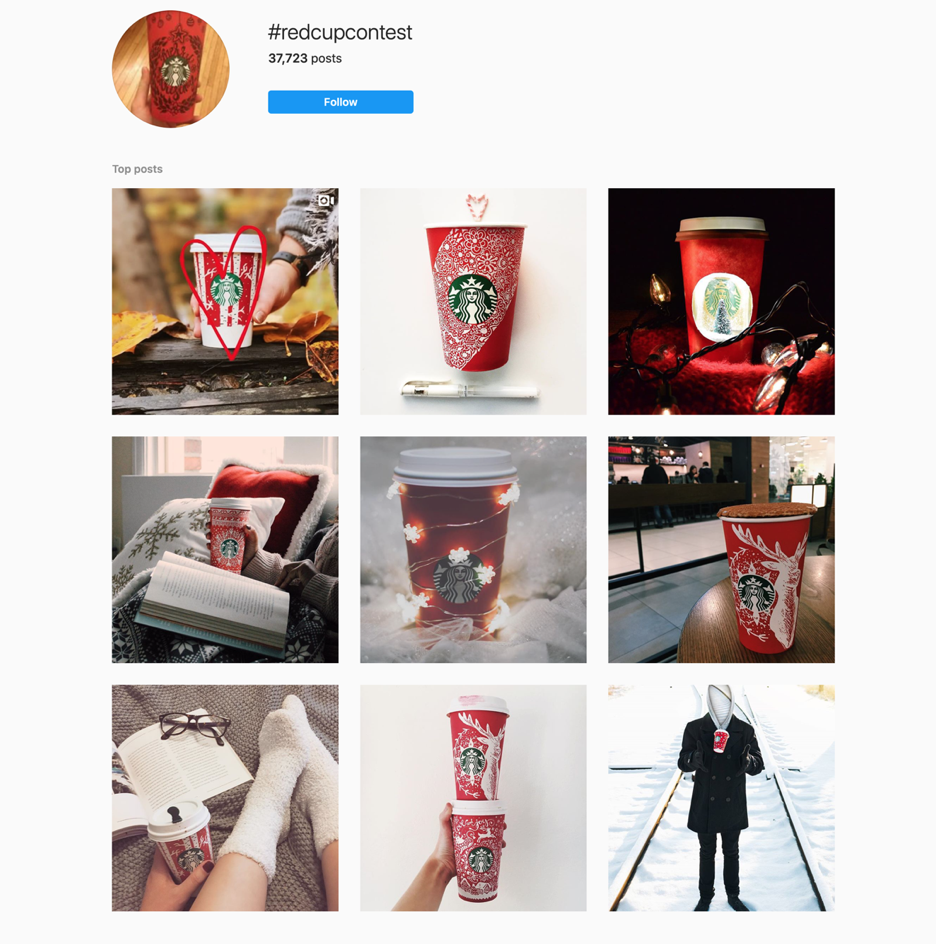 Not only did the contest give Starbucks more than 30,000 user-generated content for them to use throughout the holiday season, but it also positively impacted their sales. After all, you'll need to buy a Starbucks drink in a red cup to participate.
When launching a contest, be sure to clearly state the rules for your contest – including how users can participate.
For example, you might put up a Facebook-only contest that asks customers to create a Facebook post explaining what they love most about your brand.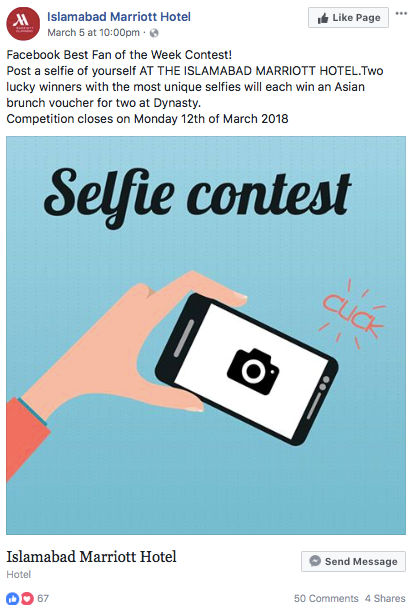 Listen to your users' social conversations.
At any given time, your happy customers would recommend your products and services on social media.
Social media automation platforms can help you keep track of these conversations as they happen. That way, you can thank them for the kind words and also request if it'll be possible for them to work with you by creating a UGC.
These tools come with social media analytics that'll help you track and evaluate which user-generated content is performing and at which social media channels.
Based on the data you've gathered, you can tap these users and work out an arrangement so that they can continue.
Gain some ground with influencers
Working with influencers who are also your customers benefits your brand in two ways.
First, they know what types of content will resonate well with your target audience. That way, you ensure that the UGC they'll be creating for you will yield results.
Second, since they already have a substantial following and are highly respected within their niche, it'll give your brand and product a boost.
For example, vlogger and success coach, Amy Landino, is known for her organization and time management hacks. As someone who admits to practicing bullet journaling, she was one of the ideal influencers Ryder Carroll–the creator of the bullet journal system–could collaborate with when he launched his book on the Bullet Journal method.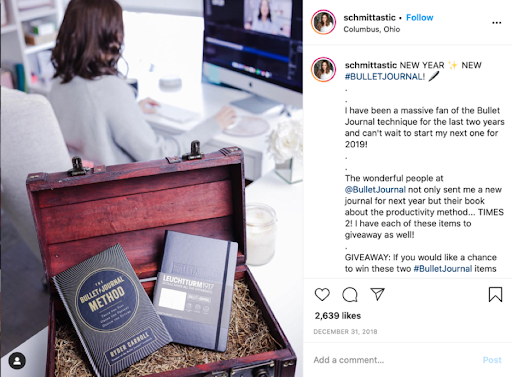 Create an employee engagement program
Your employees are your brand's most valuable assets for three reasons:
First, they're the force that keeps your business running.
Second, they're your best spokespeople when it comes to your brand.
In fact, the Edelman Trust Barometer shows that your customers are more willing to trust what your employees say over your senior leaders, stakeholders, or even you (OUCH)!
Lastly, your employees' engagement levels have a direct impact on your business' brand reputation and even your income.
One way to do this is by creating a social media account where your employees can publish content they've created.
HubSpot's HubSpot Life Instagram account is a perfect example: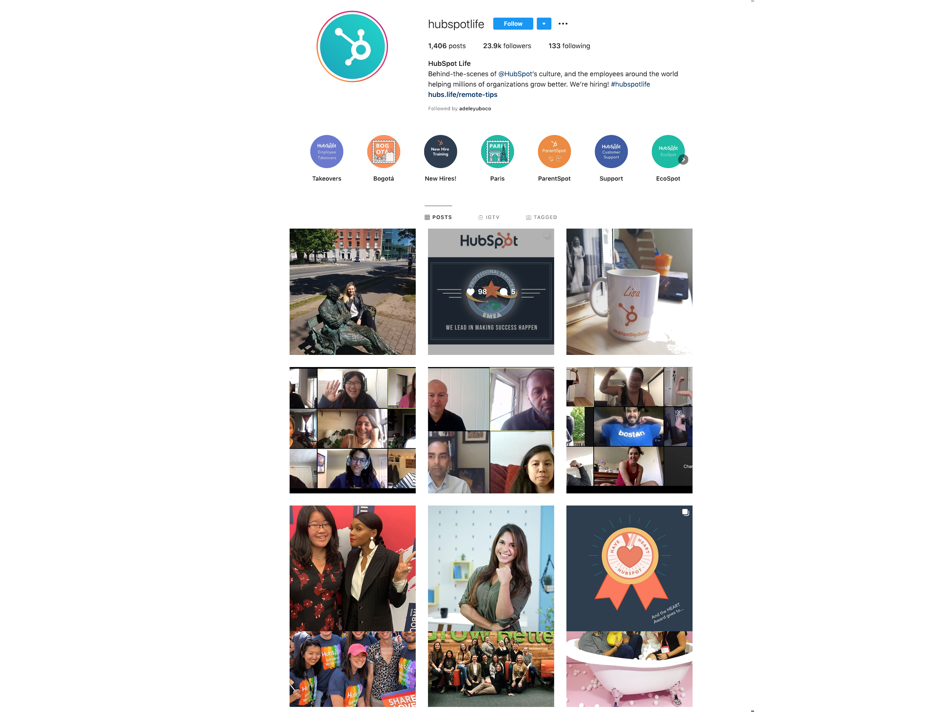 Each week, a HubSpot employee is selected from one of their offices worldwide. He or she is given full control of the account and what to post here.
As you can see, the result is a fantastic collage offering a glimpse of the company's culture. Because of this, HubSpot is able to attract new hires who not only have the skills they need but also have the same values they uphold.
Create an ambassador program
An ambassador program can be a great way to encourage loyal fans and customers to create content for your brand consistently because you're treating them like VIPs.
By becoming part of an exclusive clique and being treated to exclusive perks, your "ambassadors" are more likely to create content about your products and services.
To start an ambassador program, make sure you make the ground rules for users very clear. These may be about the kinds of posts they can create, what they aren't allowed to mention vis-a-vis posting about your brand, and even how to use the perks and benefits that being an ambassador for your brand provides.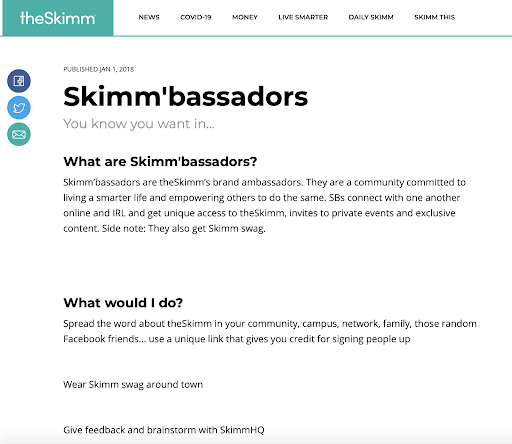 Create a compelling challenge
If you can come up with a challenge that both excites and pushes users either physically or creatively, this can make great content for your brand.
Many fitness content creators, for example, design a multi-day fitness challenge wherein users can participate and share their progress on their social media accounts.
You can find ways to integrate free challenges for your customers, and not only do you get potential content to curate for your marketing channels, but you also engage audiences in ways like never before.
And that's not all. If your challenge is truly exciting to consumers, it even stands a chance to go viral, further increasing brand awareness and retention.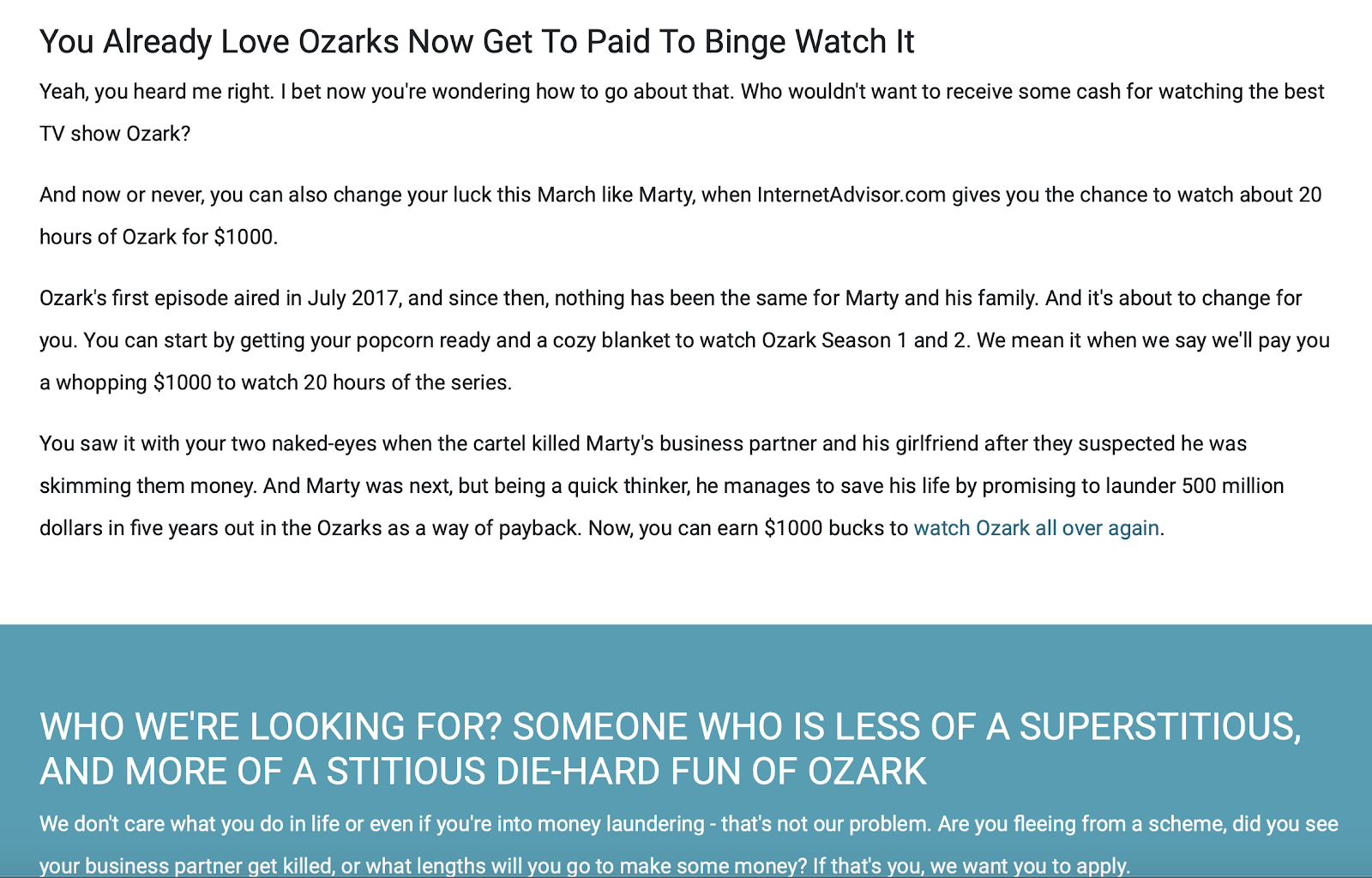 Offer your customers an incentive
I know you're probably thinking: isn't this like bribing your customers to get user-generated content?
No, it isn't. And here's why.
As I've mentioned earlier, creating high-quality content's not easy. If seasoned marketers struggle with this, imagine how much your customers would?
Offering them an incentive like G2's Starbucks coffee treat they offered on Twitter is a way of you saying, "Thanks for taking the time to help."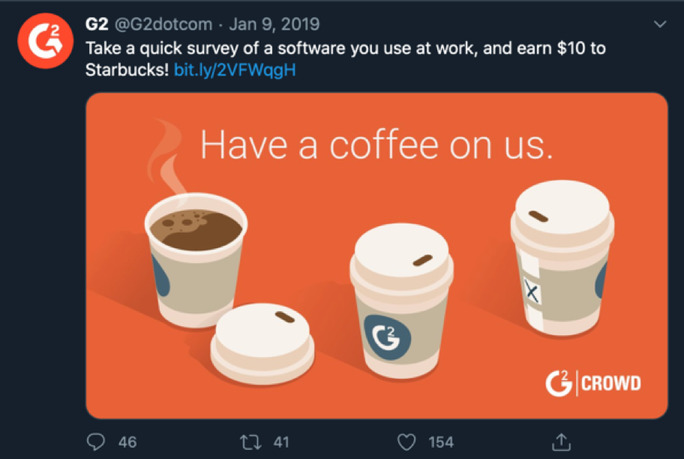 Besides, you won't lose much when you nurture your relationship with your audience. Before long, you'll be getting user-generated content even without incentives – because your fans are loyal enough to talk about your brand online on their own.
Best practices for getting more user-generated content for your brand
As you create your user-generated content campaign, here are a few best practices you'll have to note moving forward.
Always credit back when reposting
If you repost any photos, quotes, or text that you didn't create, credit them back to the original owner. On social media, this can be as simple as tagging the owner in your caption or over an image on Instagram.
Tagging, after all, will bring you more exposure. Especially Instagram image tagging, where the tagged post appears on both profile pages – yours and the account you tagged. The tagged section on Instagram works as a great UGC repository.
Are you slammed with managing Instagram tagging for multiple client accounts?
Use SocialPilot to tag multiple Instagram public profiles in your scheduled image post. No need to jump back to Instagram after scheduling your post. Simply, tag profiles anywhere in the image at the time of scheduling and create Instagram-ready posts directly from SocialPilot.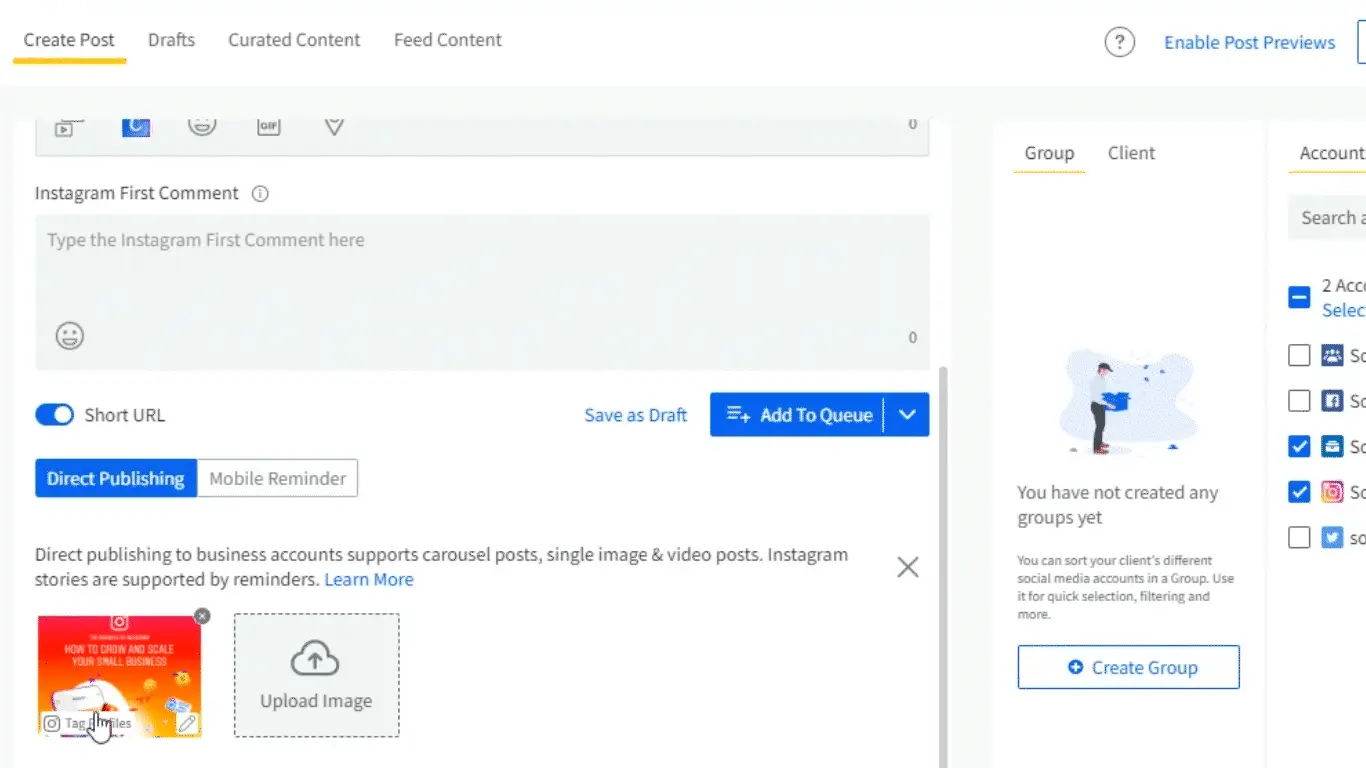 Ask permission to use photos or videos
If you intend to use photos or videos created by fans or customers in any of your brand material, you'll need explicit consent from users.
Get in touch as best as you can to talk about fair compensation for using their work in your brand campaigns. If you're unable to receive a reply, it's best not to move forward with using user-generated content in your marketing campaigns.
Respect boundaries
Next, it's essential to respect the boundaries and privacy of your users. Only curate and repost branded content if you saw you were tagged or mentioned or if your hashtag was used.
Put up full disclosures
Be sure to put up full disclaimers and disclosures about how you intend to use any user-generated content about your brand.
Explain that your business may most likely use these curated content across your social media channels and that you won't compensate for reposted material.
Monitor new content with the right tools
Lastly, make the process of curating and monitoring user-generated content easier by using the best tools on the market. You'll want to use content curation tools to help you spot fresh content about your brand.
Also monitor the performance of your user-generated posts with some analytics tools. Do they get better engagement? What type of user-generated content performed best?
Knowing this, you can refine your efforts even further to only curate the best posts, and think of new ways to keep getting high-quality, curation-worthy posts for your brand.
Final thoughts
Publishing user-generated content can significantly boost your brand's reputation and your products, which will, in turn, help you generate more customers and increase your revenue.
Each of the tips shared in this blog post can help you get more user-generated content for your brand.
Results won't happen overnight. But if you stay consistent, you'll soon start receiving UGC from your satisfied customers.
And that's the key.
More than anything, you need to make sure that you provide your customers with high-quality products and an even higher quality of customer service.
When you can give this to your customers, they wouldn't hesitate to help you spread the word.
Building Decentralized Social Communities
Are you looking to create a community for your NFT project or DAO, without Discord or social media? Wondering if there's a better way to build a thriving community? In this article, you'll learn about the emerging world of decentralized social media and how it can help you or your project. Why Businesses Should Pay […]
The post Building Decentralized Social Communities appeared first on Social Media Examiner | Social Media Marketing.