A Detailed Guide to Writing Listicle Articles
Listicle articles are popular among bloggers.
They don't require writing tons of information on a particular topic. Instead, this type of article embraces a wide range of different service or product items in one place.
The goal of listicles is to get people familiar with various products.
So, how to write a listicle piece of content that would look stunning?
Let's start!
The Basics of Listicle Articles
Listicles represent the posts that have a structure in the form of a list. As a rule of thumb, these posts consist of multiple items with additional information. The purpose of listicle articles is to provide readers with key information regarding specific services, products, or tools.
People like listicles due to a few obvious reasons:
It is easy to read listicle posts
Listicles have the advantage of a limited attention span
They are easy to digest
These articles bring order to chaos and many more
You should mix your content strategy with listicle articles for sure. The game is worth the candle.
Now, let's run through the entire process of how to write listicles.
A Step-by-Step Process on Writing Listicles
It seems easy to write listicle articles at first glance. Everything you will have to do is to create a new Google Doc and fill it in with what you want to list. That's all.
But when we're talking about a listicle article that would drive traffic – it is a different story.
Here are nine steps you need to follow:
Brainstorm a topic idea
The first thing that you should do is to come up with a topic idea. Keep in mind that it makes sense to cover the topic that people are searching for in Google.
You know that search queries can represent the topics. Also, these queries equal keywords you need to explore. Therefore, by conducting keyword research, you will be able to find potential topics to cover.
You can use SEO tools for this purpose. For example, Keyword Explorer from Ahrefs works the best.
Let's say you want to write a listicle article that would cover the best design tools. Use the term "design tools" as a keyword to start generating more topic ideas.
Review a report called "Phrase match", which suggests other keyword ideas. You can consider some of them as the topic for your upcoming article.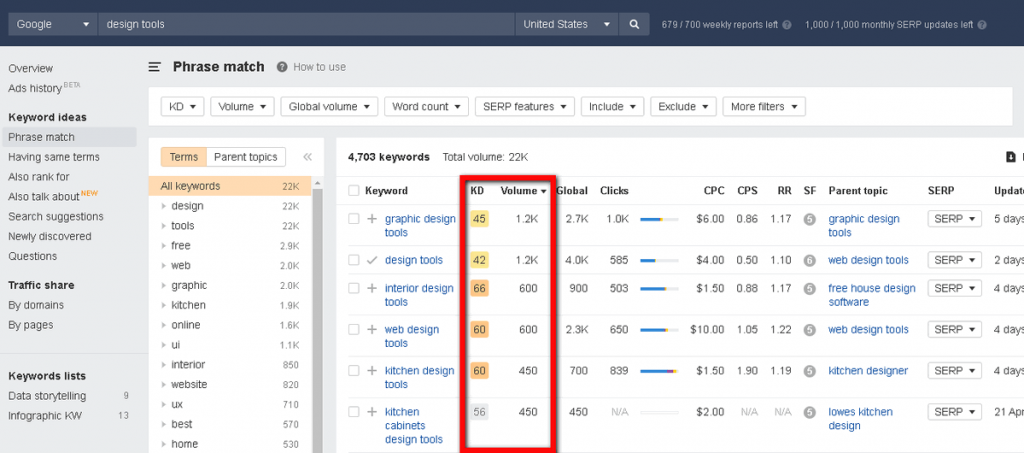 There are two metrics you should draw your attention to – Keyword Difficulty and Search Volume. The first metric represents the information on how hard it is to rank for this keyword. The second metric stands for how many searches the keyword has per month.
The next step is to understand if this topic meets the requirements of the listicle article.
Analyze the topic
Obviously, not every topic is suitable for this format of posts.
For example, you can't cover the topic "how to make an infographic" in the listicle article. This particular topic belongs to a "how-to" guide with a step-by-step process explained.
How to understand if your topic fits this format?
Go to Google and review top results per your search request.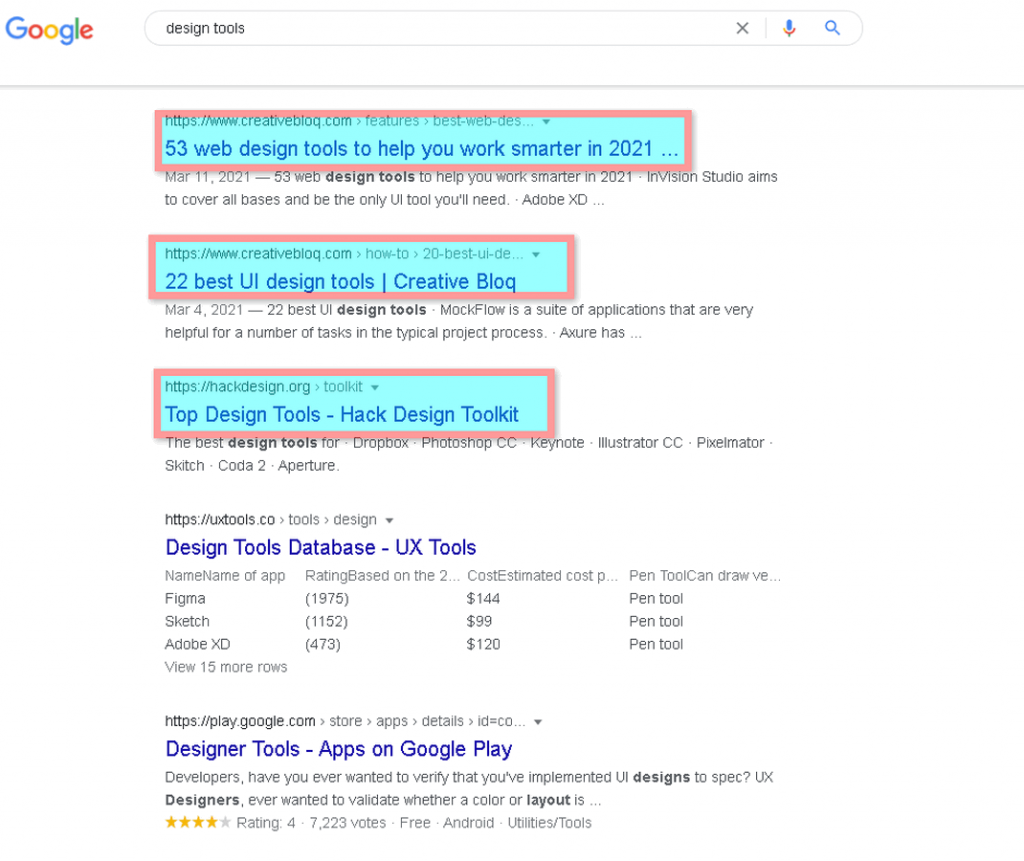 As you can see, the majority of the posts are listicles.
Think about the length of the post
Post length depends on how many items you're going to introduce. There is no one-size-fits-all length you should consider. Instead, take into consideration how many items top-ranking listicles have.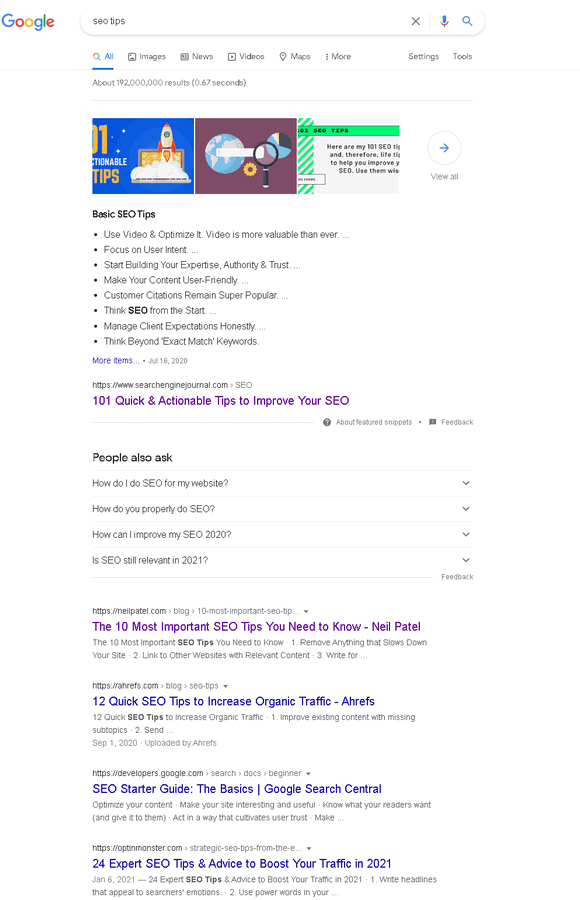 The example above demonstrates that the first position belongs to the listicle article with 101 SEO tips.
Does it mean that you will have to suggest 101 tips to get the top-ranking position?
Nope.
Remember that quantity doesn't mean quality. The rest top results cover from 10 to 24 SEO tips.
Decide on format
Listicle articles can be of two formats. Let's review them:
Basic format
This format of listicles is based on writing short descriptions in a few sentences for each item. It makes sense to choose this format when you have many items to list in the post.
Detailed format
The detailed format is all about writing a comprehensive description of the items. It is opposite to a basic format. You can choose this format when you're covering a complicated topic or have not so many items to highlight in the article.
Choose an angle
The angle of your listicle articles can vary. Again, review top results in Google to have a better idea of what angle you should focus on.
Here are the main angles for listicle articles you can consider:
"Best" article ("15 Best Email Marketing Tools for Your Business")
"For beginners" article ("12 SEO Tips for Beginners")
"Personal experience" article ("10 Blogging Techniques We Use at Visme")
"Expert opinion" article ("50 Pieces of Advice on Digital Marketing From Experts")
Whatever angle you choose – avoid clickbait intent. In other words, if you are not sure that your listicle article holds the angle, you should change it.
Work on bullet points
Every listicle article includes bullet points. It is an integral part of this type of post. Hence, if you just list the items taken from the third-party posts – you will neither impress your audience nor Google.
Moreover, your post won't acquire backlinks and drive no traffic.
That's why you should work on bullet points right before you start exploring top-ranking pieces of content on the same topic. All you will have to do is to note down potential ideas that come to your mind.
Don't limit yourself to ideas
Even if you know the topic perfectly, you can't include all possible points in it. Don't shy away from asking advice from your colleagues who have some expertise in that particular topic.
However, if you want to generate more ideas by yourself, check out an "Also talk about" report. You can find it by browsing the Keywords Explorer tool.
For example, you want to write a listicle post that would suggest "X Ideas for Halloween". Let's see what this report suggests: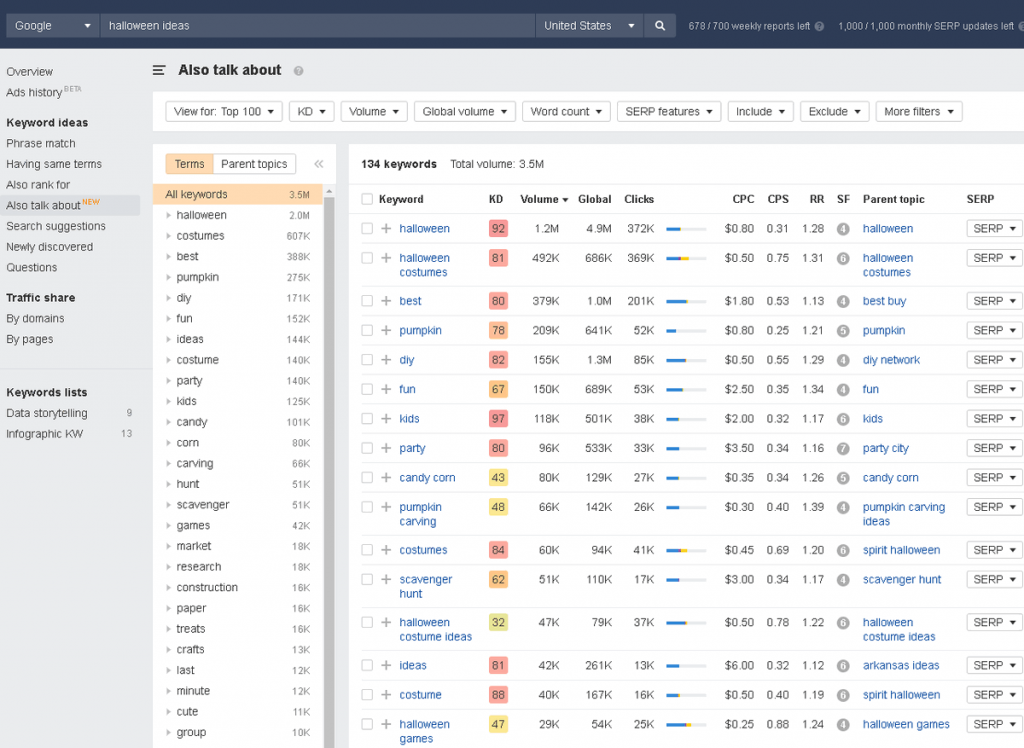 There are 134 keywords that you can skim through to get extra ideas. It is worth taking on board the following:
scavenger hunt
pumpkin carving
Halloween candy
Halloween games
Halloween costumes
And now create interesting points that you can add to your listicle post. It could be something like "Buy creepy Halloween candies", "Rent Halloween costumes", "Brainstorm Halloween games", and so on.
Add visual elements
On one hand, listicles are easy to read and get the information you need. On the other hand, these posts might seem boring. They are not engaging.
Likely, if you add visual elements to your listicle post, it will look more appealing. It is up to you what type of visual content to implement – images, videos, clips from a webinar, infographics, etc.
However, try to avoid using stock images or including images taken from third-party posts. Instead, create visual content by yourself.
For example, GIFs can enrich your listicle post with funny visuals that would catch people's eye. To create a GIF manually, you can use a GIF maker.
Use various types of visuals for each item that you cover in the post.
Write a conclusion
If you analyze the structure of listicle articles, you will see that the majority of the posts don't have the final words.
Do you want to know why?
People tend to skim through the list of items and don't read the post from A to Z. As a result, a conclusion isn't necessary there.
If you want to show yourself as a professional content writer, you must stick to including all components of the written article. It means you should always finish your listicle article with the conclusion.
Besides, it helps to summarize everything covered in the post.
Don't write a long conclusion. Make it short with the main bullet points included.
A few GREAT examples of well-done listicles:
[Editor's note] To leave you with some samples of well-done listincles, here are a few:
Best gardening books: See the nice "Our picks" section giving you a nice summary of what is listed!
Real estate agents: Notice how the actual list is formatted as a chart which allows for great readability and offers some potential SEO benefits like structured snippets
Best WordPress plugins: Notice a handy table of contents allowing you quickly jump down to any listed plugin
To Sum Up
Listicle articles are one of the most common types of content.
Yes, listicles are not engaging. People don't read them completely. Nevertheless, this sort of content has its benefits as well. And to get most of the listicles, you should know how to create these articles properly.
This guide helped you find out the basics of listicle articles and how to write them easily.
If you think this post lacks some tips, feel free to share your suggestions in the comments.
The following two tabs change content below.
SEO in Real Life: Harnessing Visual Search for Optimization Opportunities
The author's views are entirely his or her own (excluding the unlikely event of hypnosis) and may not always reflect the views of Moz.
The most exciting thing about visual search is that it's becoming a highly accessible way for users to interpret the real world, in real time, as they see it. Rather than being a passive observer, camera phones are now a primary resource for knowledge and understanding in daily life.
Users are searching with their own, unique photos to discover content. This includes interactions with products, brand experiences, stores, and employees, and means that SEO can and should be taken into consideration for a number of real world situations, including:
Though SEOs have little control over which photos people take, we can optimize our brand presentation to ensure we are easily discoverable by visual search tools. By prioritizing the presence of high impact visual search elements and coordinating online SEO with offline branding, businesses of all sizes can see results.
What is visual search?
Sometimes referred to as search-what-you-see, in the context of SEO, visual search is the act of querying a search engine with a photo rather than with text. To surface results , search engines and digital platforms use AI and visual recognition technology to identify elements in the image and supply the user with relevant information.
Though Google's visual search tools are getting a lot of attention at the moment, they aren't the only tech team that's working on visual search. Pinterest has been at the forefront of this space for many years, and today you can see visual search in action on:
In the last year, Google has spoken extensively about their visual search capabilities, hinging a number of their search improvements on Google Lens and adding more and more functionality all the time. As a result, year on year usage of Google Lens has increased by three fold, with an estimated8 billion Google Lens searches taking place each month.
Though there are many lessons to be learned from the wide range of visual search tools, which each have their own data sets, for the purpose of this article we will be looking at visual search on Google Lens and Search.
Are visual search and image search SEO the same?
No, visual search optimization is not exactly the same as image search optimization. Image search optimization forms part of the visual search optimization process, but they're not interchangeable.
Image search SEO
With Image Search you should prioritize helping images to surface when users enter text based queries. To do this, your images should be using image SEO best practices like:
Modern file formats

Alt text

Alt tags

Relevant file names

Schema markup
All of this helps Google to return an image search result for a text based query, but one of the main challenges with this approach is that it requires the user to know which term to enter.
For instance, with the query dinosaur with horns, an image search will return a few different dinosaur topic filters and lots of different images. To find the best result, I would need to filter and refine the query significantly.
Visual search SEO
With visual search, the image is the query, meaning that I can take a photo of a toy dinosaur with horns, search with Google Lens, then Google refines the query based on what it can see from the image.
When you compare the two search results, the SERP for the visual search is a better match for the initial image query because there are visual cues within the image. So I am only seeing results for a dinosaur with horns, that is quadrupedal, and only has horns on the face, not the frill.
From a user perspective, this is great because I didn't have to type anything and I got a helpful result. And from Google's perspective, this is also more efficient because they can assess the photo and decide which element to filter for first in order to get to the best SERP.
The standard image optimizations form part of what Google considers in order to surface relevant results, but if you stop there, you don't get the full picture.
Which content elements are best interpreted in visual search
Visual search tools identify objects, text, and images, but certain elements are easier to identify than others. When users carry out a visual search, Google taps into multiple data sources to satisfy the query.
The knowledge graph,Vision AI, Google Maps, and other sources combine to surface search results, but in particular, Google's tools have a few priority elements. When these elements are present in a photo Google can sort, identify, and/or visually match similar content to return results:
Landmarks are identified visually but are also connected to their physical location on Google Maps, meaning that local businesses or business owners should use imagery to demonstrate their location.
Logos are interpreted in their entirety, rather than as single letters. So even without any text, Google can understand that that swoop means Nike. This data comes from the logos in knowledge panels, website structured data, Google Business Profile, Google Merchant, and other sources, so they should all align.
Knowledge Graph Entities are used to tag and categorize images and have a significant impact on what SERP is displayed for a visual search. Google recognizes around 5 billion KGE, so it is worth considering which ones are most relevant to your brand and ensuring that they are visually represented on your site.
Text is extracted from images via Optical Character Recognition, which has some limitations — not all languages are recognized, nor are backwards letters. So if your users regularly search photos of printed menus or other printed text, you should consider readability of the fonts (or handwriting on specials boards) you use.
Faces are interpreted for sentiment, but the quantity of faces also comes into account, meaning that businesses that serve large groups of people — like event venues or cultural institutions — would do well to include images that demonstrate this.
Visual Search Element

Corresponding Online Activity

Priority Verticals

Landmarks

Website Images

Google Maps

Google Business Profile

Tourism

Restaurants

Cultural Institutions

Local Businesses

Logo

Website Images

Website Structured Data

Google Merchant

Google Business Profile

Wikipedia

Knowledge Panel

All

Knowledge Graph Entities

Website Images

Image Structured Data

Google Business Profile

Ecommerce

Events

Cultural Institutions

Text

Website copy

Google Business Profile

All

Faces

Website images

Google Business Profile

Events

Tourism

Cultural Institutions
How to optimize real world spaces for visual search
Just as standard SEO should be focused on meeting and anticipating customer needs, visual search SEO requires awareness of how customers interact with products and services in real world spaces. This means SEOs should apply the same attention to UCG that one would use for keyword research. To that end, I would argue we should also think about consciously applying optimizations to the potential content of these images.
Optimize sponsorship with unobstructed placements
This might seem like a no brainer, but in busy sponsorship spaces it can sometimes be a challenge. As an example, let's take this photo from a visit to the Staples Center a few years ago.
Like any sports arena, this is filled to the brim with sponsorship endorsements on the court, the basket, and around the venue.
But when I run a visual search assessment for logos, the only one that can clearly be identified is the Kia logo in the jumbotron.
This isn't because their logo is so distinct or unique, since there is another Kia logo under the basketball hoop, rather this is because the jumbotron placement is clean in terms of composition, with lots of negative space around the logo and fewer identifiable entities in the immediate vicinity.
Within the wider arena, many of the other sponsorship placements are being read as text, including Kia's logo below the hoop. This has some value for these brands, but since text recognition doesn't always complete the word, the results can be inconsistent.
So what does any of this have to do with SEO?
Well, Google Image Search now includes results that are using visual recognition, independent of text cues. Meaning that for a Google Image Search for the query kia staples center, two of the top five results do not have the word kia in the copy, alt text, or alt tags of the web pages they are sourced from. So, visual search is impacting rankings here, and with Google Imagesaccounting for roughly 20% of online searches, this can have a significant impact on search visibility.
What steps should you take to SEO your sponsorships?
Whether it's major league or the local bowling league, in order to get the most benefit from visual search, if you are sponsoring something which is likely to be photographed extensively, you should:
Ensure that your real life sponsorship placement is in an unobscured location

Use the same logo in real life that is in your schema, GBP, and knowledge panel

Get a placement with good lighting and high contrast brand colors

Don't rely on "light up" logos or flags that have inconsistent visibility on camera phones
You should also ensure that you're aligning your real life presence with your digital activity. Include images of the sponsorship display on your website so that you can surface for relevant queries. If you dedicate a blog to the sponsorship activity that includes relevant images, image search optimizations, and copy, you increase your chances of outranking other content and bringing those clicks to your site.
Optimizing merch & uniforms for search
When creating merchandising and uniforms, visual discoverability for search should be a priority because users can search photos of promotional merch and images with team members in a number of ways and for an indefinite period of time.
Add text and/or logos
For instance, from my own camera roll, I have a few photos that can be categorized via theGoogle Photo machine-learning-powered image search with the query nasa. Two of these photos include the word "NASA" and the others include the logo.
Oddly enough, though, the photo of my Women of NASA LEGO set does not surface for this query. It shows for lego but not for nasa. Looking closely at the item itself, I can see that neither the NASA logo nor the text have been included in the design of the set.
Adding relevant text and/or logos to this set would have optimized this merchandise for both brands.
Stick to relevant brand colors
And since Google's visual search AI is also able to discern brand colors, you should also prioritize merchandise that is in keeping with your brand colors. T-shirts and merch that deviate from your core color scheme will be less likely to make Visual Matches when users search via Google Lens.
In the example above, event merchandise that was created outside of the core brand colors of red, black, and white were much less recognizable than stationary typical colors.
Focus on in-person brand experiences
Creating experiences with customers in store and at events can be a great way to build brand relationships. It's possible to leverage these activities for search if you take an SEO-centric approach.
Reduce competition
Let's consider this image from a promotional experience in Las Vegas for Lyft. As a user, I enjoyed this immensely, so much so that I took a photo.
Though the Viva Lyft Vegas event was created by the rideshare company, in terms of visual search, Pabst are genuinely taking the blue ribbon, as they are the main entity identified in this query. But why?
First, Pabst has claimed their knowledge panel while Lyft has not, meaning that Lyft is less recognizable as a visual entity because it is less defined as an entity.
Second, though it does not have a Google Maps entry, the Las Vegas PBR sign has had landmark-esque treatment since it was installed, with features in The Neon Museum and a UNLV Neon Survey. All of this to say that, in this context, Lyft is being upstaged.
So to create a more SEO-friendly promotional space, they could have laid the groundwork by claiming their knowledge panel and reduced visual search competitors from the viewable space to make sure all eyes were on them.
Encourage optimized use-generated content
Sticking to Las Vegas, here is a typical touristy photo of me with friends outside the Excalibur Hotel:
And when I say that it's typical, that's not conjecture. A quick visual search reveals many other social media posts and websites with similar images.
This is what I refer to as that picture. You know the kinds of high occurrence UGC photos: under the castle at the entrance to Disneyland or even thepink wall at Paul Smith's on Melrose Ave. These are the photos that everyone takes.
Can you SEO these photos for visual search? Yes, I believe you can in two ways:
Encourage people to take photos in certain places that you know, or have designed to include relevant entities, text, logos, and/or landmarks in the viewline. You can do this by declaring an area a scenic viewpoint or creating a photo friendly, dare I say "Instagrammable", area in your store or venue.

Ensure frequently photographed mobile brand representations (e.g. mascots and/or vehicles) are easily recognizable via visual search. Where applicable, you should also claim their knowledge panels.
Once you've taken these steps, create dedicated content on your website with images that can serve as a "visual match" to this high frequency UGC. Include relevant copy and image search optimizations to demonstrate authority and make the most of this visibility.
How does this change SEO?
The notion of bringing visual search considerations to real world spaces may seem initially daunting, but this is also an opportunity for businesses of all sizes to consolidate brand identities in an effective way. Those working in SEO should coordinate efforts with PR, branding, and sponsorship teams to capture visual search traffic for brand wins.
Google Shopping Ads With Shaded Backgrounds For Some Results
Google is using a gray shaded background color for some of the results within the Google Shopping Ads carousel. I was able to replicate this, where for some images, Google thinks a light gray background works better than a white background. This is not tiled, where every other result is shaded, it is based on some other algorithm, maybe the color of the photo of the product?
Here is a screenshot of this:
Saad AK shared videos of this on Twitter:
Example 2:

Sending to: @rustybrick SIR. pic.twitter.com/WwaBeFStCQ

— Saad AK (@SaadAlikhan1994) June 27, 2022
I am not sure if this is new or not but maybe it is?
Forum discussion at Twitter.
W3C Announces Major Change
The Worldwide Web Consortium (W3C), the standards body in charge of web standards such as HTML and browser privacy, announced a significant change in how it will operate. Beginning on January 2023, the W3C will become a new public-interest non-profit organization.
Worldwide Web Consortium (W3C)
While many turn to Google to understand how to use HTML elements like titles, meta descriptions, and headings, the W3C created the actual specifications for how to use them.
The W3C is vital for the future of the entire web because it is developing privacy standards with stakeholders from around the world and the technology sector.
Stakeholders such as Google, Brave browser, Microsoft and others are involved in developing new standards for how browsers will handle privacy.
However, there are others with a stake in tracking users across the web via third-party trackers, who also belong to the W3C, who are trying to influence what those new privacy standards will be.
A news report (A privacy war is raging inside the W3C) on the internal W3C struggle for what the future of web privacy will resemble quoted the director of privacy for anti-tracker browser Brave stating that some members of the W3C who are contributing to the discussion are trying to water down privacy standards.
Pete Snyder, Director of Privacy at Brave, said:
"They use cynical terms like: 'We're here to protect user choice' or 'We're here to protect the open web' …They're there to slow down privacy protections that the browsers are creating."
What happens to the W3C and how it evolves is important because this is the future of how the web works, including what the future of the privacy standards will be.
The W3C was founded in 1994 by Tim Berners-Lee, the Web's inventor. The mission of the W3C is to guide the creation of open protocols and guidelines that would encourage the continued growth of the Internet, including web privacy standards.
It is currently a "hosted model," an international standards-making body hosted in the USA, France, China and Japan.
The decision was made to transition this model to a non-profit that could more rapidly respond to the fast-changing pace of innovation on the web.
The statement notes that the original "hosted model" hindered rapid development.
According to the official announcement:
"We need a structure where we meet at a faster pace the demands of new web capabilities and address the urgent problems of the web.

The W3C Team is small, bounded in size, and the Hosted model hinders rapid development and acquisition of skills in new fields.

We need to put governance at the center of the new organization to achieve clearer reporting, accountability, greater diversity and strategic direction, better global coordination.

A Board of Directors will be elected with W3C Member majority.

It will include seats that reflect the multi-stakeholder goals of the Web Consortium.

We anticipate to continue joint work with today's Hosts in a mutually beneficial partnership."
Transition to a New Legal Entity
Although the W3C is transitioning to a new structure, the announcement sought to assure the public that current decision-making processes will remain the same.
They stated:
"The proven standards development process must and will be preserved."
While they state that the development and decision-making processes will remain the same, the reason for transitioning to a non-profit organization is to enable the W3C to "grow" beyond the original structure since its founding in 1994 for developing web standards for the early web and to "mature" in order to meet the needs of the future better.
The reason for the change was explained in the context of evolution and growth:
"As W3C was created to address the needs of the early web, our evolution to a public-interest non-profit is not just to continue our community effort, but to mature and grow to meet the needs of the web of the future."
"Grow" means to change, and "mature" means to reach the next stage of change. It's awkward to reconcile the concepts of change and maturation with the idea of remaining precisely the same.
How can the W3C expect to grow and change to meet future challenges while simultaneously remaining the same?
The W3C claims that the decision-making processes will remain exactly the same:
"Our standards work will still be accomplished in the open, under the W3C Process Document and royalty-free W3C Patent Policy, with input from the broader community. Decisions will still be taken by consensus. Technical direction and Recommendations will continue to require review by W3C Members – large and small."
While the announcement downplays the changes as just being a change to the "shell" around the W3C, it also states how it operates will evolve and grow.
Fortunately, as long as the W3C conducts all of its business in the open, and nothing is decided except by consensus by all the stakeholders, transparency should help guarantee fairness in the decisions made, regardless of how much the W3C changes (while remaining the same).
---
Citation
Read the Official W3C Announcement
W3C to become a public-interest non-profit organization
Image by Shutterstock/SvetaZi
if( sopp != 'yes' && addtl_consent != '1~' ){
!function(f,b,e,v,n,t,s) {if(f.fbq)return;n=f.fbq=function(){n.callMethod? n.callMethod.apply(n,arguments):n.queue.push(arguments)}; if(!f._fbq)f._fbq=n;n.push=n;n.loaded=!0;n.version='2.0'; n.queue=[];t=b.createElement(e);t.async=!0; t.src=v;s=b.getElementsByTagName(e)[0]; s.parentNode.insertBefore(t,s)}(window,document,'script', 'https://connect.facebook.net/en_US/fbevents.js');
if( typeof sopp !== "undefined" && sopp === 'yes' ){ fbq('dataProcessingOptions', ['LDU'], 1, 1000); }else{ fbq('dataProcessingOptions', []); }
fbq('init', '1321385257908563');
fbq('track', 'PageView');
fbq('trackSingle', '1321385257908563', 'ViewContent', { content_name: 'w3c-announces-major-change', content_category: 'news seo' }); }