How to Get Insanely Productive with Social Media Updates to Scale Your Referral Traffic
Life can get crazy… Holidays, trips, family and personal life: There are lots of things that may stand in your way to being consistent with your (and your business) social media presence.
Therefore making some sort of social media editorial calendar to keep yourself accountable is a great idea.
Like with any productivity hacks, the most important thing to keep in mind here: Keep it very simple. I've seen editorial calendars that actually take more time to create than to implement – I think this is counter-productive.
Weekly Social Media Editorial Calendar
I keep it simple and thus insanely productive: I know exactly what I do every set day of the week and when. I am not looking at my calendar any more because it's very easy to memorize.
Here's a sample social media editorial calendar you can steal:
Pre-Scheduling
I schedule social media updates for a few reasons:
This way I know my (business) social media accounts get regularly updated no matter how busy I am
Sometimes I have so much to share within such a short period of time that posting that all at once would over-whelm my followers. So I have to spread out
This way I won't forget to update my followers of some important news (See the part about re-sharing the same article a few times on Twitter).
So here's my social media scheduling calendar:
Weekly task (Sunday): Schedule some important tweets one week ahead.
(Let's say you are promoting your content, giveaway, digital book, etc. It's a good idea to schedule tweets mentioning it one week ahead to be sure you won't forget)
Tools I use for weekly scheduling:
Agorapulse for Facebook and Linkedin scheduling of business page updates*
Manage Flitter: This tool lets you easily schedule one social media update (Twitter, Facebook, Linkedin) for each day of the week to go live at your "best time" (Time when this software deems most efficient in terms of your following activity). Somehow this tool has the best interface and it makes scheduling very productive (something I'd love to say about Hootsuite but I can't as it takes much more time to schedule updates using Hootsuite). Unlike Hootsuite, Manage Flitter is free and its free version only supports scheduling for once a day and allows to connect only one Facebook page, so I use both.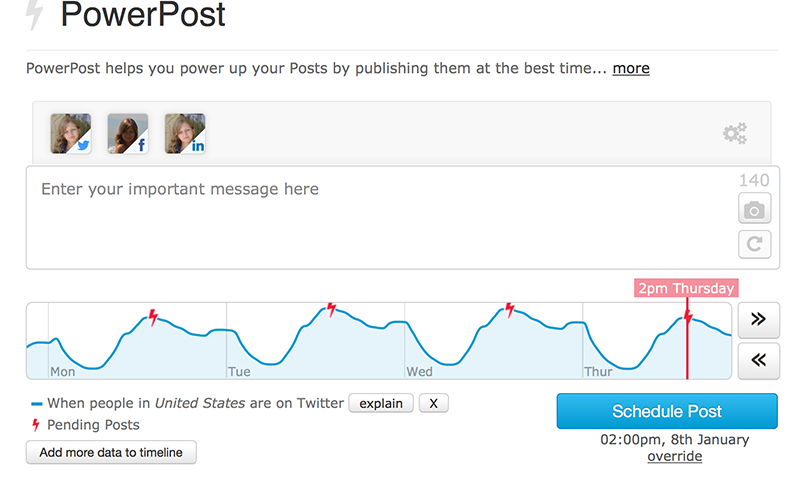 Weekly tasks (Friday)
Friday is one of the easier, more relaxed days for me. I use it to catch up with my content brainstorming dashboards to get inspired as well as check if I missed any conversations involving brand names and hashtags I am monitoring.
Tool: I use Cyfe for both (collecting content ideas and social media monitoring). I have set up several dashboards there to monitor all sorts of data (hashtags, Twitter chats, etc.)
Friday is also my day to catch up with my other social media accounts when I am not as active yet (hey, I only have 24 hours a day!)
Tip: I am using a separate bookmark folder where I store links to my *other* social media accounts to access them quickly using "Open all in Tabs" option.
Daily tasks (Mornings)
Morning is my time to read all the emails and go through my favorite communities and blogs. Both tasks give me LOTS of things to tweet (mostly) and sometimes share on Facebook, Twitter, etc.
Posting that all at once would be over-whelming and non-effective (most of the updates would be lost in the clutter), so I am "buffering" everything I have to say throughout the current day.
Tools:
Buffer App is (obviously) what I use to buffer my morning reading list to Twitter (Especially through their browser integration (I am using their FireFox plugin that lets me buffer my tweets right from the "Tweet this" pop-up)
Viral Content Bee lets me keep my Twitter active as well (and it's my major content discovery platform too). Plus it keeps my other social media accounts (Pinterest and StumbleUpon) active as well.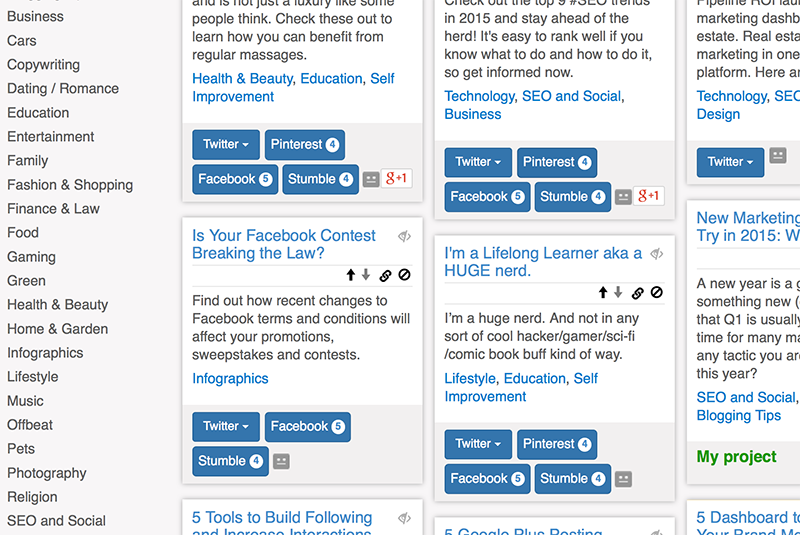 There are also several AI-powered content creation tools to play with. I haven't got around to testing those but they are supposed to be great. Text Optimizer will help you come up with effective content for your updates. The tool gives you access to popular questions on any topic: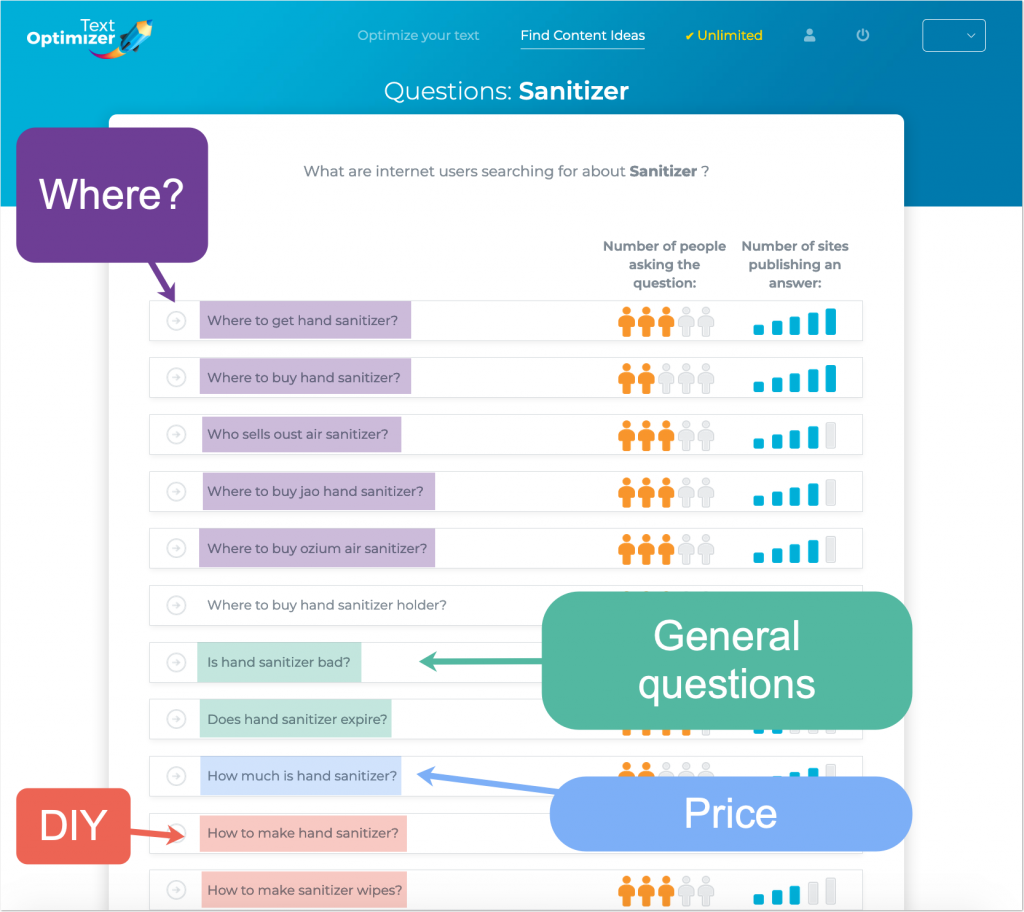 As-it-happens tasks
There's no way around it. That's how social media works: There will always be tasks you'd better do immediately and better keep them in mind.
Interacting on social media is something you can't really plan put or schedule. Without instant spontaneous replies, retweets, comments and likes your social media accounts will lack the most important component: Authenticity.
Tools:
I use Tweetdeck to be on top of Twitter interactions (here's my detailed article on that) without feeling overwhelmed. Tweetdeck keeps me very productive.
For other social media platforms, I use their native iPhone apps to keep up using "push notifications" (especially during lunch and coffee breaks).
Social Media Posting: Advanced Tips
Now that we hopefully got a bit more organized and productive, let's not forget about being creative! Keep these quick tips in mind to make your social media activity both varied and efficient:
Re-share the same content a few times on Twitter
Tweets have an extremely short lifetime. They are seen for just a few minutes and after that they will mostly be lost. Therefore re-sharing your (important) content on Twitter using different forms and at different time of the day makes so much sense.
Here's a quick list of all different ways you can re-share your contest on twitter multiple times (including retweeting someone who shared it, making some use of visual tweets, tweeting quotes, etc)
Re-share your content as a photo on Facebook
Here's one social media sharing trick: You can share anything as a photo (using "Upload photo" option versus letting Facebook generate the image thumbnail). Image updates get much more visibility in social media streams (Both social media platforms are believed to be giving photos higher rankings in the feeds). Plus these kinds of updates add variety to your feeds.
Agorapulse supports photo updates (but I don't really like the output).
For more variety in your social media streams, try content re-packaging tactic I explained earlier. Content re-packaging is a great way to share the same content again and again while providing new content to your followers each time.
Tag people in social media updates
You can tag people on all three social media networks using:
@username on Twitter
@name on Facebook (You need to select the person from the drop down for the tag to work)
In all cases, the person you are getting will most likely be notified by an email (depending on his/her personal settings). These notifications work well for driving more attention to your social media updates.
Never tag irrelevant people though. I only tag people who I mentioned in the article I am sharing (or who I am quoting).
*This deck explains the process in more detail:
Monitor, Analyze, Adapt
Social media updates are only as good as their engagement: You need people to talk back to you and – more importantly – click to visit your site. Finteza is a great tool to analyze your social media traffic and identify the most effective sources: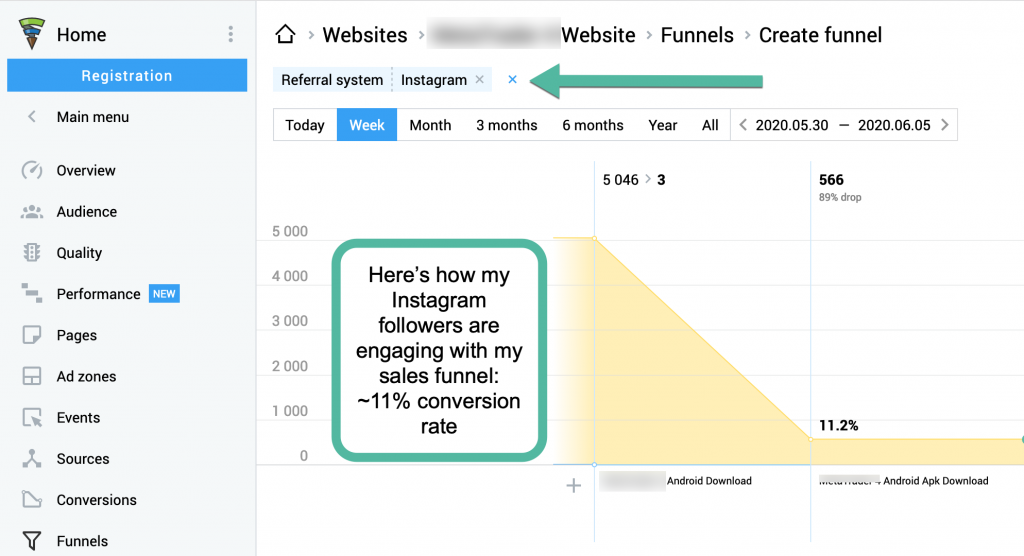 Let's face it, more often than not we use social media to promote our websites, so monitor your social media traffic!
It is a good idea to play with several social media engagement tools to come up with more ways to convert that traffic. Those methods include push notifications and chatbots to name a few.
Social media productivity is no longer an option: You have to find ways to get productive if you want to be on top of many things.
Have you developed any social media productivity tricks of your own? Please share them in the comments!
The following two tabs change content below.
I am the owner of this blog as well as Brand and Community Manager at Internet Marketing Ninjas and Founder of MyBlogGuest, MyBlogU and
ViralContentBee.com
Google Boulder RV Meeting Room
Here is a photo of a new meeting room or office in the Google Boulder office. It looks like an RV, recreational vehicle, retrofitted as a meeting room. I guess that works with the Boulder office theme?
Here are more photos from Instagram:
This post is part of our daily Search Photo of the Day column, where we find fun and interesting photos related to the search industry and share them with our readers.
Instagram Subscriptions Let Creators Make Monthly Recurring Income
Instagram is building on its monetization capabilities with a new subscriptions feature, which allows creators to make monthly recurring income.
Starting today, Instagram Subscriptions is launching in a limited test with a handful of creators.
Followers can opt-in through a "subscribe" button on the creator's profile.
Those who are eligible for the new subscriptions feature are in full control over the monthly price.
Paying the monthly fee offers the following benefits to subscribers:
Subscriber Lives: Creators can broadcast exclusive livestreams to subscribers only.
Subscriber Stories: Creators can publish stories just for their subscribers.
Subscriber Badges: When subscribers leave comments a badge will appear next to their name to let the creator, and other users, know they're a loyal fan.
In an announcement, the company states:
"With Instagram Subscriptions, creators can develop deeper connections with their most engaged followers and grow their recurring monthly income by giving subscribers access to exclusive content and benefits, all within the same platform where they interact with them already."
Who Is Eligible For Instagram Subscriptions?
Currently, Instagram Subscriptions is only available to a limited number of US creators during the test period.
Instagram plans to expand access to more creators over the next few months.
The following creators are part of the Instagram Subscriptions test group:
@alanchikinchow: A content creator who first gained notoriety through TikTok.
@sedona._: A basketball player who currently plays for the Oregon Ducks.
@alizakelly: A celebrity astrologer and bestselling author.
@kelseylynncook: An actor, dancer, and model.
@elliottnorris: Creates videos focused around sustainable recipes, going plastic-free and other eco-related content.
@jordanchiles: An olympic silver medalist in gymnastics.
@jackjerry: Instagram model and member of the NCAA gymnastics team.
@bunnymichael: Host of the "XO Higher Self" podcast, which focuses on spirituality.
@donalleniii: Produces creative visual content, such as AR lenses for Snapchat.
@lonnieiiv: A web star best known for creative TikTok sketches.
Like Facebook Subscriptions, Instagram will not collect fees from creators until 2023 at the earliest.
In addition to expanding Instagram Subscriptions to more creators in the future, the company hopes to offer accompanying tools that allow creators to directly connect with their audience off platform.
Source: Instagram Business Blog
---
Featured Image: Screenshot from business.instagram.com/blog, January 2022.
Daily Search Forum Recap: January 19, 2022
Here is a recap of what happened in the search forums today, through the eyes of the Search Engine Roundtable and other search forums on the web.

Google said it sometimes does a deduplication process for stories in the Top Stories section and the web results – this might change, Danny Sullivan added. Google said it does not simply start new search algorithm updates right before the weekend. Some are seeing massive crawling spikes from Googlebot recently. Google no longer allows time frames for recipe markup, they need to be fixed times. Google's John Mueller posted a short video on site migrations.
Search Engine Roundtable Stories:
Other Great Search Threads:
Search Engine Land Stories:
Other Great Search Stories:
Analytics
Industry & Business
Links & Content Marketing
Local & Maps
Mobile & Voice
SEO
PPC
Search Features
Other Search
Feedback:

Have feedback on this daily recap; let me know on Twitter @rustybrick or @seroundtable, you can follow us on Facebook and make sure to subscribe to the YouTube channel, Apple Podcasts, Spotify, Google Podcasts or just contact us the old fashion way.